Star Wars: How to cosplay as Boba Fett, from the helmet to the armor
We've compiled a list of must-haves to create a Boba Fett cosplay based on his new Mandalorian look.
The cult-favorite Star Wars character Boba Fett is cult-favorite no longer, but mainstream. It started in Disney+'s The Mandalorian, and went even bigger with The Book of Boba Fett spin-off series.
Whether you prefer Jeremy Bulloch's original or the modern-day version played by Temuera Morrison, Boba Fett's seemingly bootleg Mandalarian armor is iconic - and something more than a few of us will (or want to) make for ourselves. That's where we come in, with a guide to how to cosplay as Boba Fett, from the helmet to the armor - and the small bits inbetween.
Boba Fett helmet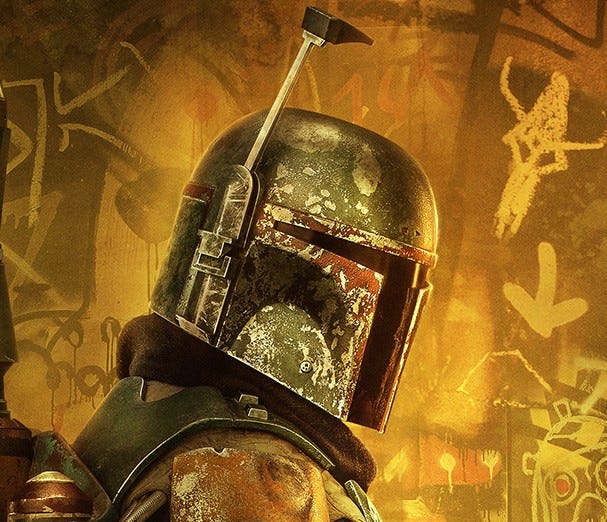 The helmet is one of the most iconic parts of Boba Fett's armor, although it looks like it has gone through a Sarlacc Pit and been mishandled by quite a few Jawas.
Luckily there are a few ways you can get his helmet. If you're on a tight budget, you could get this Boba Fett helmet off of Amazon and then add some modifications such as repainting it. Ace Cosplay has a great guide for repainting and modifying a Boba Fett helmet on YouTube.
If you have a 3D printer or want to get a build kit, there are plenty of options on Etsy. Some prop makers even have the full helmet completely ready to go if you are wanting a finished product.
Boba Fett jetpack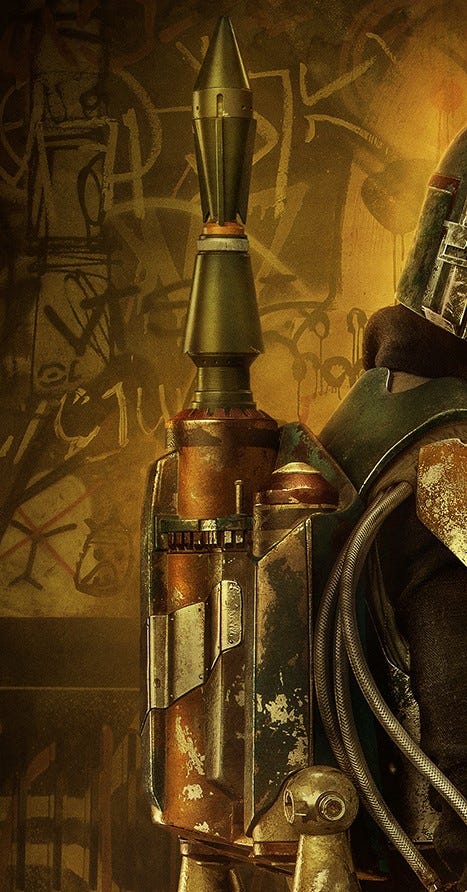 Boba Fett's jetpack, while the same one from Return of the Jedi, is a little more of a challenge. Similar to the helmet, there are lots of STL files and build kits of the jetpack on Etsy.
If you're feeling more adventurous, however, Make For Others on YouTube has created a full tutorial on how you can build the jetpack out of cardstock. We imagine it could also be created with foam as well by using the same tutorial, but you would need to have different size sheets of foam to complete it.
Boba Fett gauntlets/gloves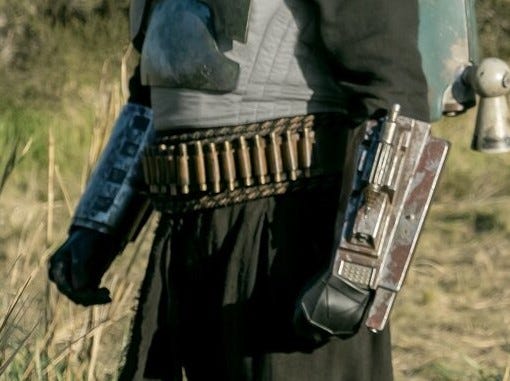 The gauntlets are almost identical to his Return of the Jedi ones, although he is wearing different gloves.
On the right gauntlet there are tubes that run up and underneath the chestpiece. For the tubes, they appear to be painted braided PVC tubing that is often used for household appliances. By adding some simple weathering using paint, and attaching them to the gauntlets, they would look exactly like the ones in the show.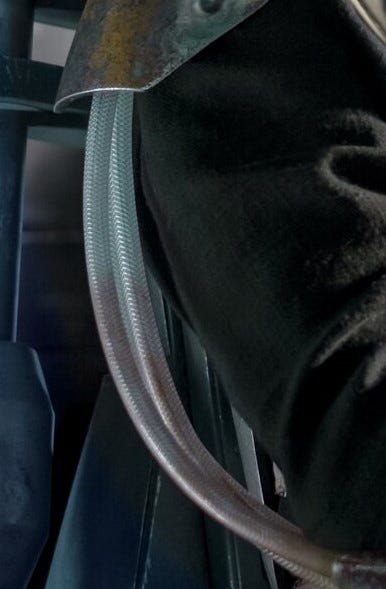 The gloves are similar to leather motorcycle gloves with a piece of armor on the top. The top of the glove could be crafted using foam and then putting a coat or two of plastidip. The fingertips of the gloves are also a reddish-brown, which could be created with leather paint.
As for the gauntlets, the best option would be getting a build kit on Etsy or 3D printing the pieces and putting them together. Just remember to weather them similarly to the helmet as they do look like they've seen better days.
Boba Fett Chestpiece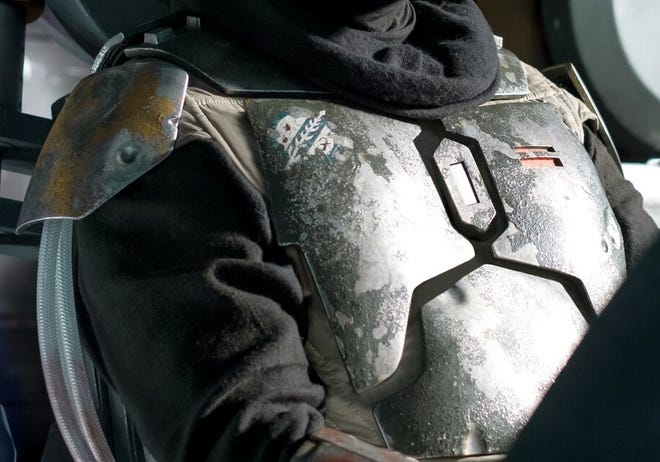 The chestpiece, like the rest of the armor, has been weathered enough to make it look like it's in dire need of a paint job. The plates actually consist of four different pieces on the front, an upper neck piece that wraps over to the back, and two shoulder pauldrons on either side. All of these are attached to a cotton vest.
The armored chestpieces can be made using either foam, worbla, or printed using pre-existing STL files. There are plenty of build kits on Etsy, as well as patterns for creating your own.
The cotton vest is more of a project as it appears to have been quilted on the sides. The best way to start this would be to create a mockup of the vest and add foam padding both in the front and back to make it appear more like a padded flight suit. Then, attach the armor using either magnets or clips, depending on how strong you want your pieces to be attached.
Boba Fett Belt (With Pistol Holster)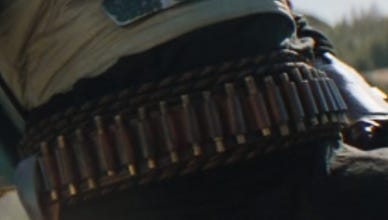 The belt appears to be a heavily modified version of a leather weightlifting belt, which is great to use as a base. He almost has a bullet belt-look with the individual pieces strapped around it, which could be made using either foam or a 3D printed file and then printed multiple times. They are wrapped onto the belt with leather, similar to what you would see on a bullet belt.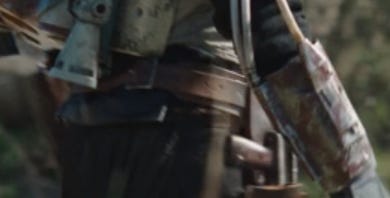 The upper and lower parts of the belt also appear to have some leather cording tightly woven and wrapped around. It is both a brown and black cording, which could be twisted together and then glued onto the belt.
As for the pistol holster, you could either make one out of leather yourself or get a leather holster as a base and then modify it to your liking.
Boba Fett Shirt/Pants/Tabards/Scarf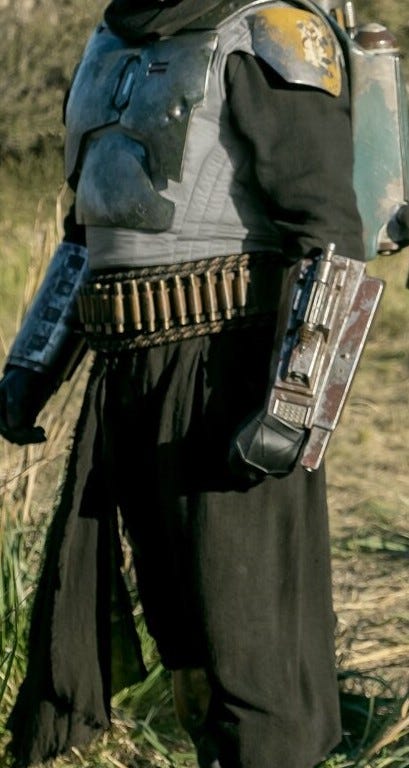 This is where Boba Fett's new look really comes into play as it combines his Tatooine look with his original armor. The pants and long-sleeve shirt look like they are sewn with black linen, since it's a material that is easily breathable in harsh deserts.
The shirt could be sewn together with a simple long sleeve shirt pattern and some black linen. Make sure that the sleeves are a little baggy since they are not slim to fit the arms perfectly.
The pants are also loose-fitting and gather at the boots. To recreate this look, take black linen and use a slacks pattern so the pants are nice and baggy. There are also a couple strands of what looks like a black georgette silk that appear to be like tabards on the right side of his waist. You could either attach them to the pants or make a long stretch of fabric that can be tied at the waist and left hanging on the side.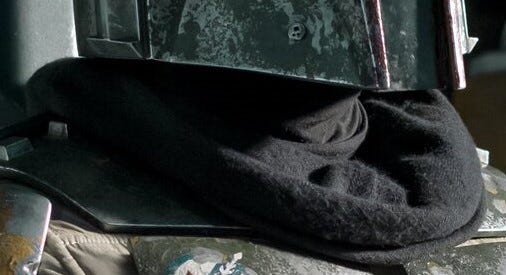 Boba Fett does have a neck wrap that tightly covers his neck and a little bit of his armor in the front. This piece, from what we could decipher, is made of black wool. Simply take a strip of black wool and sew the sides together, wrapping it around your head like an Infinity scarf. Now you have a neck wrap!
Boba Fett Boot Gaiters/Boots
The last piece of this cosplay are the boots and gaiters. The boots (thanks to the members of the Replica Prop Forum) have been identified as Skechers Black Robards SR winter boots. They are a little on the pricier side, so if you are looking for something less accurate but afforadble, you could always find some black winter boots that look similar and modify them to your liking.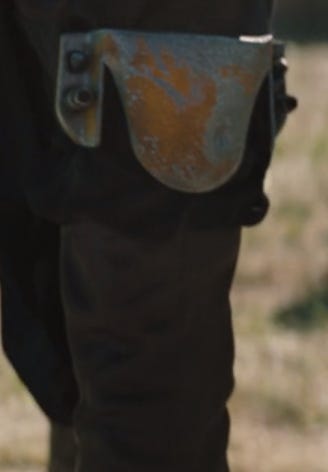 He is also wearing custom black leather gaiters that go over his boots. If you're feeling confident, you could pattern them yourself and then cut out leather and stitch it together with a heavy duty sewing machine. Another option can be to look into horseback riding leather gaiters, or on military surplus websites and stores for some. If neither of these work, Etsy has lots of small businesses that craft leather clothing and you may be able to request custom gaiters.
We hope this guide helps you in recreating Boba Fett's new Mandalorian look!
---
The 10 best online Cosplay stores for your next big event.