Building a Star Wars Starfighter on a budget— Popverse chats with a founder of the Road Squadron
Creativity without breaking the bank-- Road Squadron's customized Star Wars cars
If you were at Star Wars Celebration (or if you've ever been to a large Star Wars themed event), you've probably seen a couple of seemingly professionally designed Star Wars themed cars. These cars and their makers are very likely part of a fan group called the Road Squadron, and they aren't professionals at all.
I had a chance to chat with co-founder Shawn Crosby, who in 1999, decided to transform his Honda del Sol into an A-Wing. When describing his project to some friends, someone told him that he should meet with a woman in Seattle who was transforming her Toyota into an X-Wing. Shawn Crosby and Katie Horn connected, and the Road Squadron was founded.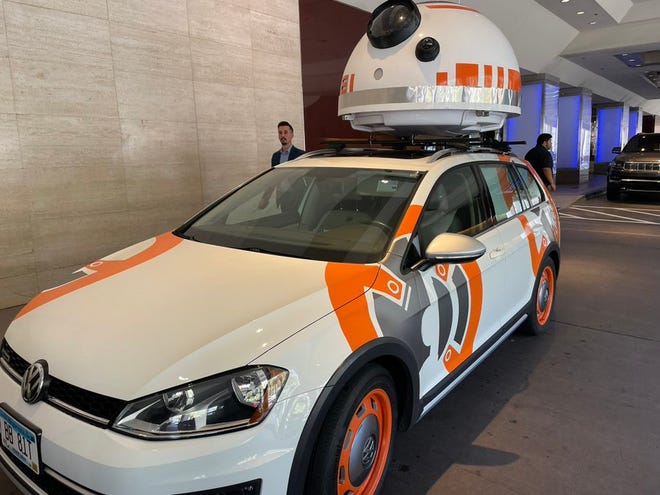 Nowadays, because of new vinyl wraps, developments in technology, social media, and the rising societal acceptance of showing off your fandom, the Road Squadron has really grown, now including more than 300 members. Though the cars look great, these members are mostly not professional car designers, and they're not car collectors either. "These are our daily drivers. We don't have other cars. We're not rich," Crosby clarifies.
But how do you build a car like this on a budget? Member Jeff Donoho (whose car is decorated as Ghost from Rebels, his favorite show) shares that each member decorates their cars differently, some choosing vinyl wraps, others using stickers or paint.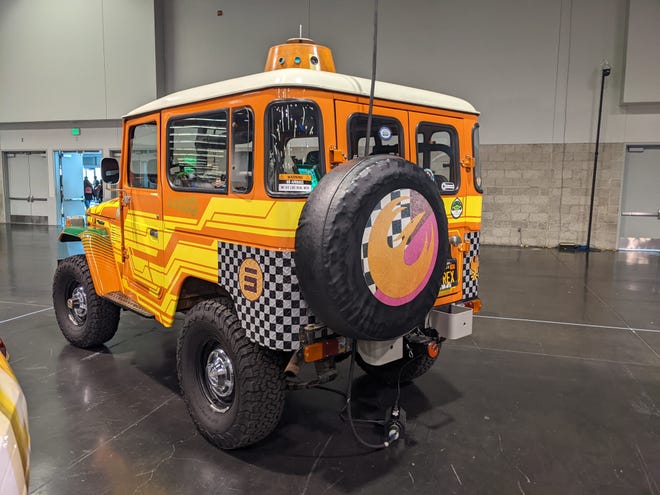 Shawn Crosby (like Industrial Light & Magic, the special effects department at Lucasfilm) is a big fan of "kit mashing," or taking pieces from different kits and adding other surprising objects to make something new. Crobsy's wheel covers are made of five-dollar pizza pans. His car's guns are made of sprinklers, baseball bats, and hose parts. "Everything here is a rattle can paint job," he shares. At the end of the day, the central question to building a car that looks like a ship from Star Wars is "How much creativity can we do without breaking the bank?"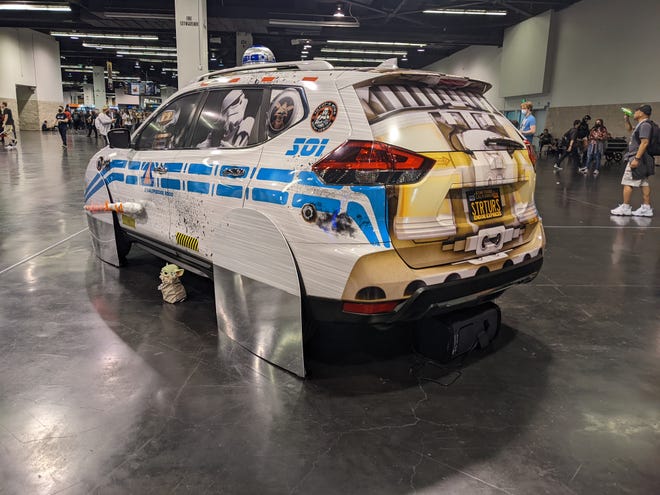 Members of the Rebel Legion volunteer often, bringing their vehicles to charity events and shuttling Make-a-Wish Star Wars fans to their destinations. But they also bring joy to people's lives just by driving their cars around. "You kind of have to be good at talking to people all the time. You have to be an extrovert." Crosby has people coming up to him in parking lots, cops pulling him over to grab a photograph, and he has to field endless, endless questions. There is a bit of bullying too. Some people once pulled R2-D2 off of his car and purposefully dented him. However, R2 is still around, even with his battle scars, and (with a little in-joke with the Droid Builders Club), Crosby likes to say that his R-2 is the fastest in existence—sometimes even going faster than 100 miles an hour.
---
To read more of Popverse's coverage of Star Wars Celebration, check out our coverage roundup.