Star Wars Celebration Closing Ceremony - Live Coverage!
Popverse brings you live coverage of the Star Wars Celebration closing ceremony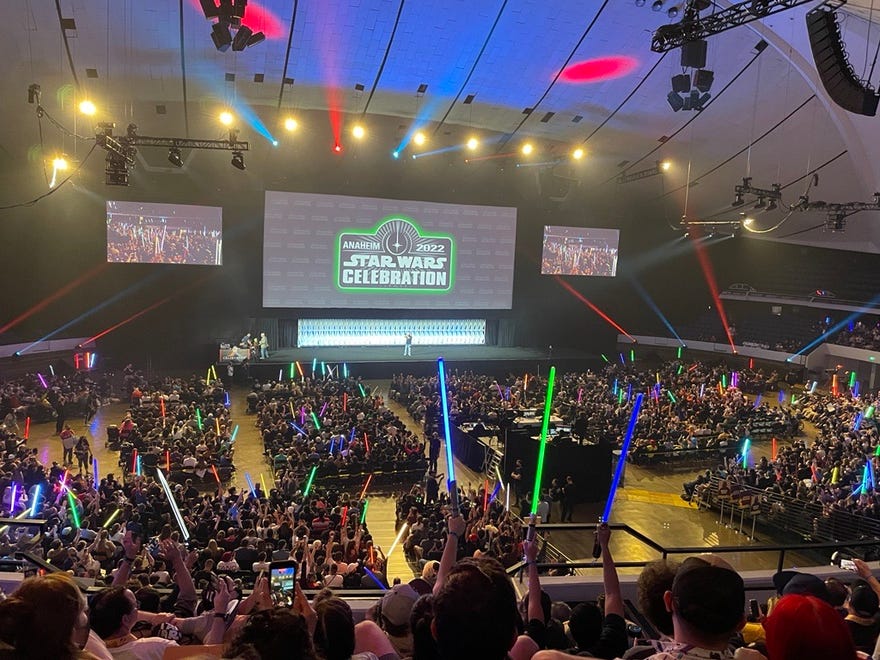 The Popverse team has had a wonderful time at Star Wars Celebration this year. Now, it's time to say goodbye, but with some style-- we hope!
Join us as we attend the closing ceremony of this year's Star Wars celebration. It's certain to be full of magical moments.
The official description of the closing ceremony from the Star Wars Celebration website reads, "Gather with your friends and fellow Star Wars fans to relive the best moments of the weekend and bid farewell to another Star Wars Celebration. Featuring special guests, weekend highlights and much more, this is a send-off you won't want to miss! "
Popverse will be liveblogging the entire event as it happens, so keep an eye on this page to follow along with this year's closing ceremony, or come back later to this page to read a moment-by-moment breakdown of all of the best bits!
---
If you want to follow along with Popverse as we romp around Star Wars Celebration and share the coolest stuff, check out the roundup of our Star Wars Celebration 2022 coverage.
Our live coverage of this event has finished.
Excited for closing! Can't wait for this to start!
We are in our seats! Woot.
David Collins, the closing ceremony host takes the stage!
They are sharing a really cool video compilation of the weekend!!!
We're seeing the coolest costumes of the weekend!! Along with the coolest moments!!
That was a beautiful wrap up. Tears have been shed, and lightsabers are lighting up!
Now we're watching some streaming video from the Galaxy Stage
We are now watching a streaming video from the wonderful hosts at the Celebration Live stage!
Rupert Friend has come on stage!!
The Grand Inquisitor himself!
"You've got this incredible legacy of this world you're marching through. Thank you for letting me bring your Grand Inquisitor to life," Friend says.
Star Wars Celebration is going to London next year! Read more about it here https://www.thepopverse.com/star-wars-celebration-2023-announcement
And that's it! Thanks so much for following along with Popverse's coverage of Star Wars Celebration this whole weekend. If you want to read what else we've covered,
check out our coverage roundup.
Sending you all our very best. May the Force be with you.