Assemble your own Star Wars fleet with Jazwares' new Micro Galaxy Squadron line
Including the most impressive 9-inch Millennium Falcon we've ever seen from Star Wars
Thank you to Jazwares for sponsoring this article and video. Popverse was paid for our time in creating this.
Movies last a couple hours, but memories last a lifetime - and for that, having something there to remind you - and to play with - helps. Merchandise from our favorite franchises allows us to enjoy those things at home, at our office, and with friends.
And at Star Wars Celebration 2022 in Anaheim, we found that for Star Wars fans with Jazwares' vehicle line - with an impressively detailed 7-inch Millennium Falcon, as well as the new Star Wars Micro Galaxy Squadron.
Here's a look at what we found:
They're not kidding about "a galaxy of vehicles in the palm of your hand" - all of us at Popverse had the opportunity to be hands-on with the Star Wars Micro Galaxy Squadron, which includes a line of 1-inch vehicles.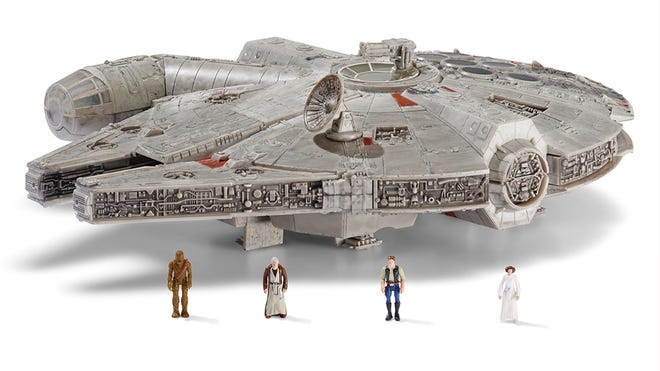 But that being said, the star of the show was the 9-inch Millennium Falcon. Originally designed by Joe Johnston for Star Wars: A New Hope, Jazwares has shrunk this heavily-modified YT-1300 Corellian light freighter while keeping - and in some ways, expanding - key features you'll want to play with. You can open the cockpit, you can rotate the cannons, you can deplay the landing gear - there's even light-up thrusters and an open rear section with the iconic Sabacc table, and those all-too-precious smuggling compartment. And Jazwares doesn't let you go this alone - the 9-inch Millennium Falcon comes with four 1-inch figures - Han Solo, Chewbacca, Leia, and Obi-Wan Kenobi.
At Star Wars Celebration 2022, Jazwares also showed off vehicles for The Mandalorian's Razor Crest, Boba Fett's starship, a TIE fighter, and more.
The Jazwares Micro Galaxy Squadron vehicles will be available this summer at Target, Walmart, and Amazon - and you can pre-order them now. Walmart will have some exclusives from the line, but the rest of the full collection will be at all major retailers.
---
You don't need the Force to find all of our Star Wars Celebration 2022 coverage - we have a Star Wars Celebration 2022 round-up.