Stardust returns in new special by by Van Jensen, Mike Allred, Francesco Francavilla, Derf Backderf, and more
Yes, Stardust The Super Wizard is making an official comeback
Fans of the relatively obscure Fletcher Hanks character Stardust: The Super Wizard now have a reason to celebrate. Zoop is launching a brand-new Stardust anthology, spearheaded by writer Van Jensen (The Flash, Arca) and featuring contributions from Mike Allred, Francesco Francavilla, Derf Backderf, Pete Woods, Jeff Parker, Zander Cannon, Tom Raney, actor Jay Baruchel and more!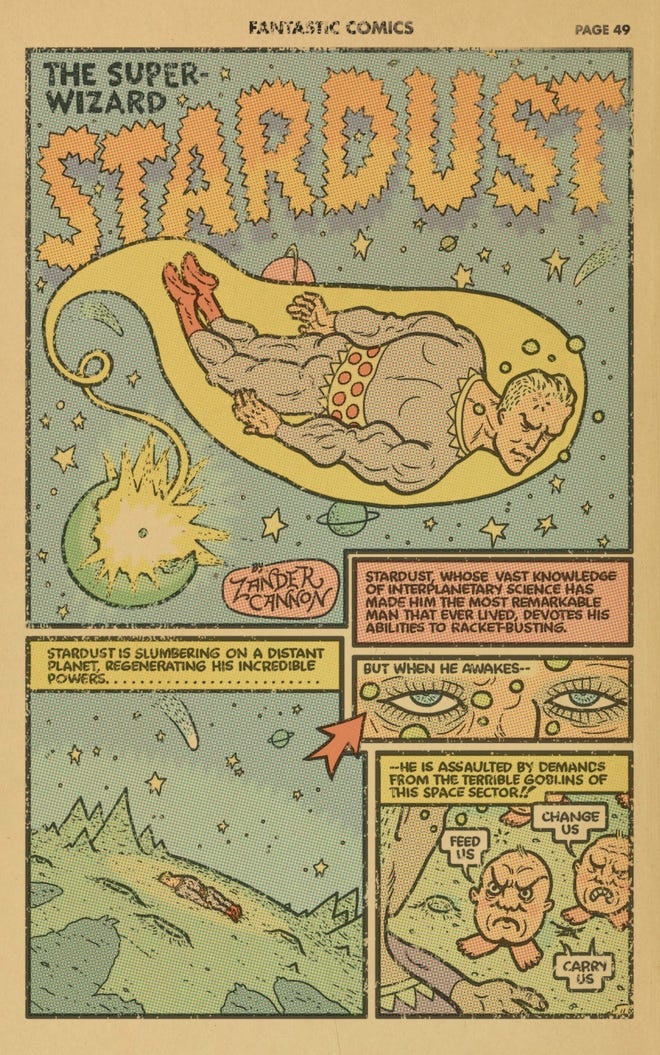 Stardust the Super Wizard made his first appearance in 1939, with a 16-issue run from creator Fletcher Hanks. Over the years, with the help of some reprints from Fantagraphics, the quite bizarre character has gained a bit of a cult following-- which is why now is the perfect time for a brand new anthology featuring the character.
About the The Super Wizard anthology, Van Jensen told Popverse, "In the nearly hundred years of superhero comics, no voice has been as singular--or as strange--as that of Fletcher Hanks, the forgotten madman of the Golden Age. Which I think is why his work has resonated among so many folks within comics for so long. Particularly Stardust, the uber hero who has seemingly any and every power at his disposal as he viciously and creatively dispatches the racketeers he loathes so much. (Did a racketeer kill his parents? We'll never know!)
"This project is an homage to Hanks' legacy, and it's also a sandbox for some of the best creators in comics to get really, really, really freaking weird. I just hope that people will have even half as much fun reading it as we are making it."
And if all that wasn't already enough, there's a bit of family legacy to this project too. Fletcher Hanks's grandson, fine artist Ian Hanks, will have his first comics story in this anthology.
So, clearly, you can't miss it.
The campaign for Stardust the Super Wizard, Hardcover Anthology launches today at Zoop. The campaign will run until June 22nd at midnight PST.
---
It's Popverse's birthday month! And to celebrate, we're making a select number of Member's Only pieces free for a short time. Check out staff writer Graeme McMillan's article 20th century boys: the (temporary) end of the superhero set .