Vampires, pirates, nazis and gods: What We Do in Waititi's Shadow
Taika Waititi gets much praise for giving us What We Do in the Shadows. What you may not realize is that he doesn't have that much to do with the show.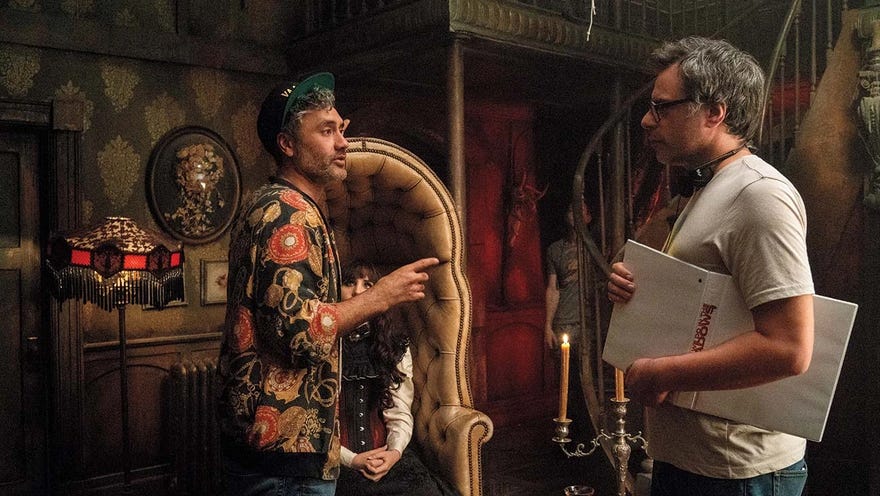 The critically acclaimed and audience beloved What We Do in the Shadows is back this week for a fifth season, the FX mockumentary series about a house full of very silly vampires in Staten Island who make funny jokes, fail spectacularly to blend in with modern life, delight themselves in openly queer expression, and very frequently murder innocent people to harvest their blood. (Savor it – this is some of the last scripted content you're likely to see on television before the effects of the writer's strike really start kicking in.)
In other words, it's another typical success story from New Zealand quintuple threat Taika Waititi, actor, writer, director, comedian, lover, and sole creator and mastermind of the entire series… if you ask most of the internet, anyway. For years now, actual show creator Jemaine Clement has sardonically lamented the fact that Waititi, his collaborator on the original (and hilarious) 2014 What We Do in the Shadows film on which the television show was based, is so frequently credited as the lead architect of the program's success, when his involvement has in fact been quite minimal. As Clement tells it, when the show was greenlit, Waititi handed its development entirely over to him while he went to work on Thor: Ragnorok. And yet, there's something about Shadows' flavor apparent to all its fans which tastes distinctly of Waititi's work. If not his direct presence and supervision, his particular signature.
It's a factor present in other productions Waititi has brushed up against, but not necessarily helmed, as well – like the similarly upbeat and queer Our Flag Means Death on MAX, the comical elements of the otherwise self-serious The Mandalorian on Disney+, and even the quick cameo he graces James Gunn's The Suicide Squad with, granting the film that Waititi Factor in its final moments. All of these projects FEEL like Waititi works. But WHY do they feel that way? What does it mean that any project Waititi so much as grazes up against becomes attributed solely to him in the public sphere?
To answer that, we can take a look at the central elements of Waititi's sensibilities, before he branched into genre filmmaking. The very beginnings of Waititi's directorial career are as a New Zealand mumblecore indie darling, making sweet personal comedies about relationships and coming of age like 2007's Eagle vs. Shark, and 2010's Boy. One of his earliest projects was 'What We Do in the Shadows: Interviews with Some Vampires,' a short film from 2005 which takes that mumblecore aesthetic and applies it to the horror genre. It was a natural match when you think about it; romance has always been a part of the vampire mythology as early as Bram Stoker. In effect, Waititi was merely updating that to fit the romance genre as it was recognized in the 2000s. A love story is still at the center of the feature film adaptation of the short in the 2014 What We Do in the Shadows feature film treatment, which he co-wrote and co-starred in with Flight of the Conchords' Jemaine Clement. It's also a lot funnier, for Clement's creative involvement. And it's that particular flavor of comedy which is predominant in the television adaptation, which Clement helmed and now features a huge team of writers and directors. You could think of the creative pedigree and stewardship behind the franchise since those short indie film days like a sort of martial arts school. We're several degrees removed from the source by now, but they're all informed by the progenitor's style. Which, in this case, was born from a collaboration between Clement and Waititi.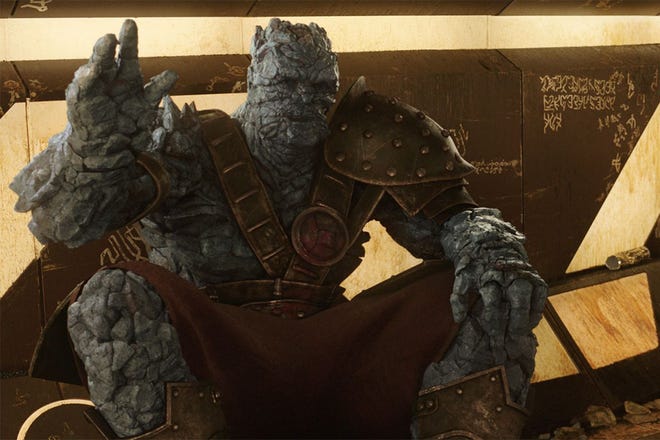 While Clement has been successfully helming Shadows, Waititi has been applying the Shadows formula across genres. It's become a sort of joke by now how Kevin Feige and Marvel Studios will enlist indie darling directors with signature style to helm their big Marvel properties to make bank while painting by the studio's numbers. Such was the case with Thor: Ragnorok, a rare case where the director of a major Marvel film has dramatically affected the tone. What if you applied the same indie film flavor of humanity to superheroes -- even gods, as the Thor franchise in particular demands? Sometimes it fits deliriously well, other times it rankles. Like when Korg makes a joke about how he could use a pitchfork to kill 3 vampires at once in the movie. How would an alien know what a vampire is? The answer: none of Waititi's characters are aliens. None of them are monsters. Every one of them are human. More specifically, they're all New Zealanders.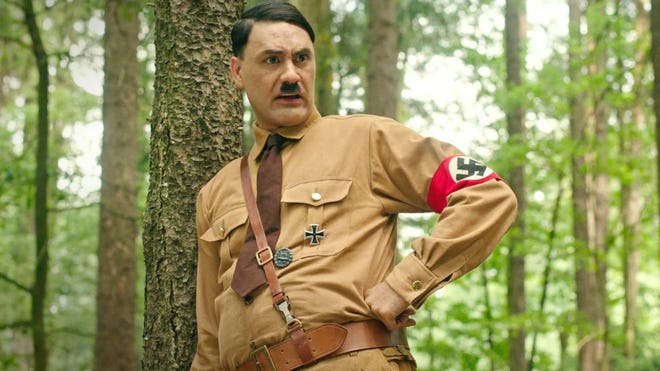 The most dramatic example of this, and depending on who you ask, where he may have gone too far, is Jojo Rabbit -- a film which once again gives that indie mumblecore treatment to a milieu where it doesn't seem to typically belong. In this case, Nazi Germany. Taika Waititi himself plays a fanciful Adolf Hitler, the child protagonist's imaginary friend. It's a concept which feels like it could have come out of the forever-canceled The Day The Clown Cried, but for a lot of people, Waititi makes it work with his sense of humor and humanity. (Personally, I'm not really a big fan of making jokes out of Nazis, no matter what your message is.)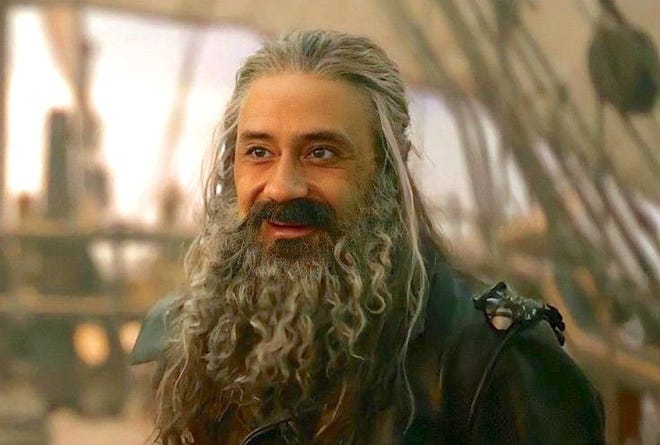 This particularly explains why Our Flag Means Death, a series which Waititi costars in, produces, even directed the pilot, but had no hand in creating, feels so much like a Waititi project. Like What We Do in the Shadows, like Thor and like Jojo Rabbit, it takes a traditionally terrifying genre and cheekily defangs it. Bloodthirsty marauders are depicted with all the interpersonal politics of your office coworkers. You gossip about potential mergers, about who's hooking up, about how bad the new company logo looks. So does the crew of The Revenge. The Suicide Squad is a movie which features Waititi for only one scene, but his presence feels like a very intentional choice by James Gunn -- one which communicates how the film has earned its thesis that these ragtag supervillains are as human as any of us.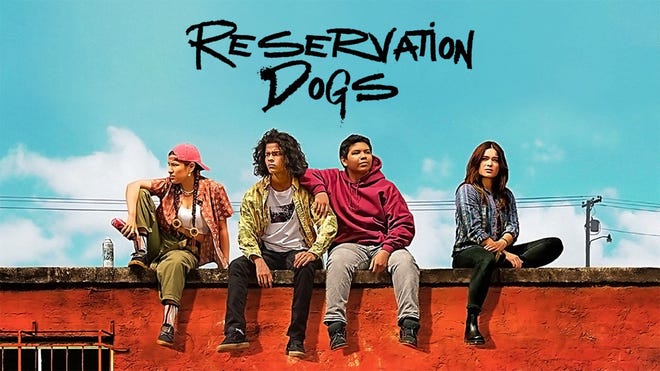 As these "Waititi Works" reach further afield with the monsters, aliens, and superheroes they're applied to, it makes sense that his best current project is one which deeply connects to his independent roots the most: FX's Reservation Dogs, a darkly funny and often deeply poignant comedy about coming of age on a Native American reservation. Even as producer and co-creator of the series, it's the Waititi project with which he's the least synonymous in cultural conversation despite bearing all of his hallmarks. But it's in how it applies that Taika Waititi sensibility of applying humanity to a group not typically afforded empathy that makes the show truly stand out, by affording it to a people who actually need it: to a wide audience, Reservation Dogs showcases the humanity of Native American communities where they are so often othered, when not disregarded entirely as extinct. It's truly for the best that Reservation Dogs has been the one project which seems to have escaped Taika's shadow. Part of that is how he's declined to cast himself in it, allowing himself the room to stay out of its way. The other is that it's a project primarily guided by writers and actors from within Native American communities themselves. Native Americans aren't vampires or Norse gods. They're real people, and they can tell their own stories. So it's really in everyone's best interest that they tell them.
That's our point here, really. Just remember that while Taika Waititi may be the symbol of this movement of general earnest, sexually liberating, openly accepting wave of comic positivity even as juxtaposed to unthinkable atrocity, it's not all him. He attaches his name to the projects which evoke that same feeling, like a Seal of Approval. The face of a movement, maybe, but by no means that movement in its entirety. When you talk about Our Flag Means Death, remember David Jenkins. When you talk about Reservation Dogs, remember Sterlin Harjo. And when you talk about What We Do in the Shadows, remember Jemaine Clement, Paul Simms, and Stefani Robinson. In our celebrity-oriented culture, we chase an impulse to hang one face on a movement. But especially in film and television making, you're always hearing a chorus of voices. Waititi himself would tell you the same.
Which is why you can still love these projects, and still admit Thor: Love and Thunder kind of sucked.
---
No, Taika Waititi will not save us: It's time to stop worshipping artists and start treating them like real people.