Taylor Swift is going to save cinema this October
The opening weekend of The Eras Tour movie is set to make $100 million, according to estimates
Taylor Swift is going to save the movie industry.
Okay, that's hyperbole, but the news that Swift will be releasing a concert film — Taylor Swift: The Eras Tour — in theaters next month in the US (with Canadian and Mexican release happening simultaneously; it's still unclear what plans are for international releases beyond that) has proven to be a very welcome boost to what was looking set to be a disappointing fall for theater owners after multiple projects have been delayed due to the SAG-AFTRA and WGA strikes. That's underplaying just what a big deal the movie is going to be, though — even if theaters were filled with crowd-pleasing blockbuster fare, Taylor would still likely blow them all away.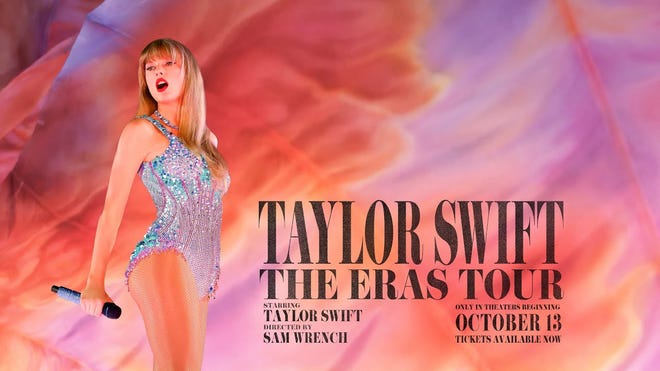 Current forecasts suggest that The Eras Tour is going to have an opening weekend gross of around $100 million, which would make it one of the biggest openings of the year, bigger than Indiana Jones and the Dial of Destiny, Mission: Impossible - Dead Reckoning, and Oppenheimer. If it hits that number, that'll mean that The Eras Tour will, in its opening weekend, earn more than the entire weekend box office take of either of the last two weekends in August.
In fact, the movie is expected to be so successful that the sequel to classic horror movie The Exorcist, The Exorcist: Believer, will move its release date in order to avoid being crushed at the box office. That's right; even the Devil himself fears Taylor Swift.
Presales for the movie took in more than $37 million in its first 24 hours alone last week, which ranked the movie above 2015's Star Wars: The Force Awakens… and that was before theaters added more showtimes to keep up with demand.
Maybe we shouldn't be too surprised by this result; the Eras Tour is expected to make somewhere around $2.2 billion in North American ticket sales alone according to estimates, with a projected $5 billion in economic impact for the U.S. leg of the tour in total. (Anecdotally, hotel occupancy hit 97 percent in Chicago earlier this summer when she played that city for three days.)
All of this adds up to one thing: it's good that Swift is bringing the tour to movie theaters when they need the bump. Think of it as a karmic payback for those of us who sat through her appearance in Cats a few years back.
Taylor Swift: The Eras Tour is set to open in theaters October 13. Buy tickets on Fandango or Atom Tickets.
---
One of those delayed movies? The already long-awaited Dune: Part Two, which has been pushed until Spring 2024.