The Adventure Zone guide: how to listen to the McElroy podcast franchise in chronological order
A guide to how to best appreciate the McElroy family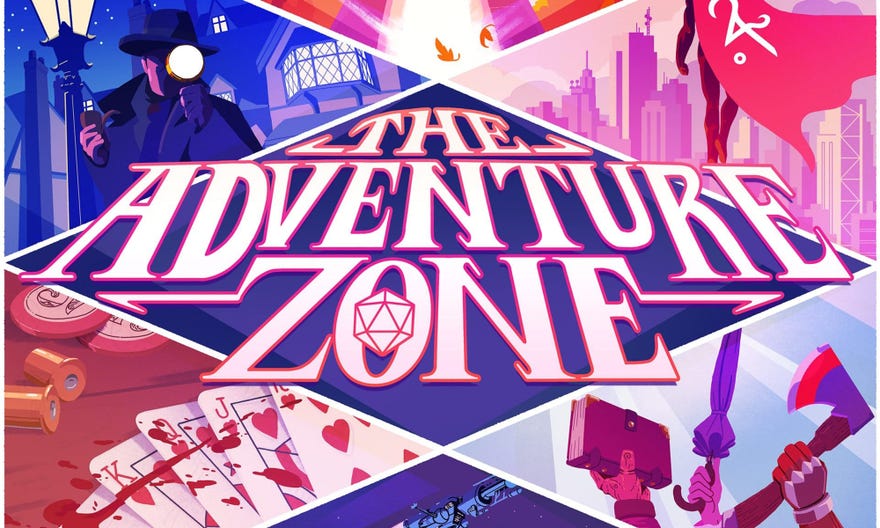 The Adventure Zone is a TTRPG actual play podcast series hosted on the Maximum Fun network by the McElroy Brothers – Griffin, Travis, and Justin – and their father Clint. Launched as an off-shoot of their long-running comedy advice podcast in 2014, The Adventure Zone has its roots in Dungeons & Dragons' Lost Mines of Phandelver module, but has run the gamut from superheroes to underwater post-apocalypses and had shows based in multiple games like Blades in the Dark and Monster of the Week.
The show is currently in the middle of its most recent arc, 'Steeple Chase,' and over the years has also branched into mini campaigns and bonus episodes galore from The Adventure Zone live shows. Balance has also been adapted into a series of graphic novels, with the most recent installment The Eleventh Hour hitting shelves in early 2023. For those who have been interested in jumping into the series but haven't been sure where to start, this listening order is for you – though the McElroys also have a primer in their October 28, 2022 episode.
The Adventure Zone is available through Apple Podcasts, Stitcher, and Spotify, and annual bonus episodes (noted below) are available as part of a paid Maximum Fun subscription..
The Adventure Zone: Balance
The longest-running and best-known arc of the show is The Adventure Zone: Balance. Balance ran from December 3, 2014 to August 24, 2017 as a Dungeons & Dragons 5e (mostly) series run by youngest brother Griffin. In this arc, wizard Taako Taaco (played by Justin), fighter Magnus Burnsides (played by Travis), and cleric Merle Highchurch (played by Clint) as they stumble from what should have been a one-and-done escort job into a race against time to track down world-ending relics. Each arc includes 'Lunar Interlude' episodes to transition between adventures and occasional 'The The Adventure Zone Zone' episodes where the McElroys discuss the campaign so far and answer audience questions.
The Adventure Zone: Balance Arcs
Here There Be Gerblins: December 3, 2014 - March 12, 2015
- This includes episode 1.5, a condensed supercut of the debut episode.
Murder on the Rockport Limited: March 19, 2015 - June 18, 2015
Petals to the Metal: July 2, 2015 - December 3, 2015
The Crystal Kingdom: December 19, 2015 - May 19,2016
The Eleventh Hour: June 2, 2016 - October 6, 2016
The Suffering Game: October 20, 2016 - March 30, 2017
The Stolen Century: April 13, 2017 - June 29, 2017
Story and Song: July 13, 2017 - August 24, 2017
The Adventure Zone Graphic Novels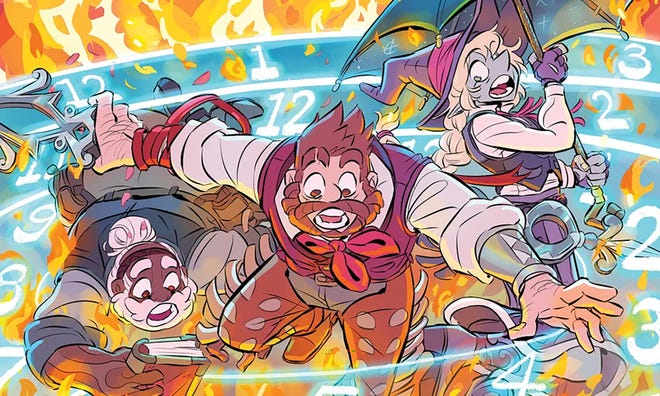 While the graphic novels – co-written by the brothers with co-creator and illustrator Carey Piestch – do closely follow the series, the adaptations streamline and adjust some plot elements to work more cohesively as a graphic novel series. If you start with the podcast, you'll be spoiled for the graphic novels, and vice versa, but they're a fun and unique Balance experience all their own. The graphic novels share their titles and release orders with the arcs of the show, listed above, with The Eleventh Hour being most recent release.
The Adventure Zone Balance Bonus Episodes
The Great Switcheroo (October 8, 2015 and December 29, 2016): The hosts of Maximum Fun podcast The Flop House take over TAZ for a bonus series DM'd by Stuart Wellington featuring Elliot Kalan as bard Jeremy "Scales" Fangbattle, Dan McCoy as druid Lucian Buttwatcher, and Zhubin Parang as nobleman Tanzer Silverview.
The Adventure Zone Presents: The Live Boston Stunt Spectacular (November 3, 2016): The first Adventure Zone live show, where the boys find themselves drafted into a wrestling show. Features the world's greatest wrestler, Kurt Angel.
Other Balance bonus episodes typically take place as alternate realities or as events after the timeline of the main show, and will likely include spoilers for Balance episodes prior to the live show recording.
The Adventure Zone Presents: MaxFunCon East Live: December 1, 2016
The Adventure Zone: Live in Austin: September 8, 2017
The Adventure Zone: Live in San Diego: September 21, 2017
The Adventure Zone: Live in Nashville: December 14, 2017
The Adventure Zone: Candlenights in Tacoma: December 29, 2017
The Adventure Zone: Live in Dallas: May 17, 2018
The Adventure Zone: Live in Atlanta: September 20, 2018
The Adventure Zone: Live Halloween Special: October 31, 2018
The Adventure Zone: Live Candlenights Spectacular: December 13, 2018
The Adventure Zone: Live in New Orleans: March 7, 2019
The Adventure Zone: Live in San Jose: May 16, 2019
The Adventure Zone: Live at Emerald City Comic-Con: December 23, 2021
The Adventure Zone: Live in Minneapolis: August 11, 2022
The Zone of Adventure: Imbalance
The first and only Balance adventure run by someone outside of the McElroy family, Imbalance is a three-part adventure run by DM Aabria Iyengar who has also run games for Critical Role and Dimension 20 on DropoutTV. Justin, Travis, and Clint return for a time-traveling adventure as Taako, Magnus, and Merle, with Griffin joining as a character who appeared in the original Balance run. Imbalance can be found on the McElroy Family YouTube channel.
The Adventure Zone: Commitment
Commitment is a five episode superheroic mini-arc using the Fate system, run as one of three mini campaigns to explore potential long-term settings for a second season of The Adventure Zone. Clint McElroy leads Griffin (as former pro gymnast Chris "Remy" Rembrandt), Justin (as Irene Baker, an office worker sharing her body with a goddess), and Travis (as super-genius Nadia Jones) on a superheroic adventure as members of the mysterious Do Good Fellowship.
Commitment ran from October 5, 2017 to November 30, 2017's episodes.
The Adventure Zone: Amnesty
Amnesty began as a mini campaign alongside Dust and Commitment, and ultimately became the second full campaign of The Adventure Zone. Griffin returns as the DM of this supernatural Appalachian adventure. Amnesty is set in the McElroys' home state of West Virginia and follows forest ranger and unwilling Chosen One Duck Newton (Justin), upbeat and unexpectedly powerful stage magician Aubrey Little (Travis) and conman and cryptid museum owner Edmund "Ned" Chicane (Clint, who also later plays Arlo Thacker) on their quest to save not only their hometown of Kepler, but an entire world beyond our own. Amnesty also includes "The The Adventure Zone Zone" episodes, which become a staple of the longterm campaigns moving forward.
First mini arc: January 4, 2018 to February 9, 2018
Three mini arcs post-mortem and Amnesty return discussion: April 5, 2018
Rest of Amnesty: April 12, 2018 to September 23, 2019
Bonus episodes:
The Ballad of Bigfoot, a non-canonical prequel liveshow recording episode that ran on October 17, 2019
The Adventure Zone: Amnesty Halloween Special: November 12, 2020
The Adventure Zone: Dust
The third of the three mini-campaigns released after Balance, Dust is a supernatural western adventure run by Travis using Urban Shadows, a Powered by the Apocalypse game. The McElroys recently returned to Dry River for a second season of Dust.Both seasons run five episodes.
Season one features ghostly industrialist Augustus Parsons (played by Justin), werewolf and former politician Errol Ryehouse (played by Griffin), and wizard Gandy Dancer (played by Clint) as agents for the Grayson Agency detective organization who find themselves investigating a murder that could tear the town of Dry River apart. Dust Season 1 run date: February 22, 2018 to March 22, 2018
Season two sees Justin returning as Augustus Parsons, joined again by fellow Grayson Agency employees Callan (a gunman played by Clint) and Indrid Cold (a mysterious, otherworldly man played by Griffin). This time the trio are enlisted for a train heist, helped out by guest player Erika Ishii as Louise "Lulu" Kagiyama, a business owner with demonic ties.
Dust Season 2 run date: September 1, 2022 to September 22, 2022
The Adventure Zone: Graduation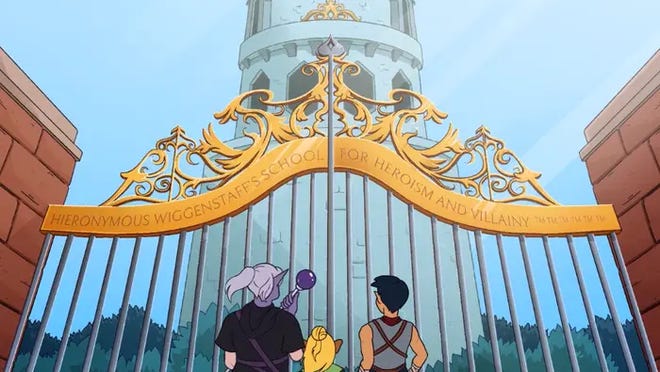 Travis McElroy brings the show back to its Dungeons and Dragons 5E roots with Graduation. The McElroys play students at noted adventuring academy Hieronymous Wiggenstaff's School for Heroism and Villainy, with druidic the Firbolg (Justin), swashbuckling rogue Argo Keene, and wild magic-using barbarian Sir Fitzroy Maplecourt, Knight in Absentia of the Realm of Goodcastle (Griffin) finding themselves as roommates as they start sidekick school. In short order the trio finds themselves entangled in a conspiracy that could turn not just the school, but the entire world on its head – and only they can stop it, as long as they can keep up with their classes.
Graduation run date: October 31, 2019 to April 29, 2021
The Adventure Zone: Ethersea
Griffin McElroy takes the show in a new direction with Ethersea. For the first time the show incorporates a series of worldbuilding episodes utilizing Avery Alder's mapmaking game The Quiet Year, using it to build out the post-apocalyptic underwater world of Ethersea before returning to 5E for the primary campaign. Justin plays monk Amber Gris, Travis is bard Devo la Main, and Clint rounds out the party as sentient coral ranger Zoox, with the three reluctantly joining up as crewmates to take up a series of odd jobs that spiral into something much more.
Ethersea run date: May 6, 2021 to August 18, 2022
The Adventure Zone: Steeplechase
Steeplechase, the show's seventh and current campaign, marks Justin McElroy's first foray into running a campaign for the show for this Blades in the Dark arc. Set in Steeple Chase, a city-state made up of layers upon layers of theme parks, the arc features monologues from an in-universe fan show called "Steepywatch" performed by Autumn Seavey Hicks that recap the current events of the show. Griffin plays salesman and jack-of-all-trades Montrose Pretty using the Slide playbook, Clint plays mechanic Emerich Dreadway with the Whisper playbook, and Travis plays former pro arm-wrestler and arcade worker Beef Punchley with the Cutter playbook.
Steeplechase run date: September 29, 2022 - present
The Adventure Zone Live Shows
These are live shows taped and later shared through The Adventure Zone podcast feed throughout the year.
The Adventure Zone: Hootenanny, Live in Nashville: October 3, 2019, using John Harper's Lasers & Feelings system. A country western space opera.
The Adventure Zone: Badlands: November 28, 2019 and January 12, 2023, using a one-page RPG of the same name (link - https://www.themcelroy.family/2019/11/28/20984185/the-adventure-zone-dadlands) developed by the McElroys with Keith Baker and Jenn Ellis. Guest GM, Brennen Lee Mulligan.This world where only dads remain is best summed up by Travis' character, "a Car Dad named Guy Ferrari."
The Adventure Zone: Holiday Brawl in Chicago: December 27, 2019, using Paul Matijevic's The Fight Before Christmas (a hack of Lasers & Feelings).
The Adventure Zone: Just Us: February 25, 2021 and August 25, 2022. These shows use Ursidice's SUPERNORMAL system for a superheroic world harkening back to TAZ: Commitment.
THe Adventure Zone: Spirit Breakers: October 27, 2022. Special guest player Aabria Iyengar joins the McElroys for a supernatural mystery using Grant Howitt and Chris Taylor's The Beast system.
The Adventure Zone MaxFun Bonus Campaigns
The McElroys also tape a number of bonus episodes as part of the Maximum Fun network's annual MaxFun membership drive. These episodes require a paid membership to access.
The Adventure Zone: Live in Los Angeles, a Balance adventure
The Adventure Zone: Nights, a two-part D&D adventure run by Travis McElroy
The Adventure Zone: Elementary, a two-part game using Andrew J. Young's Four Sherlock Holmes and a Vampire RPG – where one of the Sherlock Holmes is in fact the vampire. Starring special guest Sherlock Holmes, author Patrick Rothfuss.
The Adventure Zone: Mercer, featuring Critical Role's Matt Mercer as the GM of a modern-day organized crime adventure in magical New York City.
The Adventure Zone: Lords of Crunch: Clint, Travis, and Griffin play forgotten cereal mascots as unlikely heroes in this modified Lasters & Feelings adventure GM'd by Justin McElroy.
The Adventure Zone: 2tenanny, a sequel to Hootenanny this time run by Clint McElroy while Griffin joins as a player.
The Adventure Zone: Charlieverse: If you haven't listened to a single episode of The Adventure Zone, but you have heard the phrase, "Welcome, babies, to the Fruity Pebbles Castle of Torment, a scary castle with one hundred rats," you've already been swept into to the Charlieverse. In this one-shot run by Justin, the McElroys take on a game created by Justin's then six-year-old daughter.
Looking for more McElroy content? In addition to Popverse's preview of the most recent Balance graphic novel The Eleventh Hour, Popverse subscribers can check out a number of ReedPOP panels featuring the McElroys at events like C2E2 and ECCC.