The best of the best Comic-Con International: San Diego 2022 exclusive merchandise
Why we wait in line: This year's San Diego Comic Con 2022 exclusive merchandise
Every year thousands of people line up in anticipation to get a rare, one of a kind exclusive from San Diego Comic Con. From comic books to Funko Pops and everything in between, there's a collectible for every type of collector at this convention! In years past I've been lucky enough to snag a few rare items for my collection, but it's always fun to see what other items are being offered at one of the largest comic conventions on the planet!
This year's exclusives have a little bit of everything. There are your standard enamel pins, variant comics, and Funko Pops, mini back packs, and more! Featuring items from all kinds of fandoms, there is truly something for everyone at Comic-Con International: San Diego.
DKE Toys Con Stuff (Booth #2643)
DKE Toys is one of the coolest toy distributors around. Selling designer toys, plushes, and anything else from a number of high profile artists, their selection for SDCC 2022 is something to behold. With over 15 unique, limited edition action figures to choose from, this year's main focus is on popculture collectible figures with a twist. Each item will be for sale at this year's SDCC on a first come first serve basis. Anything left over from the convention will go on their website after.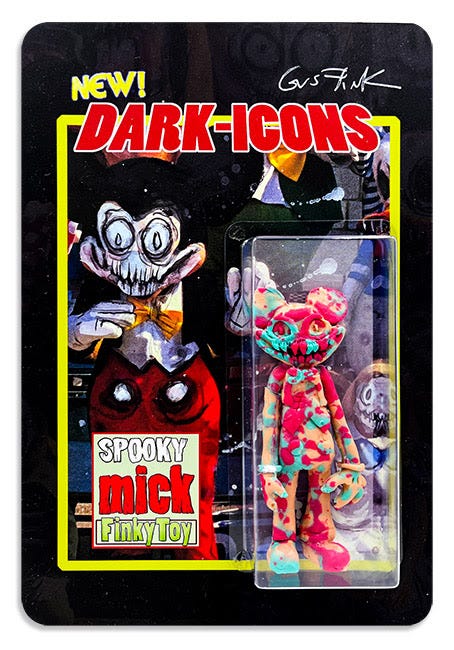 Spooky Mick, created by Gus Fink x Ghoul of Gabba, is something from a vacation gone wrong nightmare. Yet this take on one of pop culture's biggest icons is hard to take your eyes off off. These hand cast resin figures come in a variety of colors, are hand signed and numbered to 120. You can pick this gruesome figure up for $50.
Alex Gross's Compulsion features everyone's favotite princess turned general, Leia, enjoying a frozen slush. This hand cast resin figure sits on a card featuring other Star Wars favorites enjoying various frozen treats. Each figure is hand signed and numbered to 50, and can be yours for $100.
Indie comic darling Cherry by Larry Welz is getting a limited figure release this year at the DKE booth. This digitally printed and hand painted figure comes on a hand signed card, limited to 20. Wearing her signature red dress and larger than life blonde hair, collectors can grab her for $75.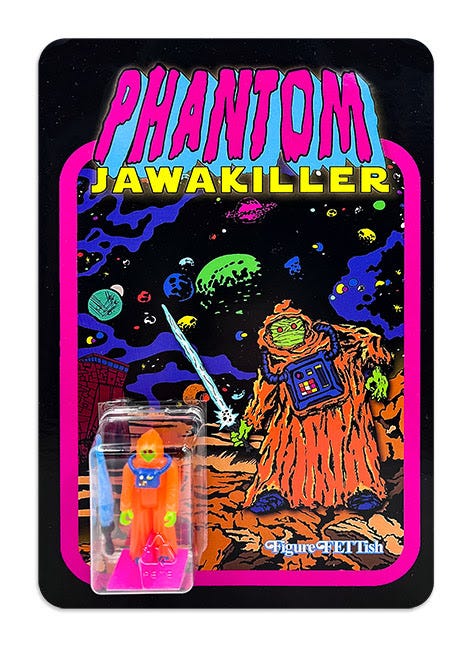 Phantom Jawakiller by Figure FETTish is a clever, colorful blend of the comic series Phantom Starkiller with the infamous Star Wars Jawas. This eye catching neon daydream is hand cast and painted, signed, and only numbered to 20. Even moreso, this figure will only put you back $50.
Yoyodyne Toy Division with Tim McDonald teamed up to create Artoo Berry — a clever mix of R2D2 and Boo Berry, the popular Halloween cereal mascot from General Mills. There are only 30 of these figures available, and one could be yours for $100. Each figure is hand cast and painted, signed and numbered, and comes in a matching cereal box.
Beeline Creative (Booths #2913, #3749, #2343)
At Geeki Tikis (#2913), Toynk (#3749), and Entertainment Earth (#2343)
Beeline Creative, the masterminds behind the Geeki Tiki line, are bringing some truly inspiring and unique tiki mugs to SDCC. Inspired by popculture favorites, these durable mugs are just plain fun to look at — no drink required! Geeki Tikis will be available at three different booths this year – Geeki Tiki, Toynk, and Entertainment Earth.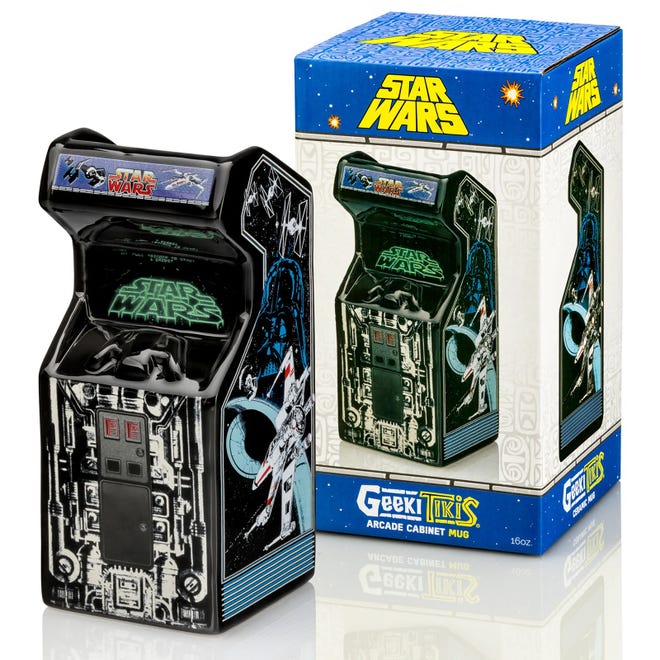 My personal favorite SDCC Geeki Tiki has to be this Star Wars arcade cabinet mug. Inspired by the original Atari arcade game from 1983, this mug features the same artwork and joystick design, and is shaped like an arcade cabinet. This mug can be found at booth #2913-N for $40.
At Toynk booth #3749, horror fans can get their hands on this set of Horror Geeki Tiki Mini Muglets, with iconic characters from Friday the 13th, A Nightmare on Elm Street, The Exorcist, and IT. This set of four muglets comes in a haunted house case, ideal for displaying. The Horror Geeki Tiki Minis will be $60.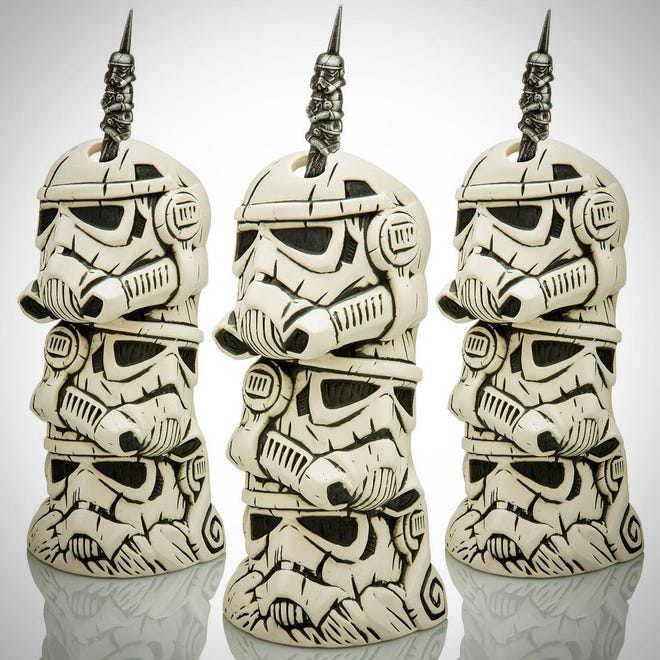 Did you know Storm Trooper helmets made for great drinking devices? Geeki Tiki did, and for SDCC you can now own a Stormtrooper Geeki Tiki, complete with a metal swivel stick. This set will put you back $80, but it's money well spent for the Rebellion.
Entertainment Earth (Booth #2343)
Entertainment Earth has become a collectors haven, bringing their very best limited releases to SDCC and other big conventions around the US. This year they're bringing the best of the best for fans in every kind of fandom. These items are absolutely eye catching, and will be the talk of your friends group!
The EST of the WWE, Bianca Belair, is finally getting her own Loungefly mini backpack and wallet. Featuring her iconic glitter lip logo, this purple holographic backpack and wallet are the perfect item for WWE fans. The mini backpack is big enough to hold your essentials as well as a mini camera. The backpack is priced out at 69.99, while the wallet is $29.99. Can't make it to the con? Don't worry – you can preorder this item for shipping after the event!
Geeki Tiki mugs are taking over SDCC! Entertainment Earth will be offering two special Geeki Tiki's — Adam and Barbara from Beetlejuice. Featuring their 'scare' faces, these mugs will implore you to get up and dance to Day-O. Each mug costs $27.99, and can be pre-ordered for shipping after the con.
Yesterdays (Booth #1028)
Looking for something smaller to bring home? Yesterday's is offering a plethora of collectible, limited edition enamel pins for a variety of collectors! Plus, these pins are inexpensive as well, coming in at $10. While you could wear these on your lanyard or wherever else you may wear a pin, I personally like to display mine on a special pin-only coarkboard! This years pins include: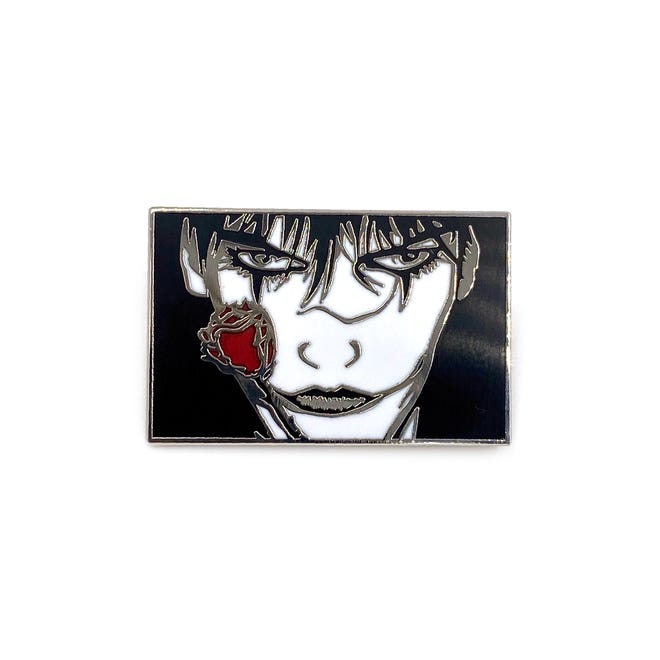 The Crow Death Rose – limited to 200
Game Boy Color in teal, berry, dandelion, kiwi, grape, and atomic purple – limited quantities
Catwoman, Michele Pfeiffer and Zoe Kravits – limited to 200 each
Yesterdays is also releasing a limited edition Misfits Corner Box pin, inspired by the corner boxes on comic book covers. There will also be an exclusive Misfits teeshirt with artwork inspired by Frank Miller's infamous cover art for Wolverine #1, drawn by LAmour Supreme. The shirts come in black or white, and will be $32. The artwork is also available for collectors on a trading card, perfect for displaying at home.
Loungefly (Booth #5149)
Loungefly has been a nerd fashion staple for years now. Known best for their fun and inspired mini backpacks, these bags are always a hot item at conventions and retail stores. This year fans of the brand can find limited edition mini backpacks at the Funkoville Campus area of the famed exhibition hall. Funko will be taking over a part of the exhibition hall to give fans a truly immersive, Funko experience. While no price points have been unveiled, most Loungefly mini backpacks range from $49.99 - $69.99. These mini backpacks are also a part of the Summer Convention series, so if you're not able to attend SDCC, some of these bags may be available at select retail stores. Some of this years exclusives include:
Gamora – will also be available at 707 Street
Captain Carter – will also be available at FYE
Stranger Things mini backpack with special Funko Pop – will also be available at Funko stores
NECA (Booth #3545)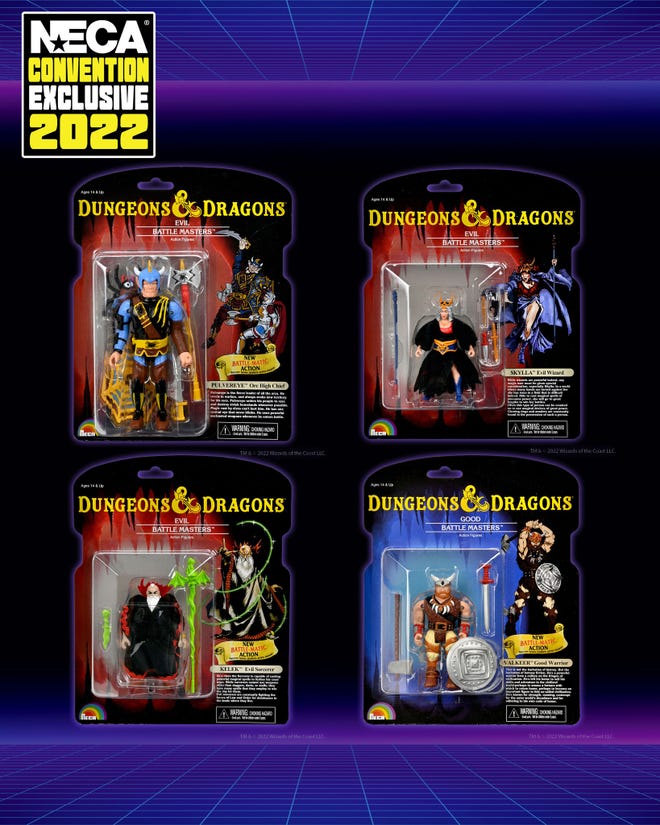 Since 1996 NECA has been delighting fandom with their detailed figures and collectibles. A staple at SDCC, this years convention exclusives will no doubt be the hardest to obtain. While preorders were available prior to the convention, all of the items have since sold out. If you're looking for one merchandise line to stand in, this may be it! This years selection includes figures from some places you may not expect.
Dungeons & Dragons is one of the most famous role playing games on the planet. To celebrate the long running RPG, NECA is releasing a Dungeons & Dragons 4" scale action figure Lost Wave 4 pack. This figures are based on original prototypes that were never released. Featuring the characters Pulvereye, Skylla, Kelek, and Valkeer, these posable figures will be priced at $100.
John Carpenter's The Thing is an iconic horror film, and this 7" action figure, featuring an LED light in the head, is one of the coolest pieces of merchandise I've seen. Recreating the infamous poster, comes with interchangeable faceplates. The box is perfect for displaying as well, as it boasts a 5 panel window box. The figure will be priced at $50.
To celebrate Rob Zombie's The Munsters, based on the popular '60s television show, fans can finally own their own Zombo action figure! Zombo appeared in the season two episode, Zombo, as a horror television host (similar to Vampira). To celebrate Zombo's return fans will have a chance to obtain this highly detailed figure in a Crumble Creature Cracker Box for $50.
Mattel (Booths #3029 and #2945)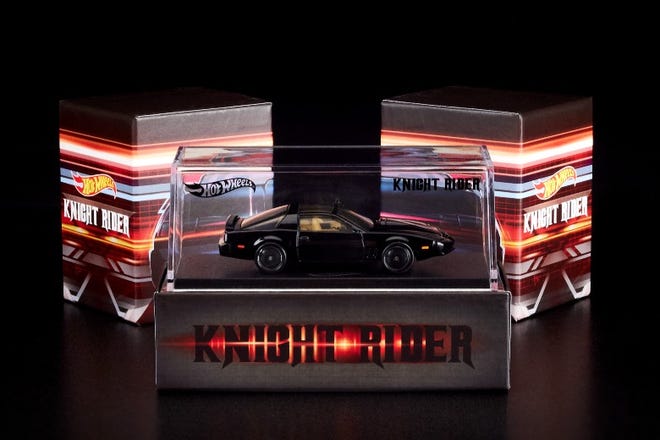 Mattel is no stranger to releasing exclusives and collectibles that make our hearts pound with excitement! This year they have a little something for most fans attending San Diego Comic Con, including action figures, model cars, and full scale play sets.
Ever wanted your own K.I.T.T. from Knight Rider? Now you can, with this stunningly detailed K.I.T.T. Hot Wheels, complete in a display case you wouldn't dare open. This car also comes equipped with a working LED scanner bar, pulling you deeper into the Knight Rider world. If you can't make it to the con, the limited edition model will be on sale at MattelCreations.com on Friday, July 22, at 9am PT.
Mondo (Booth #5137)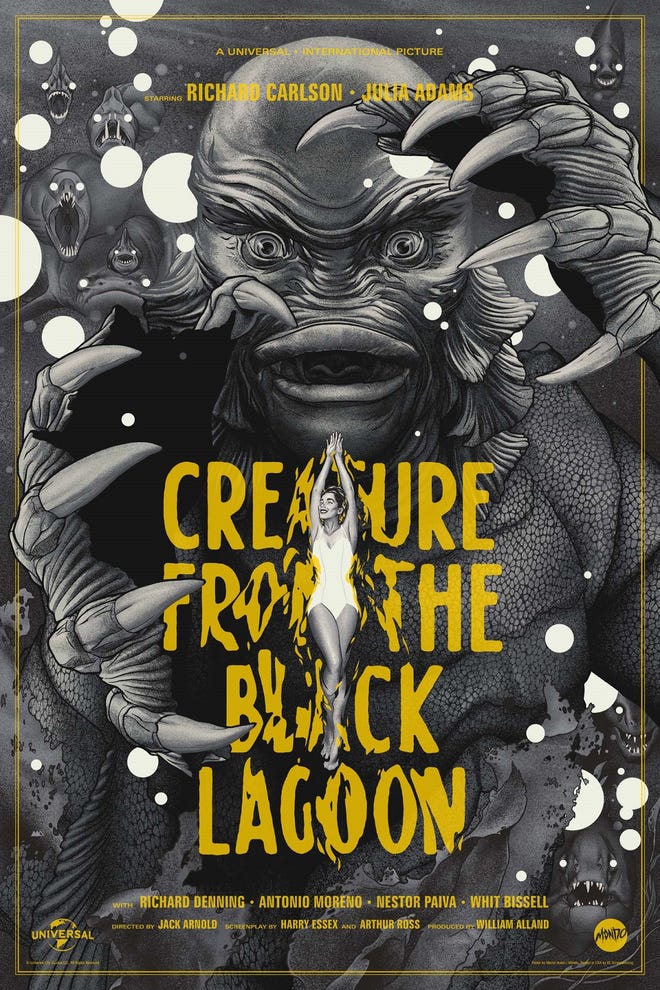 Mondo was recently purchased by Funk, so this year Mondo will be offering their signature items – records, prints, and toys – at the Funkoville Campus! They're bringing a ton of unique and eye catching items, all with that beautiful artistic flair we've all come to love. Collectors will be able to find action figures, records, prints, and more.
If you crave anything Universal Monsters like I do, Mondo is giving us a trio of limited edition Creature from the Black Lagoon prints!! These 24" x 36" prints were designed by artist Martin Anson, and will be released on certain days of the convention. The first version will have 300 prints available for $50. The Silver Screen (black and white) variant will also be available online with a print run of 170, and will be priced at $70. Lastly, a foil print will be available with a print run of 120, and will be priced at $100. All three prints will be available Saturday, July 23rd. The first print and the Silver Screen edition will also be available on MondoShop.com.
Mondo is also re-issuing the fan favorite, sold out vinyl of The Batman score by Michael Giacchino. This exclusive record comes with a foil stamped envelope and is limited to 500 pieces and will only be available at SDCC on Friday, July 22cnd for $50. This is my personal must have from the convention, and I know this record will be gone quickly!
Of course, there's no shortage of amazing San Diego Comic Con exclusives for every type of fandom out there. What exclusives are you looking forward to the most? Let us know what you're on the hunt for, and what we should keep our eyes on!
---
There's a lot going on at SDCC, and Popverse is covering over 10 events every day of the convention - some days even 20! To keep track of it all, check out Popverse's San Diego Comic Con 2022 round-up.