Stargirl's Yvette Monreal chats Wildcat's new arc, new neighbors, and new teammates in season three
Wildcat unleashed: Yvette Monreal talks Stargirl season 3
NOTE: This interview features spoilers for events potrayed in the second season of Stargirl.
Season three of Stargirl will premiere on August 31st, and it's looking to be a big one. Last season ended with the Justice Society overcoming the threat of the villainous Eclipso, but the life of a hero rarely calms down.
For the past two years, Yvette Monreal has portrayed Yolanda Montez on the CW superhero drama Stargirl. By day Yolanda is a high school student, by night she transforms into Wildcat, the fiercest hero in the Justice Society. Popverse recently had a chance to chat with Monreal about some of the twists and turns fans could expect from the next storyline, which is titled Frenemies. From new neighbors, new teammates, and a murder mystery, Monreal had a lot to say about Stargirl season 3.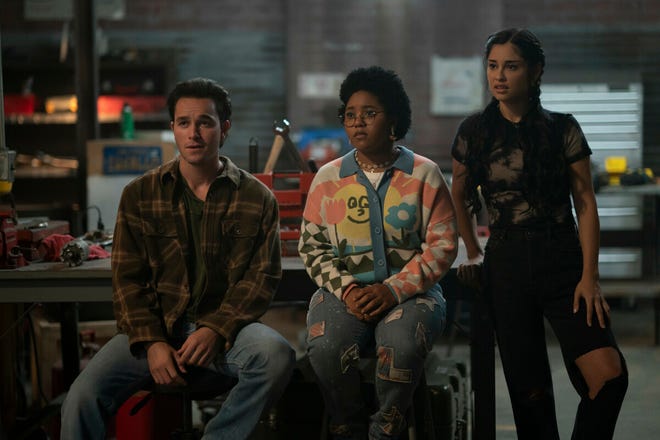 Last season Yolanda had to work through her guilt over killing Brainwave. It took a heavy toll on her, causing her to briefly quit the Justice Society. Where does this leave Yolanda in season three?
I think her arc of killing Brainwave kind of settled in season two, and in season three she's more worried about what's to come. For example, Cindy really wanting to join the JSA– that's a huge shocker to her, and she doesn't feel comfortable with it. I think that is what she's focusing on right now. I think [the Brainwave situation] resolved itself in season two. It was my whole arc, they really did a good job at diving deep on it and really exploring all of that trauma. Now she's moving on to protecting her little family, the JSA.
You mentioned Cindy, which is interesting. When we last saw Yolanda in the season two finale, Cindy asked her to sponsor her membership in the Justice Society. How is Yolanda handling this request, because that's a lot!
It's a lot! She doesn't have the best relationship with Cindy, just based off of everything that happened in the past-- she kind of ruined her life. I think she's going into it very protectively. She wants to protect everyone in the JSA. I feel like there's a lot of people open to second chances, but Yolanda just feels like she knows Cindy like the back of her hand, and this isn't going to end well. So she's not fully on board with this idea. It's scary to her, and she wants to do everything she can to protect her team.
Your scenes with Meg DeLacy have always been explosive. It's always great to see Yolanda and Cindy butt heads. How do you and Meg prepare for scenes like this?
Oh my gosh, it was so fun! We despise each other onscreen, but offscreen we're super close. It's funny because we have such a great relationship in person, we are two peas in a pod. It was really cool because we trusted each other to go there, and no one was going to take offense to it. We always talked about it afterward. And even beforehand we would go to each other's houses and go over the scenes, and really figure out what works for us. It's really cool to have that relationship with someone who you're playing enemies with.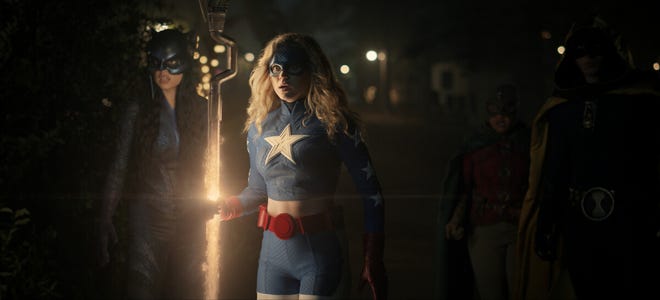 Now that Starman has revealed himself to the Justice Society, what does this mean for the delicate team dynamics? How does Yolanda feel about his return?
The return of Starman is a huge shocker to everyone. We know that the staff belonged to him initially, but now it's responding very well to our Stargirl. It's kind of like walking on eggshells. We're like, "Oh, this is awkward." We know that Starman and Stargirl have a lot of things to figure out. I think I'm kind of just seeing where it plays out. I do enjoy and probably prefer Stargirl's leadership, but there are some things that are starting to distract our Stargirl, so sometimes we have to lean on Starman. You'll see more of what I'm talking about, and why I say that when it comes out.
Last season ended with the Crocks moving next door to the Dugan-Whitmore household. What does this mean for Blue Valley?
Aren't they great? I love the Crocks. Pat (Dugan) and Crusher (Crock) have a really great dynamic, they're so funny together. It's kind of crazy, hence the story-arc title Frenemies. We have to sit next to our neighbors, and it's a murder mystery. There are people dying in our town and we don't know who to trust. It has everybody on edge for sure.
Has Yolanda's relationship with her family improved? They've been very hard on her since season one, and I hope she catches a break soon.
Yolanda and her family have always had a rocky relationship, but you will see the family make an appearance. I'm just going to leave it at that.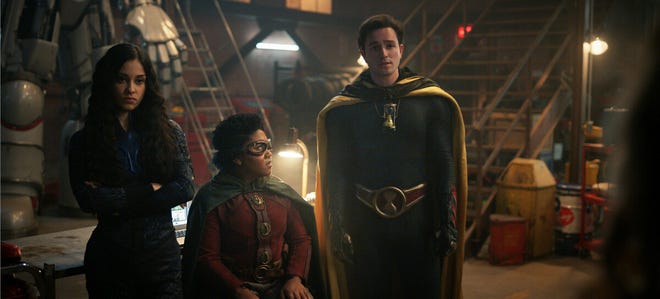 How has Yolanda changed since season one, and what can we expect from her in season three?
It's been very great to see her growth. I think in season one she was defined by her mistakes. She really wanted to just be a fly on the wall. She didn't want anybody to look at her or pay attention to her. Now that she's grown into this JSA family and suddenly has people who listen to her, she feels like she has an important role in this team and this whole dynamic. I think she feels more valued and with that, she's growing as a person, and she's becoming more confident.
In season three you'll definitely see her be stronger in her opinions and really voice how she feels, and I think that's new for her.
I don't know if you've been made aware of this, but with Superman and Lois on hiatus for the rest of the year, and The Flash not airing their final season until 2023 as well, Stargirl is going to be the only DC Comics show on network TV this fall. It's going to be you guys carrying the baton. How does that feel?
(Cheers) WAHOO! Awesome! Honestly, I hope it brings a newer audience, first of all, and it really gives people a chance to pay attention to our show. I think that's amazing. That's so awesome for us! Obviously I love Superman and Lois and The Flash, but you know, take all the time you need guys!
---
Stargirl Season 3 premieres on The CW on August 31, 2022 8PM Pacific.
---
Inside the never-before-seen '90s Sailor Moon anime/live-action hybrid show