Ms Marvel co-creator G. Willow Wilson wants to make orcs sexy (again) with IDW's The Hunger and The Dusk
"I bought it to IDW and they were like, 'Heck, yeah! Let's go a hot orc book!'" Wilson says
G. Willow Wilson is most known for co-creating the newest Ms. Marvel herself, Kamala Khan, for Marvel Comics. Now that Khan is has debuted in live action and is about to make the leap to the Silver Screen in The Marvels, Wilson has turned her gaze from the science fiction trappings of the comic book genre to the opposite side of the coin with high fantasty. IDW Publishing is releasing The Hunger and The Dusk, Wilson's latest series examining what we are all familiar with in fantasy story telling starting with our collective view of an entire species - orcs. By giving who are traditionally monsters a protagonist treatment steeped in lore and mythology Wilson hopes to capture readers' attention - with the help of artist/co-creator Christian Wildgoose.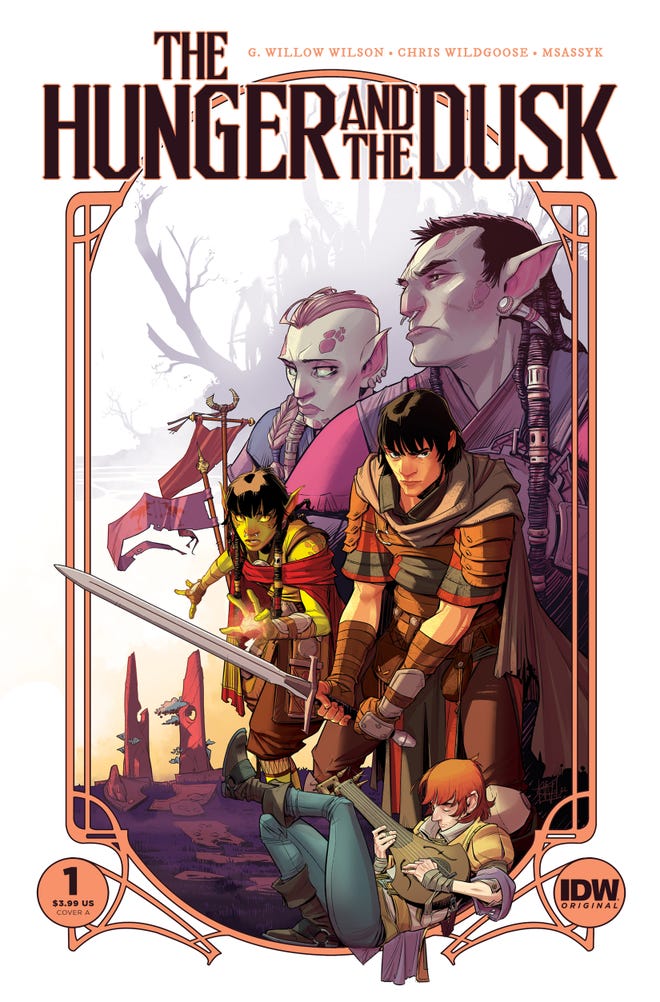 In a thought-provoking discussion, Popverse's Ashley V. Robinson caught up with Wilson on a recent episode of Enter the Popverse to delve into her process, polyglot influences in storytelling, and why everyone in the comic is so dang hot!
"I bought it to IDW and they were like, 'Heck, yeah! Let's go a hot orc book!'" Wilson laughed about The Hunger and the Dusk, "So, I'm very grateful to them for giving it a shot because I think it's just turned out really brilliantly."
The Hunger and the Dusk tells the story of a fantasy world on the brink of environmental destruction. Humans and orcs are forced to set aside their generations-long conflict in order to take on the threat of an even more powerful enermy. The deadly Callum and the mysterious Tara must work together on behalf of their peoples to ensure a new, safer future. Wilson is joined by artist Christian Wildgoose (Gotham Academy, Batman Nightwalker), with each issue sporting a variant cover from Cliff Chiang (Paper Girls, Wonder Woman).
Here is our full 15-minute interview with The Hunger and the Dusk writer G. Willow Wilson.
The Hunger and The Dusk #1 goes on sale on July 12, 2023.
---
Get into the comic shop scene with our comic store guide.