The Incal's wolf mercenary Kill Wolfhead goes solo in new OGN by Brandon Thomas and Pete Woods
On Moebius's birthday, we have news of a new spinoff comic featuring his character Kill Wolfhead from The Incal
Return to the iconic European comics universe of the Incal this fall with The Incal: Kill Wolfhead.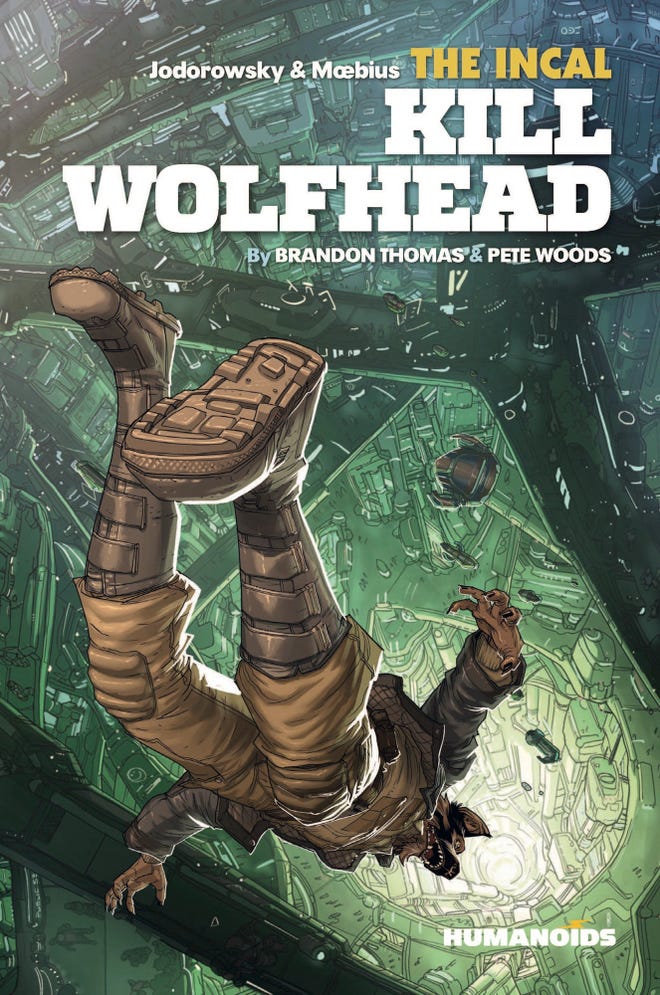 Scheduled to debut September 2023 from Humanoids, Inc., The Incal: Kill Wolfhead is a new original graphic novel (OGN) by writer Brandon Thomas (Excellence) and artist Pete Woods (Deadpool, Action Comics, Iron Man), following up on the stories from the Incal creators Alejandro Jodorowsky and Moebius. In fact, this new OGN's titular star Kill Wolfhead - a humanoid wolf mercenary - comes from the original '80s The Incal story.
"When I was invited to contribute to the Incal Universe, there was one supporting character that instantly called out to me — Kill Wolfhead," says Thomas in a statement. "From the amazing name to the ridiculous ever-evolving backstory, Kill cried out for a story and a platform all his own, and it was an honor to deliver it with Kill Wolfhead, finally turning the spotlight where it should've been all along."
Described by the publisher as "an irreverent and twisted tale of revenge, romance, and recollections," The Incal: Kill Wolfhead puts the target on the wolfman's back as his past comes back to haunt him.
"Being invited to contribute to the incredible Incal Universe has been a highlight of my career," adds Pete Woods. "I fell in love with Brandon's script the moment I read it and was excited to help bring it to life. I deeply appreciate all the support and encouragement I have received from readers. This has been a fantastic experience."
Check out this preview of The Incal: Kill Wolfhead, by Thomas, Woods, and letterer Troy Peteri:
Kill Wolfhead is the third in a line of new OGNs in the franchise, following The Incal: Psychoverse (by Mark Russell and Yanick Paquette) and The Incal: Dying Star (by Dan Waters and Jon Davis-Hunt).
The Incal: Kill Wolfhead goes on sale September 12 in bookstores and online, and then on September 13 in comic shops. You can pre-order now on Amazon, Barnes & Noble, and Bookshop.org.
---
The Incal: Psychoverse artist Yanick Paquette talks about his career in this expansive interview.