The Marvels soar into McDonalds with a new Happy Meal tie-in
Months ahead of the movie's release, a fast food tie-in introduces the next big Marvel Studios thing
There's still three months to go before Marvel Studios' next movie hits theaters, but that doesn't mean that it's too early to start the merch tie-ins — which would explain why McDonalds is currently giving away one of eight different toy tie-ins to The Marvels with every hamburger or chicken McNugget Happy Meal.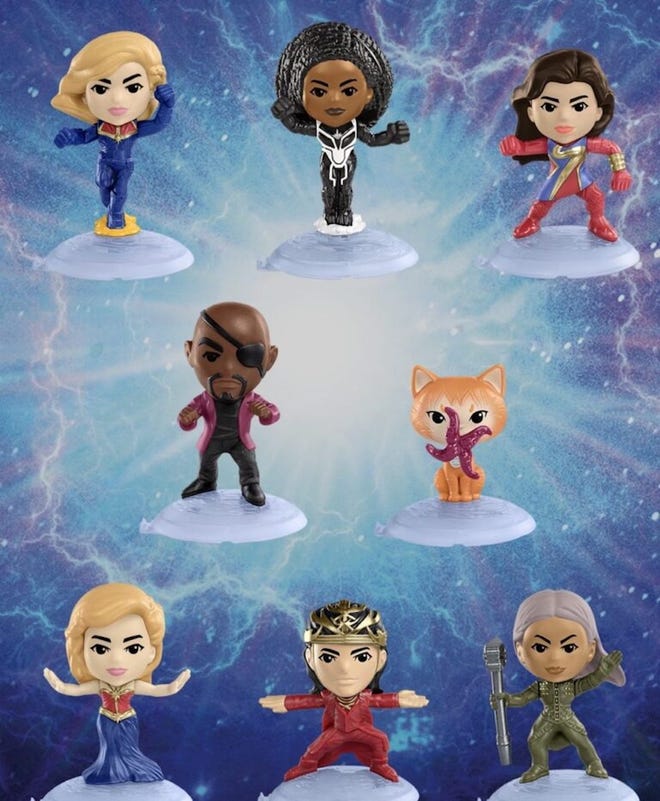 The main heroes of the movie — Captain Marvel, Photon, and Ms. Marvel — are, of course, represented amongst the character line-up of the new toys; in fact, there's two different Captains Marvel to choose from. Additionally, there are figures for Nick Fury, Prince Yan, Dar-Benn, and Captain Marvel's extra-terrestrial feline, Goose the Flerkin. Yes, some of those names might sound a little unfamiliar just now (Dar-Benn? Prince Yan?), but just wait a few months. That'll change soon enough.
(To be fair, we knew some of those names already… and Dar-Benn can be seen in action in the latest trailer for the movie, too.)
It's not just toys that are part of the Marvel/McDonalds team-up: downloadable activity pages let fans with full bellies join the dots to empower Ms. Marvel or give Photon and Captain Marvel a new color scheme, while ordering a Happy Meal through the McDonalds app will allow customers the chance to enter a drawing to win a 5-night stay on board a Marvel Day at Sea cruise on the Disney Dream.
All of this is happening far in advance of the movie's November 10 release, but it's worth bearing in mind that date is just the latest date announced for the movie — before that, the movie had been scheduled to come out July 28, meaning that this promotion would have coincided with the movie being in theaters… which makes a lot more sense, all things considered. Still, maybe this way Marvel can use the Happy Meals as an early promotional opportunity to help everyone forget about the end of Secret Invasion…
---
Keep track of the upcoming superhero movies across the next few months with our list, right here.