The Sandlot actors Grant Gelt and Victor DiMattia talk 30 years of The Sandlot and their non-profit organization Play Forever
"This isn't just something that we wanted to put our names on. We are here to work and to hustle and to make real impact wherever we can. "
The Sandlot is turning 30, and not only is it a movie that we can look back at with nostalgia, it's also a movie about nostalgia. Which raises some interesting questions about how the cast members themselves look back at the film, decades later. Victor DiMattia (who played Timmy Timmons in the film) and Grant Gelt (who played Betram Grover Weeks) will be appearing at this year's Los Angeles Comic Con, with other Sandlot cast members for a 30-year anniversary panel on the Main Stage on Sunday and at their very own booth for their non-profit organization Play Forever throughout the weekend.
Recently, Popverse had a chance to chat with DiMattia and Gelt about what to expect from their group presence at LA Comic Con this year, why they started their non-profit organization, and how their relationship has changed with The Sandlot over the last thirty years.
Taking the con floor by storm
Because Los Angeles Comic Con is just around the corner, that's where we started the conversation. Victor DiMattia shared that he loves "the atmosphere of these cons, meeting all the fans and just kind of seeing everybody and seeing everybody's reaction and just the outpouring of love that we still get for this movie, 30 years later is unbelievable." As for what to expect from The Sandlot crew at LACC this year, DiMattia says, "This year, we'll be on the main stage. We've got a bunch of the guys of the core cast that will be there. I don't' know how much we want to give away fright now, but we're working on some really cool surprises from the fans that I think everybody's gonna be really excited about."
Grant Gelt pointed out that it's going to be particularly exciting to return to this specific convention, "On our panel last year, we announced our big picture grandiose idea for starting this nonprofit. So it's gonna be really exciting as well to get back this time on the Main Stage and to be able to come back a year later and say, look, you know this is what we've done, and we've started it. It's very real, and we've got a lot of big plans."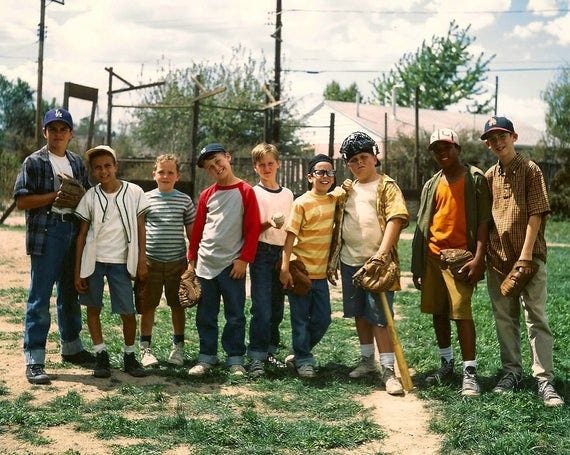 Play Forever
Play Forever, the name of the non-profit organization started by Gelt, DiMattia, and non-profit veteran Jacque Williamson, is taken from the end of the movie, when the previously scary dog The Beast brings the boys over to show them a huge pile of baseballs, which will allow them to be able to "play forever." Gelt points out that the idea for the organization is rooted in the very idea of the film. "We as the kids didn't have 99 cents to get another baseball to play, and that's what ended up having Smalls lob that Babe Ruth ball over the fence. It's our goal with Play Forever project to equip young athletes and youth who want a life and career in sports with the tools that they need to succeed. Equipment can be literal balls, bats, bags, towels, but we want to go deeper than that as well. We want to be able to address food insecurity and scholarship inequities, and gender inequities. All of these other things that are preventing kids from either feeling like they have an opportunity to make sports a career."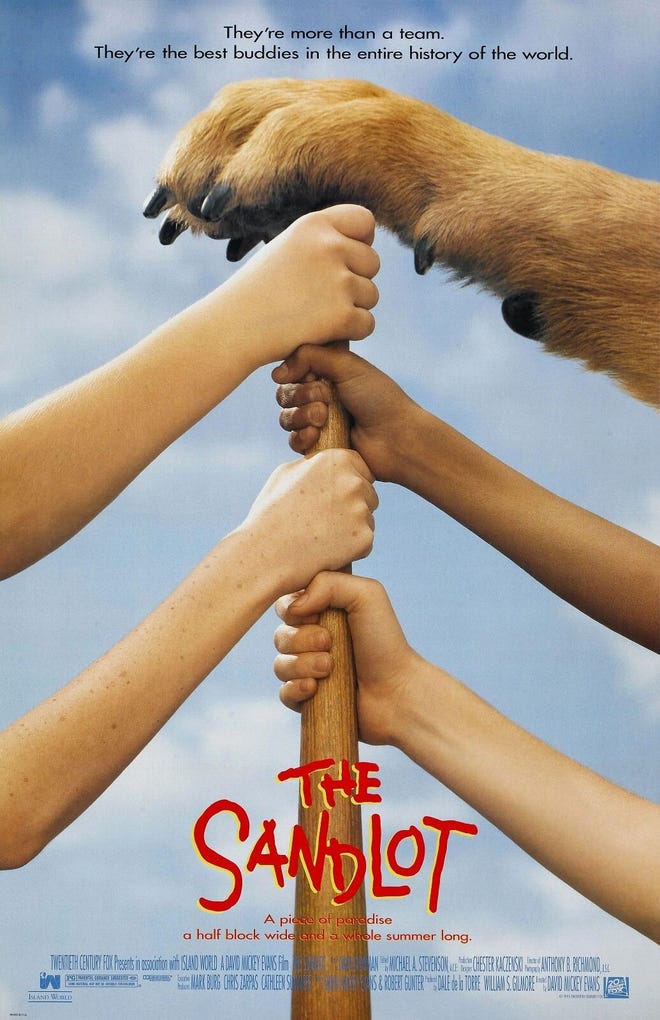 As sports fans (and grieving Dodgers fans this season), this organization is personal to Gelt and DiMattia. Gelt takes time to point out, "This isn't just something that we wanted to put our names on. We are here to work and to hustle and to make real impact wherever we can. "
At this year's Los Angeles Comic Con, the cast will be auctioning off The Sandlot-specific items to raise money for Play Forever, Gelt shares, "Last year we found a Babe Ruth Cooperstown Collection Funko, and it was shortly after Art LaFleur, who played Babe, passed away. We had everybody from the cast sign it. We'll have it back here, and we'll put that up for auction as a fundraising element. We said it last year as well, but we're gonna donate some of the proceeds from that to the Alzheimer foundation as a little tribute to Art. We'll have a bunch of other really cool limited-edition pieces of memorabilia from our personal collections that we're going to have up for auction. We're going to have some special edition posters and prints and a few shirts and stuff like that as well. "
The Sandlot on the small screen?
Oh—and of course, the universe of The Sandlot is not completely relegated to the past; we may be seeing more of it in the future too. A few years ago, it was announced that there will be a new Sandlot television show featuring actors from the original cast. When asked about the project, Gelt shares "It's something that's been in the works a while now. They had us all come in and pitched us on their ideas to make sure that we were on board with it. We as a group, the cast members met up beforehand, to just talk about where our heads were at with it. We all agreed that we didn't want to do something that would kind of tarnish the original film. I know that they've got a pilot already written, and they're working on pushing it forward. As soon as they're ready, when they give the call, we'll be there."
Figuring out a new relationship with The Sandlot
But clearly returning to the universe isn't the only way that the cast interacts with the movie. About watching The Sandlot as an adult, which apparently happens often at Q&As and events, DiMattia says, "I've watched the movie quite a bit over the years, and it does kind of evolve, my relationship to it. But really, for me, it's almost like watching home videos or something. I mean, because every time I watch it, I just remember things that happened and all the interaction that we had with each other off camera that, in a lot of ways, mirrors the things that you see on the film."
Gelt adds that, "It's been really important for us to figure out an adult relationship with this film. It's very rare that you have an opportunity to sort of be frozen in time as your 12-year-old self. But now as 40-year-olds, it's like, well, what do we do with that? We're just really looking forward to getting the ball rolling on this, and to really have some different things to start talking about as we head into the 30th. It would be really nice for that panel to look back at what the last 30 years has meant for us, for the fans, for a new generation of folks, and then really look forward to what the next 30 years are going to bring for us as cast members and as adults."
---
Actors from The Sandlot, including Grant Gelt and Victor DiMattia, will appear on the Main Stage at LA Comic Con Sunday at 1:30-2:00 and will be tabling at the Play Forever booth at Los Angeles Comic Con throughout this weekend.
---
Grab your tickets for LA Comic Con here and learn more about Play Forever at their website.
---
Los Angeles Comic Con CEO Chris DeMoulin on the convention's biggest year yet