The Walking Dead: Daryl Dixon: Norman Reedus wanted his wardrobe to be "as old man as possible"
As a stranger in a strange land, Daryl is forced to don a late priest's clothing.
In The Walking Dead: Daryl Dixon, starring Norman Reedus in the titular role, the fan-favorite redneck gets forcibly relocated to France. But it isn't just the setting that serves as a departure from the original The Walking Dead television series from which the sequel spinoff emerges. According to Reedus himself, he requested that Daryl's costume in the ongoing series be "as old man as possible."
Rest assured, TWD devotees: there's a narrative explanation for the sartorial tailspin. As explained during The Walking Dead Universe panel at New York Comic Con 2023, the clothes Daryl wears in the series aren't actually his own.
The Walking Dead: Daryl Dixon Showrunner David Zabel explained why Daryl's wardrobe embodies such a departure from the clothes worn in the original series. "He ends up at the abbey in episode one, and he's got to change clothes because he's been in the ocean a few days," Zabel explained. When Reedus asked what he'd be wearing, Zabel replied, "'You're going to wear the priest's old clothes, whatever clothes the priest has around, because that's the only man's clothing that's there."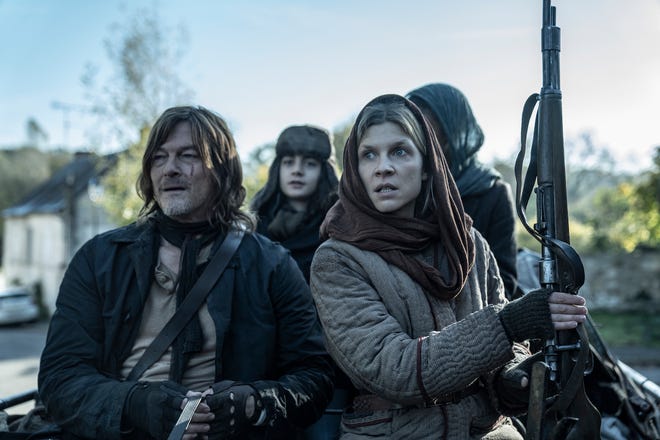 Initally, Reedus says he asked, "'How am I going to play Daryl in suspenders?'" However, after hearing Zabel's explanation for the evolution in Daryl's wardrobe, he soon embraced the idea. "I wanted them to be as old man as possible," said Reedus. "I just wanted to try different stuff."
However, while Reedus was eager to try new clothes for Daryl, there was one element of his aesthetic that he says he didn't want to change: Daryl's hair. And there's a specific reason he's loathe to cut it, too. "There was a show called Felicity," said Reedus. "Supposedly, she cut her curly hair off and then the show went downhill... It just kind of put the fear in me for a second, you know what I'm saying? I mean, never say never, if it makes sense; maybe if he gets to a place where he's settled."
You can watch The Walking Dead Universe panel yourself right here on Popverse by clicking here now.
---
Want to know what's coming up next in pop culture? Check out our guides to upcoming movies, upcoming TV shows, upcoming comics, and upcoming comic conventions. If you're looking for specific franchises or genres, we have all the upcoming MCU, upcoming Star Wars, upcoming Star Trek, and upcoming DC movies & TV for you. If you're a fan of superheroes and not specific to just Marvel or DC, we have overall guides to all the upcoming superhero movies and upcoming superhero TV shows (and new seasons) as well.