The Young Avengers finally have a comic… we just wish it was longer
Marvel Voices launches limited series Young Avengers webcomic
Iceman is out and the Young Avengers are in! The newest storyline in the Marvel's Voices ongoing webcomic series is (excitingly) going to feature the fan-favorite superhero team the Young Avengers. Anthony Oliveira serves as the writer on this series, Jethro Morales as artist, Dijjo Lima as colorist, and Ariana Maher as letterer.
The first episode of Marvel's Voices: Young Avengers Infinity Comic #5 is already available on the Marvel Unlimited app, and each following episode of the six-part arc will release on subsequent Wednesdays.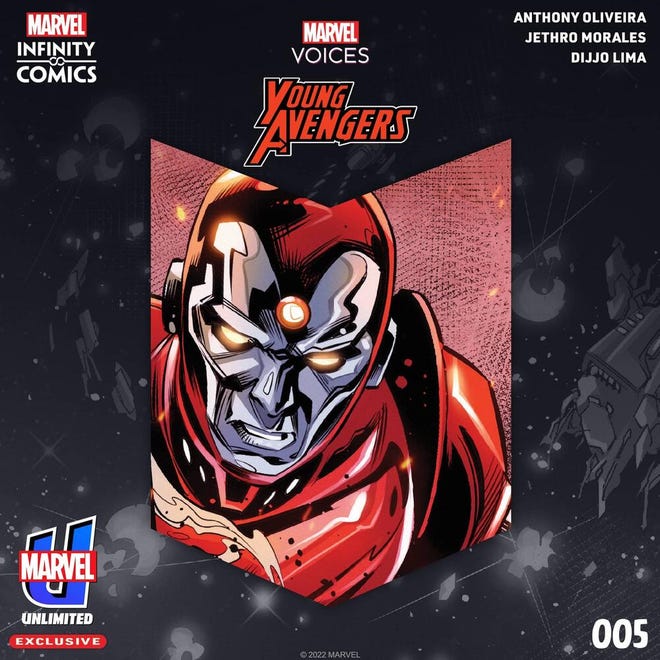 It's been a long road for Young Avengers fans. Though members of the Young Avengers have shown up quite regularly in recent Marvel Comics (even in small groupings like in West Coast Avengers), it hasn't been since the Kieron Gillen/Jamie McKelvie/Matt Wilson run on Young Avengers that ended in 2013 that we've had a proper Young Avengers team comic. So we are definitely excited to read this one!
About what happens in the series, Oliveira says, "Events transpire! Protagonists and antagonists clash! Scenes follow, one after another, though not always in order! And we will learn what power cannot do, and what forgiveness can." The series will function as "six individual character pieces, all forming one big story," which seems like a pretty good storytelling choice for a team comic.
As for who makes up the team-- the Young Avengers that show up on the preview art are Kate Bishop (Hawkeye), Tommy Shepherd (Speed), Billy Kaplan (Wiccan) and Teddy Altman (Hulkling), David Alleyne (Prodigy), America Chavez, Cassie Lang (previously Giant-Girl), and Iron Lad. But who knows? Maybe some other Young Avengers of the past might show up? We'll simply have to read to find out.
Although by its nature Marvel's Infinity Comics are labeled by the company as 'exclusive' to Marvel Unlimited, previous Infinity Comics have later been collected into print editions.
Read Marvel's Voices: Young Avengers Infinity Comic #5 on the Marvel Unlimited app now, with the five subsequent chapters being published weekly on Wednesdays.
---
Interested in reading some more about queer heroes? Check out this Popverse article on 11 times LGBT superheroes made national headlines (and where they are now)