A guide to some of the rarest Pokémon cards ever made (and how to tell if your cards are worth anything)
A recent pandemic boom in collecting and trading has changed up the game a bit
I feel vindicated. Someone please tell my parents that all those Pokémon cards from my childhood are finally worth money. Those colorful, little pieces of cardstock we spent hours obsessing over on the playground are back en vogue, as collectors and speculators are buying them up like crazy. In the past few years, the trading card market has exploded and everything from baseball cards to trading cards are selling like wildfire through online marketplaces like eBay.
According to research provided by eBay, the trading card market grew an astonishing 142% in 2020, with 4 million more cards sold than in the previous year. Of those trading cards sold on eBay, Pokémon proved to be the most popular, so chances are that old binder in your closet has some gems in it.
Before we run down some of the rarest cards out there, here's some tips on how to appraise your own collection.
Is Your Collection Worth Money?
You probably aren't sitting on some of the rarest cards in existence, but that doesn't mean your collection isn't worth anything. Here's what to look out for when appraising your old Pokémon cards:
1st Edition Emblem
Keep an eye out for a small "Edition 1" emblem on the left side of your card, right below the image of the Pokémon. This means it's from the first printed set of those cards. First edition cards are by far the most valuable and sought after versions among collectors and resellers.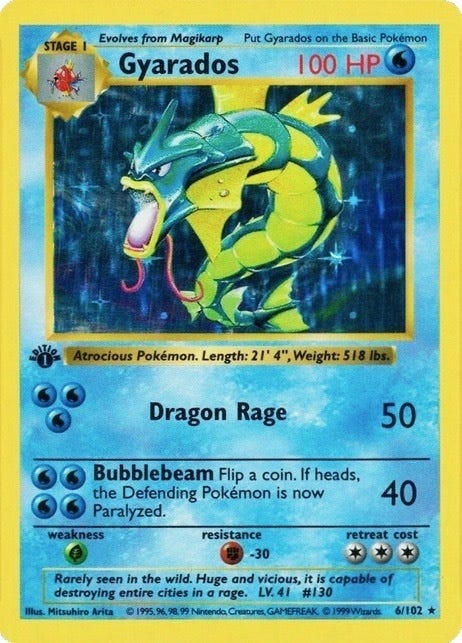 "Shadowless" Cards
Shadowless cards are the term used to describe the second traditional card releases. They are nearly identical to the first edition versions, with the exception of missing the emblem seen above. In subsequent releases, these cards would add a "drop shadow" behind the image of the Pokémon (see below). This is easily identifiable by looking at the right side of the image. If your cards are "shadowless" i.e. missing the "drop shadow", they might be worth something.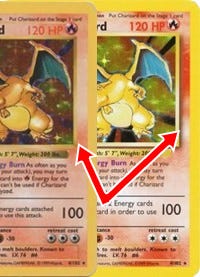 Misprint/Error Cards
This one is a little more difficult to keep an eye out for, but sometimes mistakes happen. If the card was misprinted or has an error, it immediately becomes more valuable. For example, the below Pikachu card was printed with red cheeks instead of the original yellow.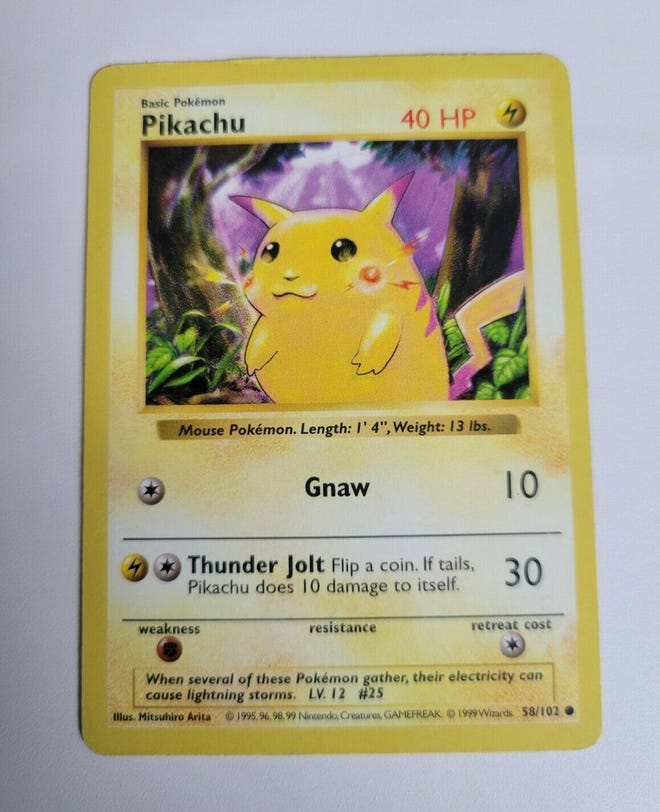 Rare Pokémon Cards Worth Big Bucks
1999 First Edition Shadowless Holographic Charizard
The rarest version of the classic fan favorite, if you were lucky enough to get on the Pokemon card train early enough you just might have been able to pull one of these fresh from a pack. In 2020, rapper Logic purchased a mint condition version of the card for a whopping $220,000!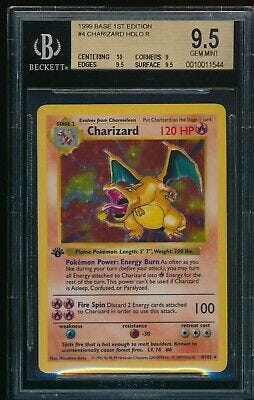 Pikachu Illustrator Card
Considered the holy grail among collectors, the elusive Pikachu Illustrator card was given out exclusively to winners of an illustration contest held in Japanese manga magazine in 1998. No one knows for sure how many of these are in existence, but it is believed less than 50 were distributed. Pikachu Illustrator is one of the rarest Pokémon cards in existence, with copies selling for upwards of $200,000.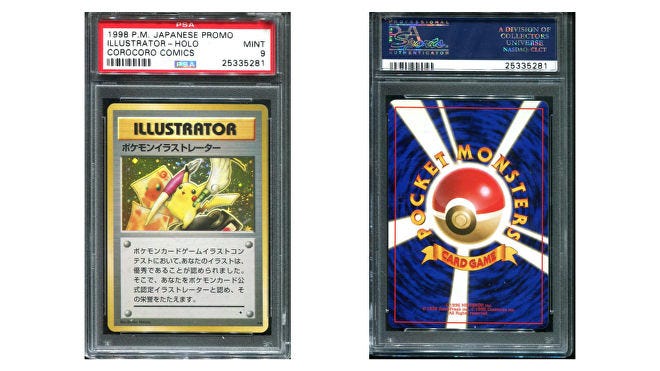 No. 1 Trainer Card
Awarded to winners of regional tournaments in Japan in 1999, this card served as those players' entry ticket into the finals of the national tournament. Since only seven regional tournaments were held, it's believed that there are only seven cards in existence.
20th Anniversary 24K Gold Pikachu
To celebrate the 20th anniversary of Pokémon in 2016, Japanese jeweler Ginza Tanaka commemorated the occasion by revisiting the original Pikachu card, albeit with a much flashier appearance. Made from 11g of 24k gold, one of these cards sold in June 2020 for over $12,000.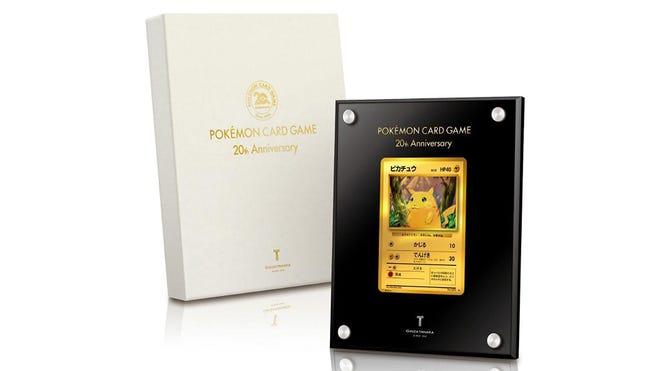 Pokémon Snap Cards
Before Pokémon Snap makes its triumphant return in April 2021, Japanese magazine CoroCoro Comic (the same magazine that held the Pikachu Illustrator contest) held a "Best Photo" contest where fans could submit their best snaps. The prize for winners was a set of 20 cards, each of which had the winning images printed on them. Due to their extremely low print runs, these cards don't surface on the open market often. When they do, they regularly fetch high prices.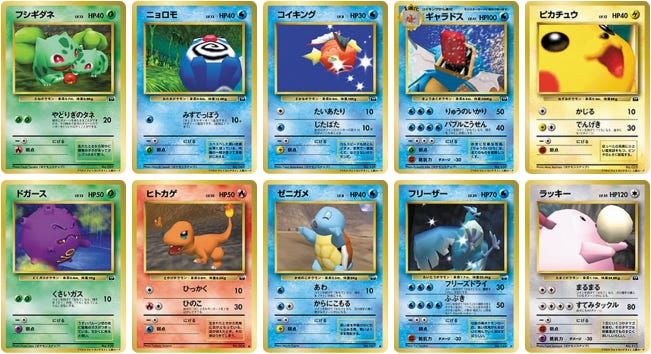 2010 Japan World Championship Master Key Trophy Card
Awarded to contestants of the 2010 Pokémon World Championships held in Hawaii, only 36 of these cards exist in the wild (one for each of the contestants). Like many of the cards on this list, they don't often surface for sale, but when they do it usually means big bucks.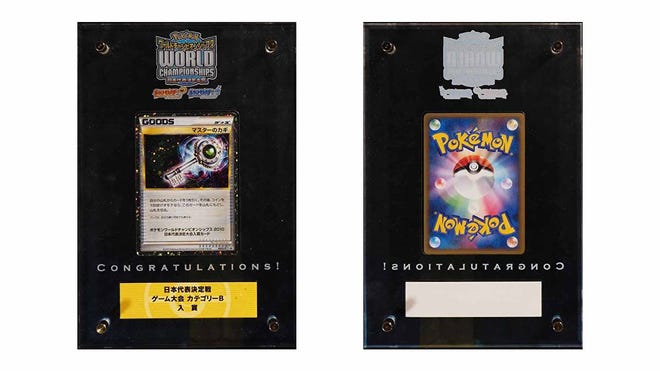 ---
Did you miss the Pokémon card collecting train? Check out Popverse's guide to the best dollar bin treasures to to look for on your next trip to a comic store or convention