How Jane Foster became worthy before Thor: Love and Thunder
The story behind the woman who is worthy to wield Mjölnir
In one of 2014's biggest comic book mysteries, Marvel asked, 'who will be worthy?' But unlike many of their reveals in the past, the publisher didn't jump the gun with a New York Times headline to announce the identity of the new 'Female Thor. Jason Aaron and co. actually kept her identity a secret! It wasn't until Thor #8 that it was revealed Jane Foster was under the helmet. That's eight issues, EIGHT MONTHS of her own ongoing series where readers didn't know Thor's secret identity, in the era of modern comics, that's a pretty wild timeline.
Almost a decade from her debut as a superhero, Jane Foster will be holding the hammer once again in MCU's Thor: Love and Thunder. Natalie Portman has portrayed Jane Foster since her first appearance in Thor (2011) as a Midgard astrophysicist. Portman took a few years hiatus from the MCU films, but is now returning to take up Thor's mantle in the franchise's fourth film.
Who is Jane Foster as Thor?
Jane Foster has been in the Thor franchise since the beginning, making her first appearance in Stan Lee, Larry Lieber, and Jack Kirby's Journey into Mystery #84 as a nurse/love interest for Thor. Throughout the decades, she would have an on and off again romance with the hero and become a doctor alongside Thor's alter ego Dr. Donald Blake.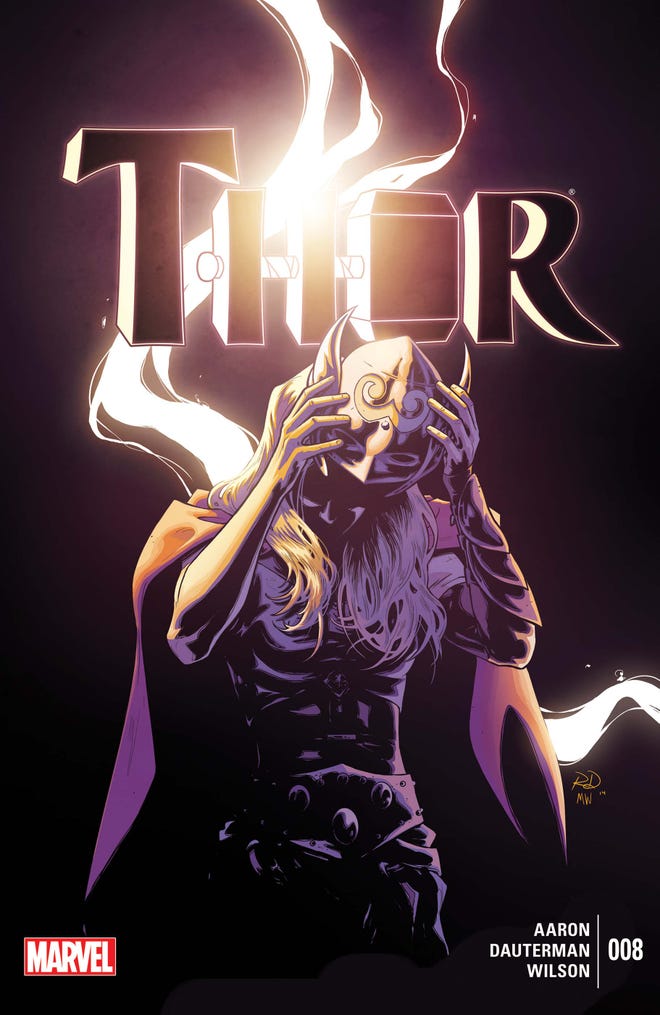 But when did Jane debut as The Mighty Thor? Originally, Jane's Thor was imagined as a What If character in What If? #10. Her modern, in-continuity version of Thor made her first appearance in Jason Aaron and Russell Dauterman's Thor #1, but it wasn't until the series' eighth issue that it was revealed that Jane Foster was worthy. For eight months, comic book fans had the opportunity to speculate who they thought would be the new Thor. Names like Agent Roz Solomon, Lady Sif, and Thor's own mother were all talked about as potential suspects.
When it was eventually revealed to be Jane Foster, there was a twist to her dual identity. In the previous volume of Thor, Jane had been suffering from a breast cancer diagnosis. In the mix of being on the Asgardian Council of Worlds as a representative for Midgard, she was going to the hospital for cancer treatments. As long as she continued her regular hospital visits her cancer had a high percentage to go into remission. But when she learned she was worthy to hold Mjölnir the radiation that was saving her exited her system, leading to a Stage 4 diagnosis.
During her time as Thor, Jane fought the likes of Loki and Odin, joined the Avengers, and sacrificed her own health for the means of saving the universe. In a final sacrifice during 'War of the Realms,' Jane Foster transformed into Thor one last time to defeat Malekith, who had threatened to transform earth into a hellscape, and his army.
This last battle sends Jane to the gates of Valhalla, but her time on earth is not over. She finishes the battle, Odinson becomes Thor again, and Jane takes over the mantle as Valkyrie (giving Jane time to complete her cancer treatments). Jason Aaron and Torunn Grønbekk have written three volumes starring Jane Foster as Valkyrie in which she becomes 'the rainbow bridge' between both life & death and Asgard & Midgard.
Jane Foster's Powers and Allies
Mjölnir gives Jane Foster the same powers as Thor. This includes super strength, super speed, flight, and the ability to control lightning. As Valkyrie, she also has super strength, speed, and flight with the added bonuses of enhanced vision, mystical teleportation, and the power to detect the probability of someone's death by just looking at them. She uses Undrajarn, the All-Weapon to transform into Valkyrie. This allows her to shape any weapon she can imagine and create wings to help her fly.
During her run as Thor, Jane Foster quickly found many allies, including joining the Avengers as part of Mark Waid and Adam Kubert's All-New, All-Different Avengers. The team included the likes of Iron Man, Vision, Spider-Man (Miles Morales), Ms. Marvel, and Captain America (Sam Wilson). Outside of the Avengers, she also became friends with Doctor Strange as they both shared the responsibilities and balancing act of being a doctor and superhero.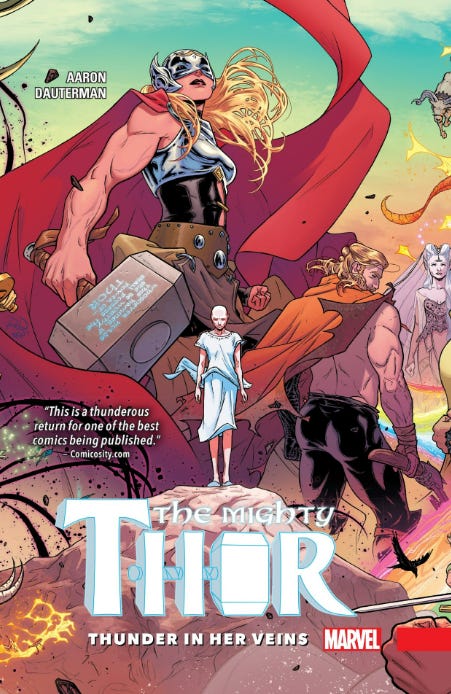 Who is Jane Foster in the MCU?
Jane Foster, portrayed by Natalie Portman, made her first appearance in Thor (2011) and started her romantic relationship with the God of Thunder. Returning with an even larger role in Thor: The Dark World, she was folded into the larger Asgardian story by possessing the reality stone— a major tie-in to the events that would lead Thanos to obtaining the Infinity Gauntlet in Avengers: Infinity War.
The Thor franchise made a tonal shift with its third installment – Thor: Ragnarok to lean more into the MCU's comedic angle. Jane Foster didn't appear in the film, or in any other films since. Jane seemed to be gone completely from the MCU, UNTIL, San Diego Comic Con 2019 where Natalie Portman made a surprise appearance - raising a hammer into the sky, revealing that she would by playing the next Thor.
Since Disney's success with Frozen and its first trailer revealing very little about the movie, the company has proven that they can still fill theaters with little prior information before its official debut. This approach may even intrigue viewers more to see the film, and it looks like they'll be taking a similar approach to Thor: Love and Thunder.
Using a similar strategy to Spider-Man: No Way Home, Marvel/Disney are not rushing to release their first trailer for Thor: Love and Thunder. As I write this, there still hasn't been a trailer released for the film, even though the movie is set to release in July. There's been very little information (besides some toy leaks and casting announcements) revealed.
There are no publicized set plans for a new Avengers film following Avengers: Endgame, but Marvel is definitely building towards…something. With the success of their Disney Plus shows, the introduction of the multiverse, and the origin stories of new heroes like Shang Chi and Jane Foster, the future is bright for Marvel's Phase Four, which includes Jane Foster's role as the new God of Thunder.
---
Thor: Love and Thunder hits theaters July 8. And just in time for her reintroduction into the MCU, Jane Foster returns as Thor in June for a mini-series titled Jane Foster & The Mighty Thor written by Torunn Grønbekk and illustrated by Michael Dowling.
---
Interested in reading Thor comics, but don't know where to start? Check out Popverse's guide to the 10 most essential Thor comics of all time.