Marvel's Thor: Love and Thunder - Everything you need to know before watching the new MCU movie
Everything you need (and might want) to know about the MCU's summer tentpole movie— Thor: Love and Thunder directed by Taika Waititi
Thor Odinson is making his way back to the big screen for his fourth solo movie, Thor: Love and Thunder. Due to the tragedies that he faced in Thor: Ragnarok and Avengers: Endgame, the God of Thunder seems primed to lay down his trusty new axe Stormbreaker and really figure out where he belongs in the world — with the help of his friends the Guardians of the Galaxy, of course.
Luckily for the fans, Thor Odinson's retirement doesn't mean Thor is no more — there's a new Thor around, and we can't wait to meet her and see what she's all about (and how and where the heck she found Mjolnir). As new trailers, teasers, and images for Thor: Love and Thunder are released leading up to the big day in July, we've made sure (and will continue to make sure) all that great info in collected in one place, so keep your eye on this space.
Thor: Love and Thunder Release Date
Thor: Love and Thunder will hit the theaters on July 8, 2022.
Originally, the fourth Thor movie was meant to debut in November 2021, but due to the COVID-19 pandemic, filming that was scheduled for March 2020 was pushed back alongside the film's release date as well.
Thor: Love and Thunder Trailer
A new full-length trailer has dropped for Thor: Love and Thunder, and it shows us way more than the teaser trailer did. While we still get the energy-inducing licks of Guns N'Roses' 'Sweet Child O' Mine,' this time the lyrics are gone, and we get to hear our good old friend Korg chat all about the legend of Thor, and how he's the one and only. Except, maybe Korg has spoken too fast-- there's another Thor in town.
It's no surprise to us that the new Mighty Thor is Jane Foster, but it clearly is quite a shock to Thor that she's back and that she's the one wielding Mjolnir this time. But, no worries, it looks like romantic sparks still fly between the two.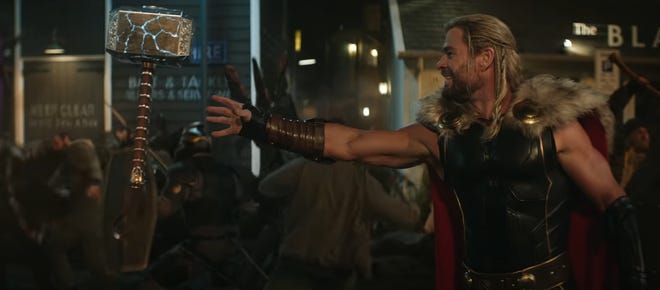 In this trailer, we get our first look at Christian Bale's Gorr the God Butcher, who is hell-bent on killing all gods. We hear a bit of his reasoning, that gods are selfish, and all of them must die, and at the end of the trailer, we also hear Gorr telling someone (who we're meant to believe is Thor, but remember Ragnarok's sneakily misleading trailers?) that they're "not like the other gods I've killed."
We also get a longer look (in the teaser, we only saw the back of him) at Russell Crowe's Zeus as he accidentally "flicks too hard" and magically disrobes the God of Thunder. Most of Zeus' contingent faints at the sight, but Valkyrie and Jane Foster seem unbothered as they continue to lounge and eat grapes.
Thor: Love and Thunder Teaser Trailer
The teaser trailer for Thor: Love and Thunder follows Thor: Ragnarok's classic rock-and-roll vibe. This time, instead of Led Zeppelin's 'Immigrant Song,' we get the familiar drumming of Guns N' Roses' classic 'Sweet Child O' Mine.'
The trailer opens on Thor running as a child, then as a young adult, then as the version of himself we saw in the first Thor film, and finally, his current self, no longer running, but walking through flames. The central question of this movie seems to be what Thor is going to do now that Asgard is gone and almost everyone he knows is dead. We even get a glimpse of Thor burying Stormbreaker, his trusty axe and declaring that "My superheroing days are over."
Beyond all the drama, there's a fun bit of humor with the Guardians of the Galaxy and there are plenty of cool-looking visuals that really capture the scale of both space and the world of gods.
At the end of the trailer, we get the very first appearance of Natalie Portman as the new Thor. She's wielding Mjolnir, and it looks like Thor's magic hammer has been somehow welded back together from when Hela shattered it in Thor: Ragnarok. Chris Hemsworth's Thor looks pretty surprised at seeing another Thor, so this may even be the first time he's seen that there's a new Thor out there.
Thor: Love and Thunder synopsis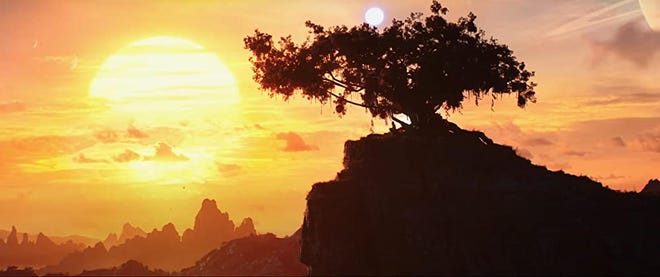 The most recent synopsis released by Marvel promises yet another team adventure for Thor, who instead of fighting with (and against) the Hulk this time, will also fight alongside his ex-girlfriend Jane Foster.
"The film finds Thor (Chris Hemsworth) on a journey unlike anything he's ever faced – a quest for inner peace. But his retirement is interrupted by a galactic killer known as Gorr the God Butcher (Christian Bale), who seeks the extinction of the gods. To combat the threat, Thor enlists the help of King Valkyrie (Tessa Thompson), Korg (Taika Waititi) and ex-girlfriend Jane Foster (Natalie Portman), who – to Thor's surprise – inexplicably wields his magical hammer, Mjolnir, as the Mighty Thor. Together, they embark upon a harrowing cosmic adventure to uncover the mystery of the God Butcher's vengeance and stop him before it's too late."
Thor: Love and Thunder cast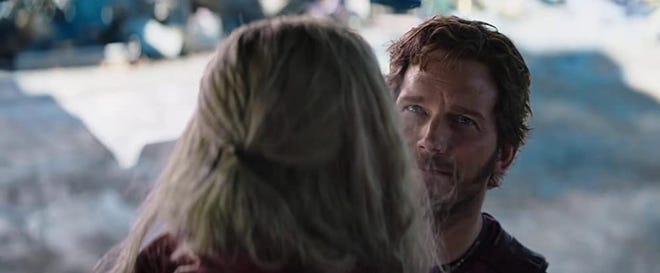 Obviously, we've already seen Chris Hemsworth as Thor and Tessa Thompson as Valkyrie in the trailer. It was announced at Comic-Con International: San Diego 2019 that Natalie Portman would be returning to the Thor franchise as Jane Foster, this time wielding Mjolnir.
Taika Waititi and Jeff Goldblum will be reprising their Thor: Ragnarok roles as Korg and the Grandmaster, while Jaime Alexander returns to the world of Thor (after being gone for a few movies, though she briefly appeared in Loki season 1) as Lady Sif.
Following the events of Avengers: Endgame, much of the Guardians cast has tagged along for Thor: Love and Thunder. In the teaser trailer, we see Chris Pratt as Peter Quill quipping with Thor, and in the background, we glimpse Karen Gillan as Nebula, Vin Diesel as Groot, Bradley Cooper as Rocket, Dave Bautista as Drax, and Pom Klementieff as Mantis.
In the full-length trailer, we see Russell Crowe in what seems to be a comedic performance as Zeus, as he "flicks too hard" and accidentally magically disrobes the God of Thunder. We also see a couple lenghty clips of Christian Bale as Gorr the God Butcher, who is clearly out to butcher some of our god-protagonists.
Like Thor: Ragnarok, it looks like there will be yet another Thor/Loki play, with Matt Damon, Sam Neill, and Luke Hemsworth returning to their roles as Actor Loki, Actor Odin, Actor Thor, with the addition of Melissa McCarthy who is supposed to play Actor Hela.
Thor: Love and Thunder villain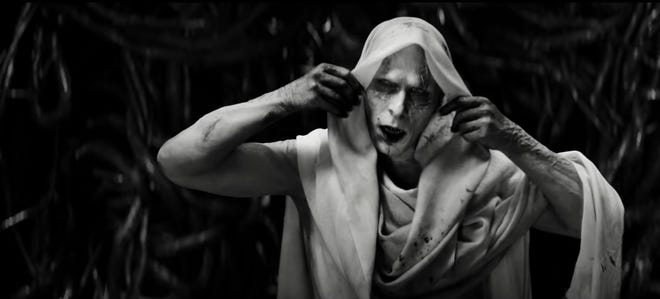 Christian Bale plays Gorr the God Butcher, who in Marvel Comics, makes it his mission to, you guessed it— kill all of the gods. We get to see a few clips of him and hear his reasoning behind his lifelong mission in the full-length trailer.
Thor: Love and Thunder setting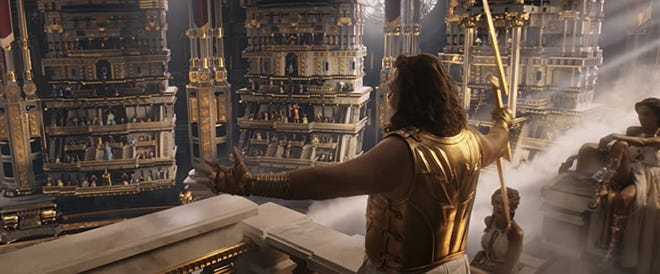 Taika Waititi has discussed that one of the major questions that faced the creative team was how far after the events of Avengers: Endgame the fourth Thor movie would take place, so we're not quite sure when Thor: Love and Thunder is set yet.
We do know, from the teaser and the full-length trailer, that at least part of the film will be set in New Asgardia, now that Asgard was destroyed in Thor: Ragnarok, but there are a few more settings shown that look a bit more unfamiliar at this point. And some of the film will definitely be set in space.
Thor: Love and Thunder writers and directors
Taika Waititi, who also directed fan-favorite Thor: Ragnarok, returns as director of Thor: Love and Thunder. Taika Waititi co-wrote the screenplay with Jennifer Kaytin Robinson, and Janes Gunn also consulted on the screenplay due to the film's use of the Guardians of the Galaxy. The movie will be produced by Kevin Feige and Brad Winderbaum (Ant-Man, Thor: Ragnarok, Black Widow).
Thor: Love and Thunder filming
The filming of Thor: Love and Thunder was originally slated for August of 2020 but was delayed due to the COVID-19 pandemic. Filming began in January 2021 in Sydney, Australia and wrapped in June 2021.
---
Interested in reading Thor comics, but don't know where to start? Check out Popverse's guide to the 10 most essential Thor comics of all time.