Thought Bubble: Dispatches from what might be the kindest, most comic convention of all comic conventions of 2023
For those unable to attend Thought Bubble 2023, consider this a guide to what you missed (kind of)
I've been lucky enough to attend a fair few comic conventions in the last few years. In fact, I've been to more than a few this year, after Emerald City Comic Con in Seattle, San Diego Comic-Con, New York Comic Con, and MCM October in London, but Thought Bubble - an independent show that wholly eschews wider pop culture to be be an unapologetically comic-focused convention in Yorkshire, in the United Kingdom - nonetheless stands out as something utterly unique, and very special. We've already run some reporting from the event here, here, here, and here, but arguably none of those pieces even hint at what it's actually like at the show. For that, there's... well, this, written just hours after the show closed and still in awe of the whole thing. Apologies in advance for how scattered it feels, as appropriate as it nonetheless is.
I Bet That You Look Good on the Dancefloor
It's Saturday night, and I'm standing in line for the bar at Mid-Con, the big party that marks the midway point of Thought Bubble every year (hence the name); I've gotten talking to two strangers who are both chatty and, as one is determined to tell me, already mildly drunk because they started drinking at dinner an hour or so earlier. We're talking about how long the line is, and our shared belief that it's possible the hotel will have run out of all liquids by the time we finally reach our destination. When we arrive, I buy them drinks and in return, they declare that I really need to join them on the dance floor; I politely decline, and watch them run off to shake their respective things to Robyn. I stand there and survey the scene, and realize that there's something about the whole thing that reminds me of the experience of being at a favorite aunt's wedding. Weirdly enough, this makes me feel far more at home than I might have anticipated.
Take It Easy on Yourself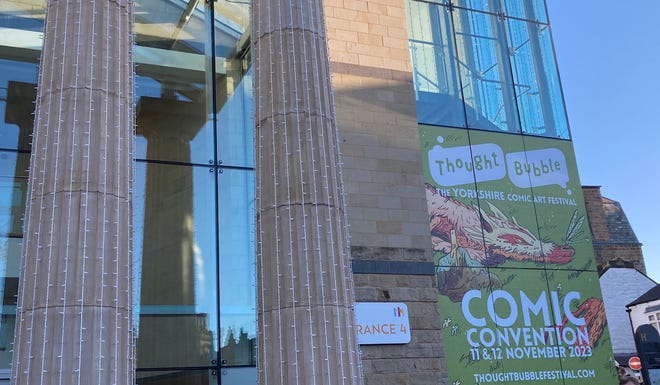 Thought Bubble was one of the few comic conventions that I would have had on a bucket list, had I the presence of mind to have a bucket list of conventions; it has long had a reputation for being the comic creators' convention, a low-key weekend where everyone just kind of takes it easy and has fun. It's pitched as something between an old-school comic convention and an arts festival that expands beyond the convention center it's based in for the week before the two-day convention proper, and there's something about that that really appealed to me, being both old-school — well, mostly just old — and a comic book fan who believes that there's something to be said for taking conventions out of the convention center and seeing what happens to them.
Spoilers: the show delivered on both fronts. For those more used to U.S. shows, it might be best described as what would happen if Artists Alley from New York Comic Con got spun off into its own show, split into four medium-sized halls, and held a handful of panels upstairs just to keep everyone on their toes, although that's a description that massively undersells Thought Bubble on almost every single level. It ignores, for example, the week of evening programming in nearby Leeds — the convention itself takes place in Harrogate, a town I'll talk about in a second — that includes everything from movie screenings and creator conversations to archive exhibits and art walks. (There was also a DSTLRY party on Thursday that featured both Jock and Tula Lotay creating paintings in front of an audience, which falls firmly into this is my happening and it freaks me out territory, wonderfully.)
More importantly, it also ignores the way that Thought Bubble just feels different from other conventions. From staff to creators appearing as guests, but also perhaps surprisingly the convention attendees to, there was this impressively welcome, friendly, humble attitude to be found. Everyone seemed genuinely happy to be there, and willing to have a pointless, pleasant conversation to pass the time of day. (Topics of said conversations included across the two days: badge collecting, gardening, pop music — specifically, the artistic credibility of '90s UK pop band S Club 7 — and, of course, our favorite comic books of days gone by.) This was, by some distance, the most laid back comic convention I've been to in years, an attitude seemingly shared by everyone who walked through the front door each morning.
Razzmatazz
There's an entire mythology that's built up surrounding Thought Bubble; as a first-time attendee, I knew some of it, but other parts only emerged in conversations with people who'd been coming for years. How else would you find out about the year where panels were conducted for audiences wearing wireless headphones, like some kind of bizarre silent disco? Why does the locale of a particular table matter so much, or can everyone remember specific shared events that happened in one particular year? It's a shared language, a secret history that you get invited into piecemeal, making it all the more inviting and alluring.
A significant part of this mythology centers around the (admittedly beautiful) bathrooms at the Majestic hotel, where Mid-Con takes place: bathrooms so famous — infamous? — that they have their own crowdfunded anthology, and where, on Saturday night, I accidentally interrupt a seeming tour group discussing how iconic they appear. Again, these were actual bathrooms for hotel guests to use, which made the mixed-gender tour a somewhat surprising sight… although I suspect it was even more surprising to the guests from the wedding taking place elsewhere in the hotel who were also hoping to urinate in a little more peace and quiet.
As I said: Thought Bubble expands beyond the confines of the actual convention.
The Two of Us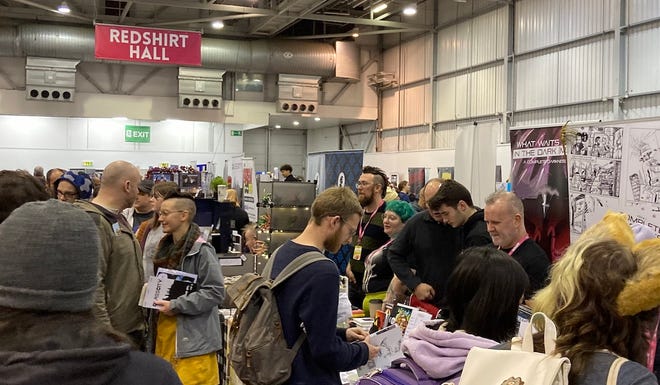 Two different descriptions friends gave me about Thought Bubble, during Thought Bubble:
#1, from a U.S. comic book professional: "It's like the greatest small local show, but with A-list talent like you can't believe." (Creators attending this year's show included Jason Aaron, Jeff Lemire, Jock, Kieron Gillan, Christian Ward, N.D. Stevenson, Becky Cloonan, Zoe Thorogood, Judge Dredd creator John Wagner, and many, many more.)
#2, from a U.K. comics fan and podcaster: "It's like Comic Christmas for me every year."
Both of these are accurate, in my experience. (Well, aside from the "every year" part, obviously; I can imagine, however.)
The Village Green Preservation Society
I got to Harrogate days before the convention, as part of an errant U.K. tour that started with MCM London last month, and included trips to Oxford, Glasgow, and other parts of the country where I had friends or family. My train arrived in the evening, and as I checked into the first of two hotels during my stay (don't ask), I asked where the good food was, so I could grab something to eat after doing some work.
"Oh, we don't have a downtown area," I was told, as my host gestured in two different directions. "In fact, I wouldn't even walk in that direction at all, it's just houses and very boring. Just go over there, there are some restaurants. That's all there is in town."
Reader, I believed her and I shouldn't. Not only was there a downtown area — something I legitimately discovered by accident when walking around looking for something else entirely — but the restaurants she waved me half-heartedly towards were, for the most part, closed by the time I went looking for them. I spent two nights convinced that Harrogate was less a real town and more some kind of picture-perfect front for nefarious purposes like in Hot Fuzz or The Prisoner.
Nonetheless, there's something oddly charming to me about the fact that the place only really came alive to me when people started showing up for Thought Bubble. It fits, somehow.
Advert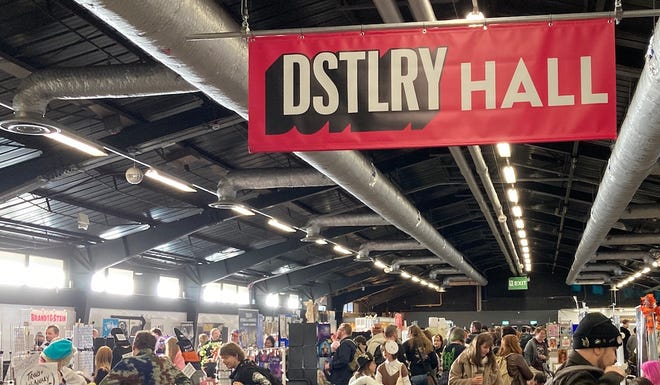 I spent more money than I'd intended at the show; I'd been in the UK for almost three weeks and promised myself that I wouldn't really buy anything because my suitcase was already worryingly heavy, and also because the trip had already been sufficiently expensive, but then I saw that Roger Langridge was selling sketches impossibly cheaply. And that D'Israeli was also selling original art cheaply. (You may not be familiar with either creator; Google is your friend, in this particular case.) This, of course, was part of the laid back ethos of the show: that you'd find impossibly talented creators cheerily offering original art at distressingly affordable prices, and everyone seemed to think this was entirely normal.
I only feel slightly concerned for what the scales at the airport are going to say when I check my luggage. Surely it can't be that bad. Surely.
Good Night
As I was waiting for my cab to the train station as I left the hotel, I ran into one of the big name comic creators from the show, headed in for the night as I was headed out. We talked about our respective families, my increasing homesickness — this trip has been the longest I'd been gone in more than a decade, and that fact was beginning to wear on me — and what the near future looked like for both of us. It felt like the perfect conversation to finish the convention, entirely accidentally. What better way to end a show that felt as if it erased (or, at least, blurred) the line between professional and fan in some indescribable, intangible, but unmistakably real manner, even if just for a couple of days?
Thought Bubble 2023 was a show like none other for me this year; as my final convention of the year — and my third in a five-week stretch — it was, honestly, an unlikely, generous way to say goodbye to shows for awhile.
---
Want to know what's coming up next in pop culture? Check out our guides to upcoming movies, upcoming TV shows, upcoming comics, and upcoming comic conventions. If you're looking for specific franchises or genres, we have all the upcoming MCU, upcoming Star Wars, upcoming Star Trek, and upcoming DC movies & TV for you. If you're a fan of superheroes and not specific to just Marvel or DC, we have overall guides to all the upcoming superhero movies and upcoming superhero TV shows (and new seasons) as well.