Titans executive producer, actors promise payoff in "juicy" Season 4, plus #TimBer!
Titans EP Greg Walker and actors Ryan Potter and Joshua Oprin imply big fan-favorite stories coming in Season 4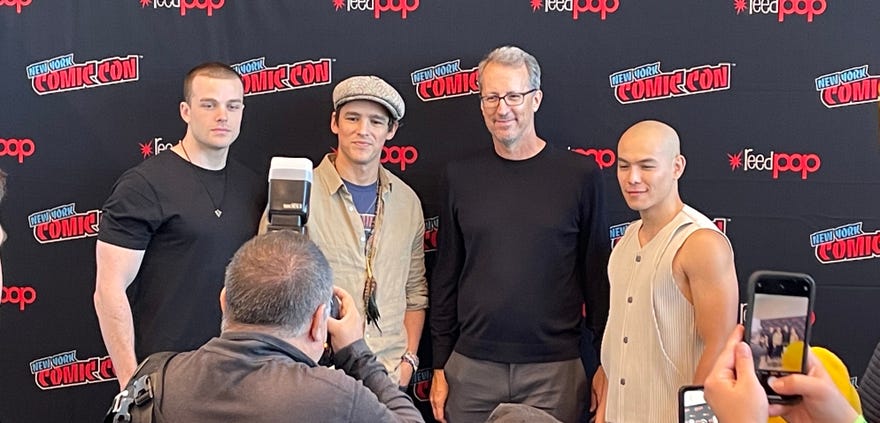 You know how when Titans started and you thought, 'Oh my God, I can't believe we get to see a live action Beast Boy,' but then somewhere along the line he became, as actor Ryan Potter describes him, "tech support?" Well, this season, Potter says, we get payoff: "After being the caregiver and almost the service worker of the group," says Potter, Gar "takes a step back to reevaluate what he needs. And when he does that, the level of growth that comes out of this character is just payoff…his powers evolve in ways that we haven't seen on the show, quite drastically and quickly."
This and more was shared in a Sunday New York Comic Con 2022 panel shared with Doom Patrol, which you can watch in full on this very website.
Potter is not the only actor who speaks of season four of Titans in exciting terms. Asked about the defining elements of Conner's mythology that have only been touched upon in the past, actor Joshua Orpin agrees, "Yeah, we've scratched the surface and introduced these concepts and then kind of let them lie." But this season, in which Conner finds himself engaging with both Lex Luthor and Superman (though the full extent of the latter is not yet clear), "We get right in there," says Orpin. "Connor is in a real sense introduced to his parents for the very first time…So much happens to him this season."
By the end of this "juicy" season, Orpin promises, Conner "as a person is just so wildly different to who he was at the beginning. He absolutely goes through it."
Showrunner Greg Walker says it's also a "giant season" for Cory and promises a "less troubled" Rachel. After spending season three mostly with the Amazons, the character has "a new sense of who she is," Walker explains. "Rachel is really the heart and soul of the family this season." He also promises that actor Joseph Morgan's journey to become the cult leader Brother Blood will "open the door to horror" in a way that the show hasn't seen since season one. "Season four is in conversation with season one all the time," he says.
Questioned about the rumored crossover between Titans, Stargirl and maybe Doom Patrol, Walker kids, "I think Geoff Johns has gone crazy on the social. He obviously has some rogue Titans unit that I don't know about." But if it does happen, says Walker, "I'd certainly be excited. I think Star Girl is a great expression of the Geoff Johns' humanity, tone and vision of what a superhero story can be."
Walker did tease one other major storyline that should get DC Comics fans very excited. As Tim Drake learns how to be a Robin, trained "not by Batman like the other Robins, but by Dick Grayson," Walker says, the show will also see him fall in love. Tim "has a really strong relationship in this season with another character." No names were mentioned, but the Titans panel later in the day suggests there is very good reason to be #TeamTimBer!
Watch the entire NYCC 2022 Titans/Doom Patrol panel here.
---
Get fully immersed in NYCC with Popverse's wall-to-wall coverage of the event. From filmed panels to backstage interviews, on-the-floor coverage, news, cosplay galleries, and more - we're tracking it all in Popverse's New York Comic Con 2022 round-up.