BEASTARS mangaka draws TMNT to celebrate Mutant Mayham's Japanese release
The Turtles look cool no matter who is behind the brush.
If there is one thing we can't get enough of, it's a pop culture crossover that we didn't see coming. That's exactly what we got when the official Japanese Twitter account of Teenage Mutant Ninja Turtles: Mutant Mayhem posted a promotional drawing by BEASTARS mangaka Paru Itagaki to celebrate the film's release in Japan.
In hindsight, the partnership makes perfect sense. Itagaki's signature work features a society of anthropomorphized animals living together in strained harmony, which feels like a natural progression of the world created by Kevin Eastman and Peter Laird in the Turtles' 1984 comic book debut. Mutant Mayhem is currently in the middle of its Japanese theatrical run, so it was the perfect time to post Itagaki's take on the iconic mutant brothers.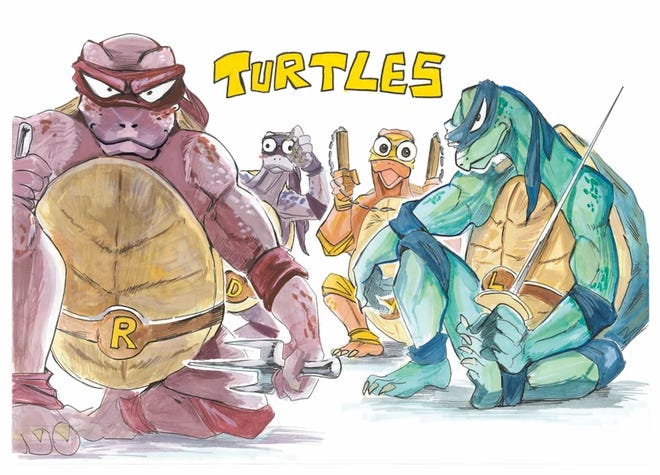 The artwork looks very different from the Turtles' updated look in their newest feature-length outing, leaning more heavily on Itagaki's signature art style. However, each of them is bursting with personality and features a color scheme that ties into their iconic headband colors. Leonardo and Raphael are giving their coolest tough-guy poses while Donatello and Michelangelo are content being goofy in the background. We're guessing Itagaki was playing favorites with some of the TMNT crew here.
We might never get to see Legoshi team up with the Turtles, but this artwork is the stuff that fanfiction is made for. Teenage Mutant Ninja Turtles: Mutant Mayhem might just be starting its run in Japan, but it is already available to stream in the West if you missed out on seeing it in cinemas.