Hasbro just secretly relaunched Transformers & GI Joe into its own universe - orchestrated by Robert Kirkman
The shared GI Joe/Transformers line also includes all-new concepts and series, such as the new Void Rivals series launching today
Ending more than a year of speculation, Skybound Entertainment and Hasbro have announced that both Transformers and G.I. Joe have a new comic book home, effective immediately — and that it's larger than expected. Both properties will be part of the 'Energon Universe,' a new shared universe orchestrated by Robert Kirkman that will also include brand new concepts and series developed in partnership between the two companies… including Void Rivals, the Image Comics series that launches today.
Fans who have already read Void Rivals know that it features a surprise appearance by the Transformer Jetfire, but that is just the beginning of an ambitious new line of titles.
"When we first discussed plan for the surprise reveal in Void Rivals #1, I never expected it would be a secret we could keep for over a year," Michael Kelly, Hasbro's VP of global publishing, says in a statement. "Now that it is finally here, we are all excited to finally be able to talk about all the amazing stories to come from our great new partners at Skybound."
Transformers and G.I. Joe at Image Comics: Robots in Disguise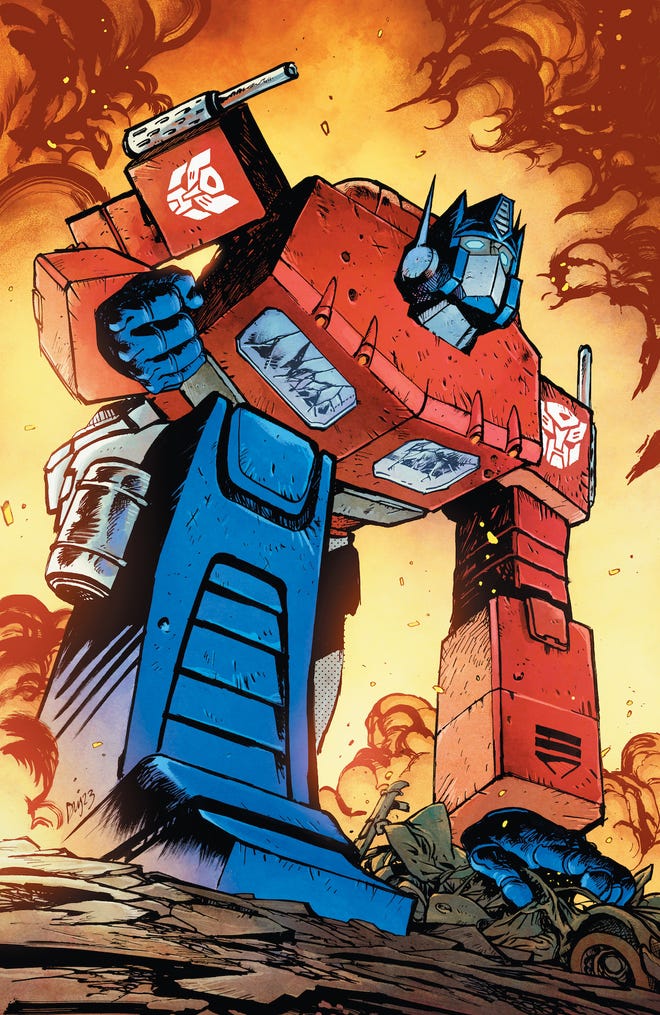 Beyond Void Rivals, the line will include a new ongoing Transformers series — titled simply Transformers — by Daniel Warren Johnson, launching in October, centering around Optimus Prime and the rest of his team of Autobots now that they're stranded on Earth and removed from the war-torn Cybertron… of course, they're not there alone: the Decepticons have also made it to Earth, and are ready to start the conflict over in an all-new location.
"To my readers, retailers, and fellow transformer fans: GET READY!" enthuses Johnson. "I've only been drawing Optimus Prime and the rest of this amazing cast since I was in FIRST GRADE. This is a dream project for me, and I'm so glad to be adding a new chapter to the decades long celebration of robots turning into cars. Also, cab-over trucks are so fun to draw!"
Yo, Joe
The G.I. Joe side of the equation will come from Joshua Williamson, who is helming two separate miniseries launching in December 2023 and January 2024 telling the origins of the beloved property: December's Duke (with artist Tom Reilly), and January's Cobra Commander (featuring art by Andrea Milana.)
"Childhood dreams come true! Get hyped!" raves Williamson. "Tom and I are bringing you a new take on Duke and the formation of G.I. Joe that honors all that we love about the characters but takes it into a new and exciting direction. It's been awesome working with Skybound and Hasbro to bring this new take on the G.I. Joe franchise. For the last few years, I've been picking up all of the new G.I. Classified figures, so I am pumped to contribute to this new world of G.I. Joe and Transformers!"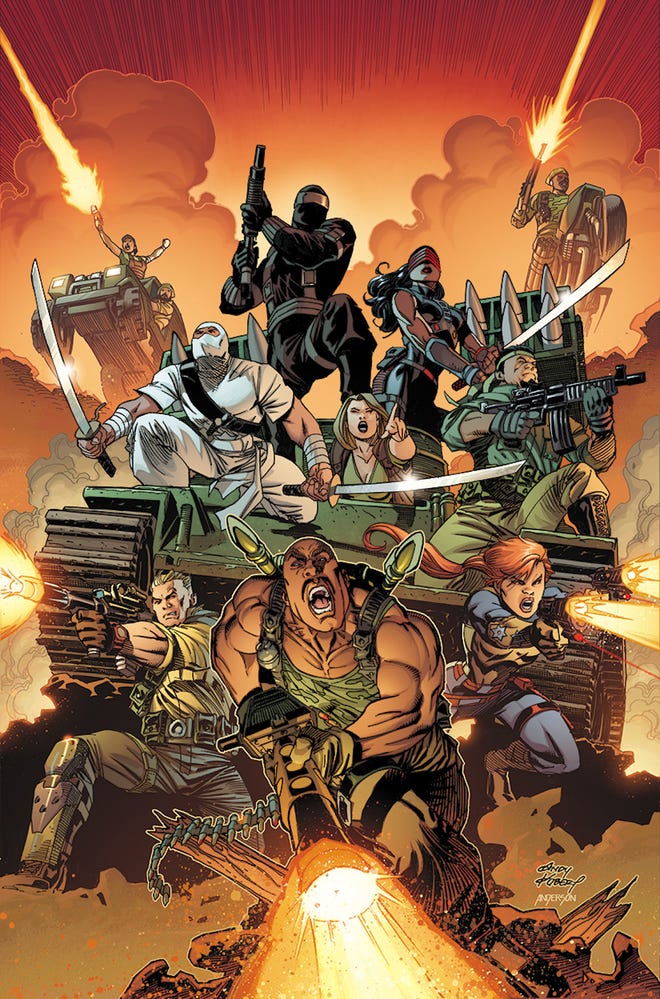 Two further Joe minis are planned as part of this first wave of releases — but that's not all: Skybound and Image will also be continuing Larry Hama's acclaimed G.I. Joe: A Real American Hero, picking up directly where the IDW run left off with G.I. Joe: A Real American Hero #301 this November; Hama continues as series writer for the title set in the original continuity of the series as established in the 1980s Marvel comic book series, with Chris Mooneyham joining as interior artist and Andy Hubert signing on for a tour of duty as cover artist.
"I am delighted to be continuing the saga of G.I. Joe with the good folks at Skybound and totally amped to be taking the G.I. Joe team to issue #301 and beyond," said Larry Hama. "Little did I know back in 1982 that I would be associated with the Real American Hero for over 40 years. My thanks to the whole crew at Skybound for allowing me to continue to chronicle the exploits of characters who have become like a family to me."
"It's a tremendous honor to be able to reintroduce this world to a new audience under the Skybound banner," Robert Kirkman said in a statement about the new publishing partnership. "I've loved these characters for most of my life and to have the opportunity to add to the already rich tapestry Hasbro has built with the all-new Void Rivals is an unbelievable opportunity. If you look at everything done with Transformers and G.I. Joe, you can see the inkling of a vast universe with tremendous potential for crossovers and interaction that will enhance the fan experience while staying true to the individual identities of both concepts. I look forward to exploring that potential for years to come."
---
Marvel is also bringing some Hasbro properties back, with omnibus releases for their 1980s runs of ROM: Spaceknight and Micronauts.