The Simpsons: After last Halloween, the bar for this year's Treehouse of Horror is high
Treehouse of Horror XXXIV, which will air on Fox November 5, needs to be great to top 2022's Death Tome or Not It
Before last year, I had it in my mind that there would never be another "Shinning." The first segment in the fifth Treehouse of Horror was everything that makes the annual Halloween event great - sharp satire, snarky shoutouots and a smattering of soft scares. Now, in the twilight of The Simpsons's greatness, I had convinced myself that there would never be another ToH like it.
And then, in 2022, there was Not It.
Er, that is, there WAS it. "Not It" just happened to be the title of last year's Treehouse of Horror special, a play on the recent It duology directed by Andrés Muschietti and based on the novel by Stephen King. But it wasn't just the return of the King that put Not It on the level of The Shinning.
In fact, it's the way both of them stray from the source material that makes them perfect.
Not It: Part King, Part Springfield, Refreshingly Original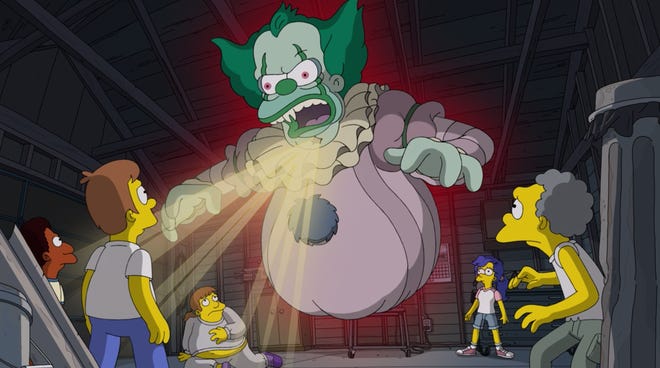 I've read that what makes an adaptation great isn't how you copy the source material, it's what you do differently. In that case, Not It makes for an amazing Stephen King adaptation. Like The Shinning before it, who swapped out ghosts as the reason for Homer's insanity to a lack of TV and beer, Not It makes a significant change to the It story, then grabs the camera and zooms in.
To be fair, Not It apes the general structure of King's novel and incorporates the most memorable visuals of Muschietti's movies. However, at the heart of Not It is a love triangle between Homer, Marge, and Comic Book Guy. Though there's a dash of romance in both the King book and film adaptations, it's not in focus like it is in this version.
It's this change that makes Not It so worth watching, even if you're not a fan of the source material. It provides all three characters an arc, finds a way to work Bart and Lisa into the story, and sets the stage for the final confrontation with the Krusty/Pennywise pastiche, in which one character sacrifices it all for love.
There was a giant, creepy-clown smile on my face at the end of Not It; I had seen something so referencial but also appropriately new. The only thing that was a little weird, I thought, was that there was only one segment instead of the customary three. But still, I was thrilled with what I thought was the Treehouse of Horror for that year.
Happily, I was wrong.
Treehouse of Horror XXXIII: A Special Halloween Special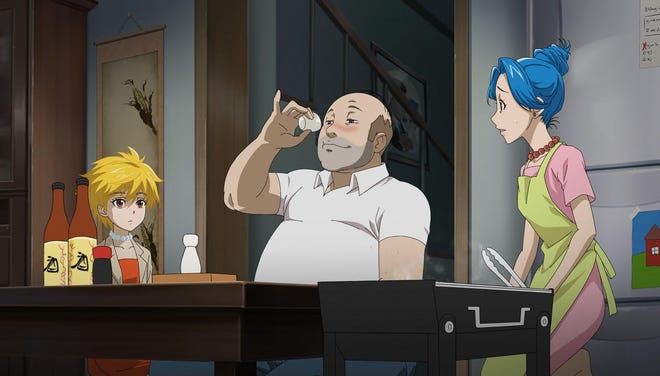 Much to my surprise (I guess I'm slow on my Simpsons news), a trailer for 2022's Treehouse of Horror came on after Not It. Delighted, I learned that what I had just watched was only a special episode, and that the regular ToH format would still be airing that year, featuring one of the most ambitious segments that Treehouse of Horror has ever done.
Before I get too far ahead of myself; all segments of last year's ToH deserve some accolades. The Pookadook was a great parody of The Babadook with a genuinely chilling image of a floating Marge. Then there was the meta Simpsons World, self-referential in the best way. But on the whole, Death Tome stole the show for me.
As you might guess, Death Tome was a spoof of the very popular manga and anime Death Note (also a much less popular live-action series, and we'll see about the musical?). The Simpsons captured the soul of the series perfectly, casting globally-minded Lisa in the Light Yagami role and Bart as trickster-devil Ryuk. Not only that, but they did it with gorgeous anime visuals done by DR Movie, the studio who worked on the original Death Note anime.
If you're going to spoof, go to the source.
Treehouse of Horror XXXIV: My Fears and Hopes (for More Fears)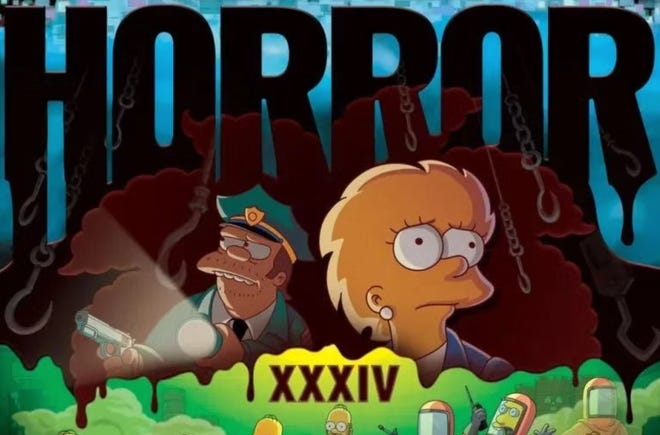 A year later, I have high expectations for Treehouse of Horror XXXIV. There's not much information available about the upcoming special (as of this writing, there isn't even a trailer), but I won't lie; what I've read doesn't instill me with confidence.
First, there's a Silence of the Lambs spoof starring Lisa as Clarice Starling and who I assume to be Sideshow Bob as Hannibal Lecter. Then, there's a parody of the 2008 film Quarantine which will see all of Springield mutated into Homer Simpson. And finally, there's an... NFT piece? According to the official synopsis "Bart is turned into an NFT, and Marge must fight through the Blockchain to rescue him."
I can't understand what that means or (apologies) say that it excites me very much. I hope I'm wrong, but I'm nervous that this year will see a return to what has dimmed ToH's spooky glow - easy jokes, overused topics, and beat-by-beat repetitions of stories, rather than purposeful satire. From that synopsis, I get no sense that the creators are reaching further with this episode, experimenting like they did last year and trying to do something new.
But if my fears do come true, at least I can stream last year's episodes. At least I'm just a can of pumpkin ale, a blanket, and a click away from 2022, the year that proved to me that the Treehouse of Horror, in all its campy, corny, gory glory, can live once again.
Even if it's only for one bright, shinning moment.
Treehouse of Horror XXXIV will air on Fox November 5. You can stream Not It and Treehouse of Horror XXXIII on Disney+ now.
---
If you're looking for more spooky offerings this Halloween, check out what horror movies Netflix is streaming.