Uncanny Experience: I spent the weekend at Xavier's mansion with the X-Men
The Uncanny Experience combined traditional comic conventions with immersive LARPing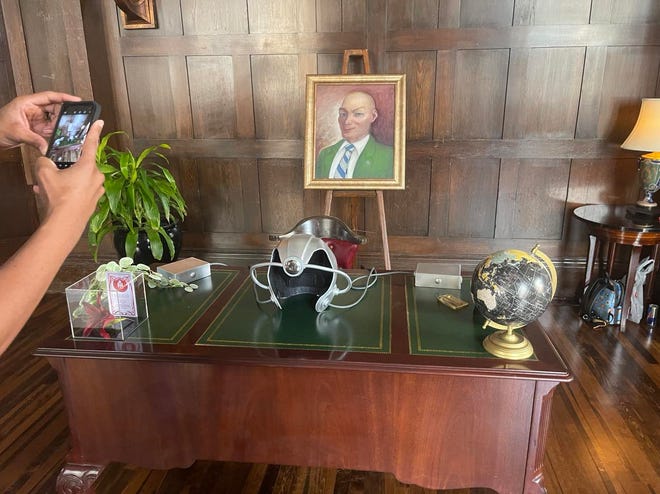 I'm going to let you all in on a little secret – I've joined the X-Men. I spent the weekend at Xavier's mansion, hung out with famous superheroes, attended classes, sang karaoke with Dazzler, and graduated as a full-fledged member of the X-Men. It all went down at the Uncanny Experience, an X-Men fan event that took place in Minneapolis on September 16 and 17.
I was intrigued when I heard about this event. As a Popverse writer, I live and breathe all things Marvel, and the X-Men are a big part of that. I thought it might be a fun convention to check out, but I didn't realize just what I was in for. It feels reductive to call the Uncanny Experience a convention, or even a fan event, because it was so much more immersive. It was an experience.
What was the Uncanny Experience like?
The Uncanny Experience was organized by passionate X-Men fans and not sanctioned by Marvel. The event marketed itself as an immersive experience that combined LARPing (live-action roleplaying) with the comic con experience. Panels were rebranded as classroom lessons, panelists became instructors, and event badges were student IDs. There was also standard convention stuff, like a vendor hall and celebrity guests. The cast and producers of the 1992 X-Men animated series were around all weekend, ready to chat with their longtime fans.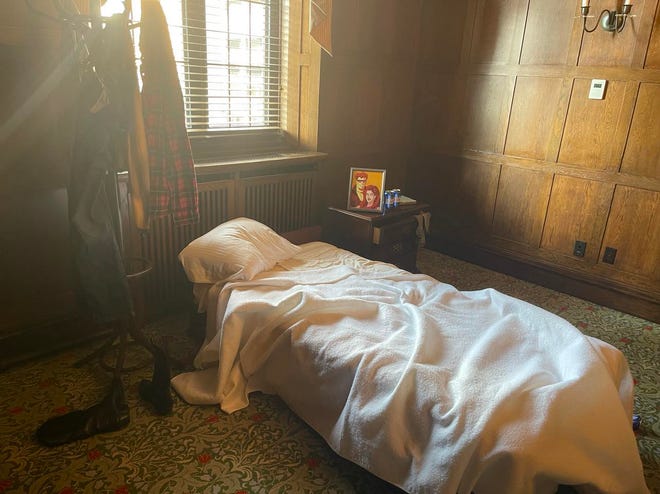 Xavier's Mansion
The key to everything was immersion, and that began with the venue itself. The Uncanny Experience was held at the Minneapolis Club, but I'll be damned if it wasn't Xavier's mansion. The Minneapolis Club is a historic building in the heart of downtown Minneapolis, and it looks like it could be a double for the famous mutant academy. Look at some of the pictures, and you would swear they used the building to film the X-Men movies. The choice of venue helped sell the immersion, and I can't imagine the event being held anywhere else.
The Minneapolis Club had various touches to help sell itself as Xavier's mansion. There was a desk with a Cerebro helmet, which everyone was able to try on. A painted portrait of Charles Xavier himself hung on the walls. The event even hired cosplayers to perform as Rogue, Jean, and various X-Men members. These cosplayers hung around the mansion, ready to have conversations with attendees. Naturally, Xavier's school had a resident psychic. I was given a free tarot reading from a psychic known as Phoenix. Once again, this is something that has never happened to me at any other convention.
Walking the halls, I found a replica of Wolverine's bedroom. His nightstand had a framed photo of Scott Summers and Jean Grey from the animated series. Yes, THAT photo. The event organizers encouraged us to lay down on the bed and recreate the infamous meme.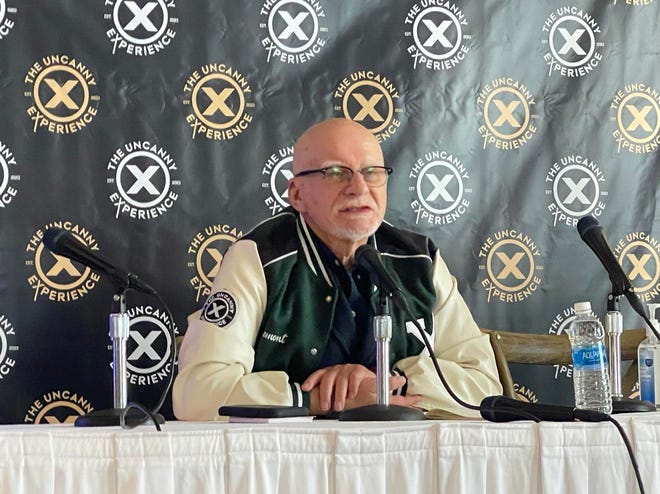 Attending class at the Uncanny Experience
I attended a lecture from Professor Chris Claremont, and the famed X-Men writer understood the assignment. Claremont gave an entire lecture on the history of mutants in the Marvel Universe, and he did so from an in-universe perspective. It was the kind of surreal experience that could only happen somewhere like this.
Justin and Alicia Wilder (of the X-Wife podcast) held a classroom lecture on the X-Men's Krakoa era from a real-world perspective. Was the government system fair? What was the infrastructure and healthcare system like? In the end, it felt like a social studies class, except we were talking X-Men, which is far more fun.
There was a nighttime afterparty, which featured a performance from a Dazzler cosplayer. I'll admit, seeing Dazzler sing was one of the things I was the most excited about. Guests were invited to join Dazzler onstage for some karaoke fun. I couldn't miss the opportunity to have a duet with Dazzler, so I got up onstage and sang my heart out.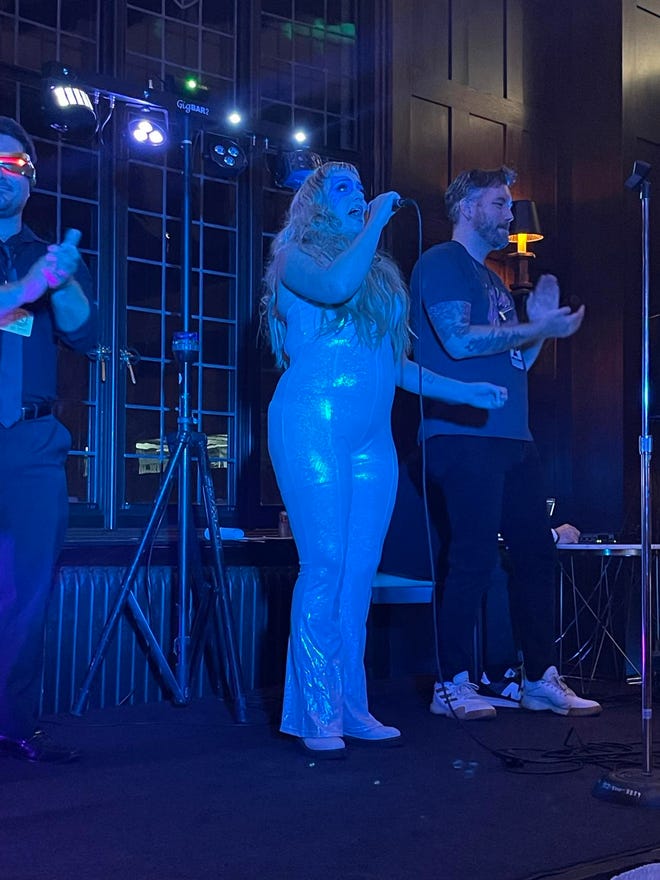 Graduation and beyond
The Uncanny Experience ended with a graduation ceremony. Chris Claremont gave a commencement speech, then each attendee got up and received a diploma. Let me tell you, having Chris Claremont hand me a diploma from Xavier's School for Gifted Youngsters was mind-blowing. As a lifelong Marvel fan, I can't describe how cool it felt. Usually, my conventions end with me wandering from a venue after a long day. This one ended with one of Marvel's greatest creators personally handing me a diploma. How cool was that?
This was the first Uncanny Experience event, and it's safe to say it won't be the last. As I exited the Minneapolis Club, I saw Dylan Carter, one of the event organizers. "See you next year," I asked. "Oh definitely. This was everything we dreamed and more," Carter replied.
As of this writing, I've attended 7 conventions this year, and I can't even count the number I've attended in my lifetime. Despite this, the Uncanny Experience stands out. That's because it offered something different and delivered in spades (thanks Gambit).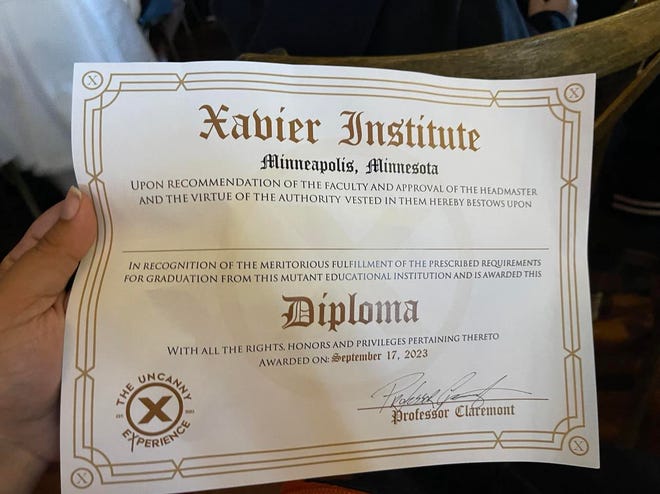 The X-Men comics were about a sense of belonging. In a world where mutants were hunted and persecuted, Xavier and his students found a community amongst each other. How the world treats mutants can be seen as an metaphor for racism, homophobia, sexism, transphobia, or countless other acts of hatred and exclusion. We may not be able to shoot lasers from our eyes, but many of us have been on the receiving end of that hatred in one form or another. We are all X-Men.
I think that's why the Uncanny Experience worked so well. For one weekend, fans of the X-Men were able to escape the challenges of real life and become a part of the community we all need. Whether you're a longtime comic fan who grew up wishing you were a mutant, or member of the LGBTQIA+ community trying to survive the current political climate, the Uncanny Experience gave everyone that sense of belonging. That's why it was a success.
---
Get the X-Men experience (with or without Marvel's help): Inside the mutant con The Uncanny Experience