SDCC 2023: Vault Comics Vault Comics reveals full plans including guests, panels, and exclusives
Christopher Yost's Unnatural Order will make its debut at SDCC 2023 thanks to Vault Comics
One of the most exciting indie publishers in comics has big plans for San Diego Comic-Con 2023, as Vault Comics is showing up with multiple panels, multiple signings, and a show debut for Unnatural Order, the new comic book from writer Christopher Yost. (You might have heard of him; he co-created X-23 and wrote Thor: Ragnarok and an episode of The Mandalorian.)
Co-created by Tost and artist Val Rodrigues, the first issue of Unnatural Order — which has been described as 'Zero Dark Thirty meets Lord of the Rings' — isn't in stores until August 30, but the ambitious series that mixes sci-fi, fantasy, and maybe a little sprinkling of horror will make its debut at the show, with an SDCC exclusive variant cover available. Additionally, Yost is appearing on Thursday's Stranger Than (Science) Fiction panel, one of three panels the publisher is hosting across the five-day event.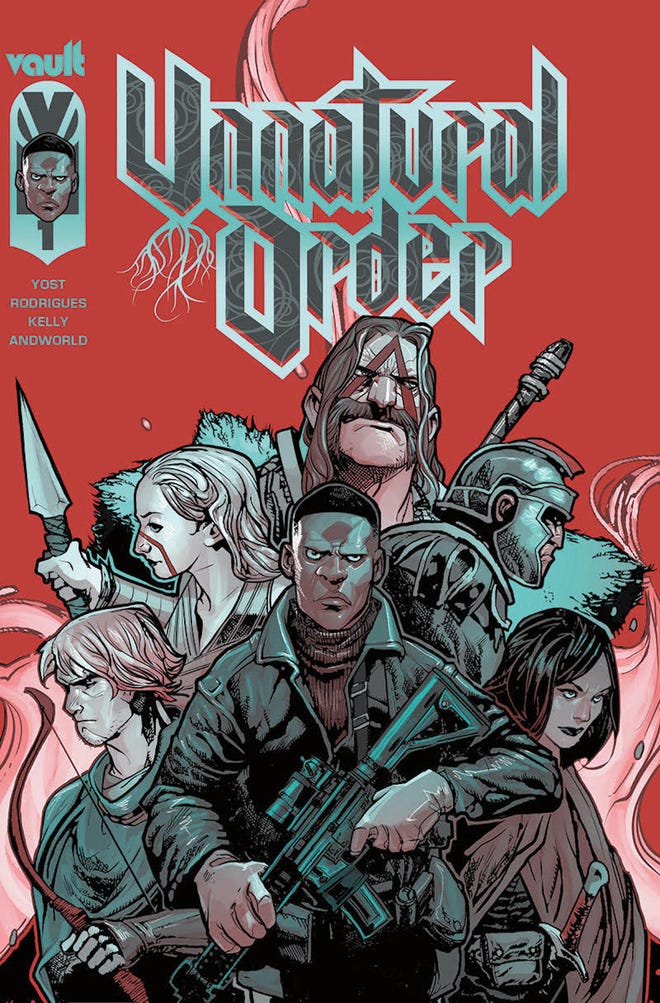 Vault's panel line-up for San Diego Comic-Con 2023 is as follows:
Thursday July 20
Vault Comics Presents: Stranger Than (Science) Fiction- Outer Worlds and Other Voices in Comics: When independent upstart publisher Vault Comics arrived on the scene in 2017, the mission was simple: to publish the BEST in science fiction, fantasy, and horror comics. Since that time, the company has established new voices in the genre as well as worked with some of the most well known names in fiction, graphic or otherwise. To celebrate the company's now firmly established place in the industry, Vault creators and friends share the stage to discuss how these creators are pushing the genre to the furthest reaches of the universe and back again. Join Rodney Barnes (Monarch), Christopher Yost (Unnatural Order), Zack Kaplan (Mindset) and more. (10:15am - 11:15am, Room 6DE)
Friday July 21
Crack Open the Vault: The Best in Creator-Owned Comics Unlocked: Vault Comics has risen to the title of the best in genre-based sequential storytelling with multiple award winning series from comics' top creators over the course of their six year history, including critical darlings, fan favorites, and sales record breaking series. Vault makes their triumphant return to Comic Con International this year to premier their latest series Unnatural Order from X-23 co-creator Christopher Yost. Vault invites attendees to join Yost, alongside Christopher Cantwell (The Blue Flame, Iron Man, Doctor Doom), Jackson Lanzing and Collin Kelly (Dark One, Captain America, WifWulf), Corin Howell (Queen of Swords, Shadow Service), and Zack Kaplan (Mindset), as the publisher offers a sneak peek at their fall lineup of the best in science fiction, fantasy, horror and more! Moderated by Vault's own Daniel Crary, host of the company's weekly WhatNot stream and Director of Community Engagement and Events. (11:00am - 12:00pm, Room 25ABC)
Saturday July 22
Vault Comics: The Horror of it All - The Golden Age of Scary Stories: Independent comics have never been more prominent and more diverse. Bold ideas across genres are being released every Wednesday by more publishers than perhaps any other time in the history of the medium. Vault Comics, known for some of the most celebrated science fiction and fantasy, have expanded their reach into horror under their Nightfall imprint, and to celebrate, is inviting some friends on stage to discuss what makes for the best blood in four colors. Join Knotfest's Ryan J. Downey, alongside Tim Seeley (West of Sundown), Cavan Scott and Corin Howell (Shadow Service), Rodney Barnes (Killadelphia, Blacula), Storm King publisher Sandy King Carpenter, Patrick Kindlon (Leaded Gasoline), and more. (4:00pm - 5:00pm, Room 28DE)
Additionally, Vault is hosting the following signings:
Unnatural Order SDCC Exclusive cover w/Christopher Yost and Nathan Gooden @ We Can Be Heroes Booth #1901: Limited to 100 copies, this special edition of UNNATURAL ORDER will only be available for pickup at We Can Heroes, booth 1901 at San Diego Comic-Con! Pre-Order now so you don't miss your chance at this exclusive, limited edition early release! With your preorder you are guaranteed a spot at the signings with Chris and Nathan! (Thursday July 20 12pm - 1pm)
Unnatural Order SDCC Exclusive cover w/Christopher Yost and Nathan Gooden @ We Can Be Heroes Booth #1901 (Friday July 21 1pm - 2pm)
Mindset and The Blue Flame with Zack Kaplan and Chistopher Cantwell @ We Can Be Heroes Booth #1901 (Saturday July 22 1pm - 2pm)
"It's wild to think that we announced at SDCC 2016, and now we're returning with cross-publisher panels, deep dives into genre, and discussions on how we went from brand new to chart-topping in under 5 years," Vault co-founder and editor-in-chief Adrian Wassel said in a statement about the company's plans for the show. "We'll be hosting signings with some of the most incredible creators in comics, including writers and artists whose work is responsible for me falling in love with this medium and wanting to dedicate my life to it. Oh, and did I mention new announcements? Because we've got some of those coming, too!"
San Diego Comic-Con runs July 19 through July 23 at the San Diego Convention Center. Popverse will be there for the whole thing, sharing everything from the very start of the show until the very end.
---
Wondering what to expect from this year's SDCC? We've got some answers for you.