Walking Dead showrunner Scott Gimple is "not against" a revival of The Walking Dead mothership series
"We're already talking revivals?"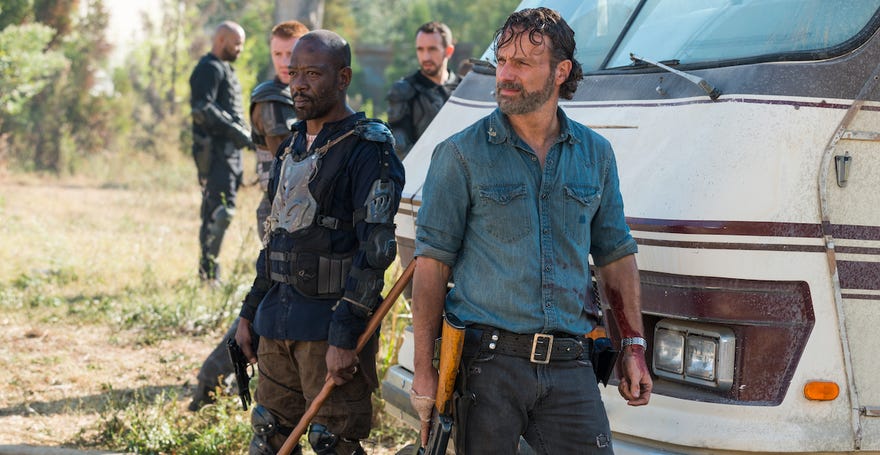 While there are several ongoing spinoffs of The Walking Dead, the original mothership series concluded with its eleventh season in November 2022. However, series showrunner Scott Gimple won't rule out a possible eventual revival of the TWD series.
Gimple mentioned this during the New York Comic Con 2023 panel for The Walking Dead Universe. While the panel primarily focused on the Norman Reedus-led spinoff The Walking Dead: Daryl Dixon, during the Q and A portion of the panel, one fan asked a question about whether it was possibile that the many disparate but intertwined plot threads unspooling across the various TWD spinoffs would culminate in a single climactic story, and whether or not that story would be told via a revival of the original TWD series or through a different sequel show.
"That isn't specifically planned," said Gimple. "It would be good though." Gimple continued, "The dream would be that these shows somehow converge in some way, narratively."
This possible future would involve plot threads across several shows being woven together. In addition to Daryl Dixon, there is the ongoing Fear the Walking Dead and The Walking Dead: Dead City, the upcoming The Walking Dead: The Ones Who Live, the completed The Walking Dead: The World Beyond and the completed anthology series Tales of the Walking Dead (set to be followed by a sequel anthology series, More Tales from the Walking Dead Universe).
And what about a specific revival of TWD? "As far as the show coming back?" said Gimple. "Wow. We're already talking revivals? I'm not against it."
---
You can relive every moment of The Walking Dead Universe panel now, right here on Popverse, by clicking this link.