Watch Shawn Crystal, Jim Mahfood, and Matteo Scalera talk about turning your art into a career from ECCC '22
Watch the full Emerald City Comic Con panel 'Turning your art into a career with Shawn Crystal, Jim Mahfood, and Matteo Scalera'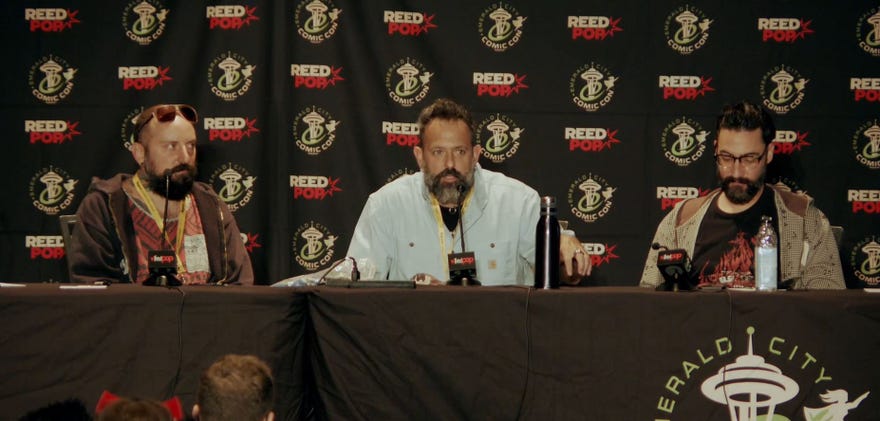 Comic artists Shawn Crystal, Jim Mahfood, and Matteo Scalera have all had different paths to success for them inside comics and animation, and at Emerald City Comic Con they shared their stories. The trio uses their origin stories to relate to the next generation of artists looking to find a place for themselves in comics and animation.
Popverse filmed this and many other panels at ECCC this year, and making them one of two ways - by becoming a Popverse member at the 'Fan' level (or higher), or by buying a ECCC digital ticket. The ECCC digital ticket gives you access to live video panels streamed at ECCC from the Main Stage, VOD panels from three other stages, and access to all the great content from Popverse for 30 days. The Popverse membership does that for the entire year, and would include live video panels from the upcoming New York Comic Con, MCM London Comic Con in October, and (yes) next year's Emerald City Comic Con and C2E2.
Having problems watching this video? Check out the Popverse streaming video and VOD FAQ.
Watch the Turning your Art into a Career panel with Shawn Crystal, Jim Mahfood, and Matteo Scalera filmed at Emerald City Comic Con 2022:
---
Be at ECCC from anywhere with Popverse's wall-to-wall coverage of the Seattle comic convention. Bookmark Popverse's ECCC coverage round-up page, as we're adding to it daily - and even after the event itself.