Wes Anderson is the perfect fit to adapt Roald Dahl's strange stories
Fantastic Mr. Fox, The Wonderful Story of Henry Sugar, and more on the horizon
It started over a decade ago with Fantastic Mr. Fox. Now, Wes Anderson has returned to Roald Dahl's stories with the new release of a 39 minute short film The Wonderful Story of Henry Sugar (out on Netflix later this month). And there's more to come, Anderson shared at the Venice Film Festival. In fact, he's already completed three more short adaptations of Dahl stories: The Swan from the Henry Sugar collection, Poison, and The Ratcatcher.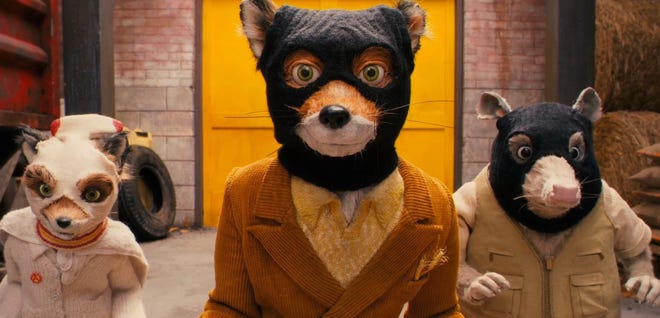 While some might think that Anderson's style is simply "too much" to add to Roald Dahl's already very tone-heavy work, I'd argue that's what makes it a good match. It's hard to image Dahl properly adapted in a naturalistic style. While many love Willy Wonka and the Chocolate Factory (I must say I do too - especially for Gene Wilder), the film doesn't really capture Roald Dahl's bizarre tone like Fantastic Mr. Fox does (even if it isn't the most direct adaptation). That's because Roald Dahl is not just weird in his plotting, he's weird in prose too. And if you're adapting his work to film, you need to replace it with something that can match it beyond transposing his wacky stories onto the screen.
Like it or hate it (and it does seem to get more polarizing with every film), Wes Anderson has a distinct voice and a bold visual style that cannot be confused with anything else we see on the big screen. And this directorial style seems just strange enough to square up with Dahl's own atypical tone and bring his stories to life.
The Wonderful Story of Henry Sugar hits Netflix on September 27.
---
Yo Adrian! Rocky 1-5 is leaving Netflix at the end of September.