What If… Captain America went to Community's Greendale?
"We could be old and cold and dead on the sea."
In the currently Marvel Comics series Captain America: Sentinel of Liberty, Steve Rogers recently faced a mystery that's more difficult to solve than the identity of the TV sitcom Community's Ass Crack Bandit… but it also sees Rogers enrolled in community college.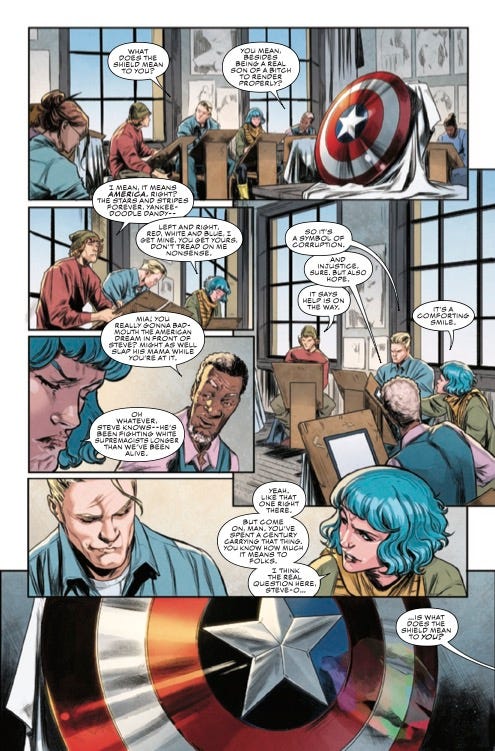 This got us thinking.
Considering that the Russo Brothers directed Captain America: The Winter Soldier, Captain America: Civil War, Avengers: Infinity War, and Avengers: Endgame and directed 14 episodes of Community, it only makes sense to ask the question, What If… Captain America went to Greendale Community College?'
We are mashing up the worlds of Marvel's Captain America (and his associated cast) with that of NBC's Community, to find what roles each Marvel character would fit into on the show.
Community's Pierce Hawthorne = Marvel's Captain America
Of course, Cap attending Greendale begs the question: into which archetypical character role would the First Avenger fall? However, given the dearth of elderly characters in the MCU, it seems like Rogers might best fit into the Community mold if he is the 'aged-up' version of the character, as seen in the Marvel Comics storylines that precede the 'Welcome to Pleasant Hill' crossover event and portrayed by Chris Evans onscreen in the final scenes of Endgame.
This older version of Cap would fit perfectly into the role played by Pierce Hawthorne (Chevy Chase) on Community. While Rogers is generally more empathetic than Hawthorne, both characters are from a different generation than most of their narrative peers. This means both are often played for laughs as they attempt to engage in outdated cultural mores or fail to understand the next generation's pop culture references.
Community's Jeff Winger = Marvel's Iron Man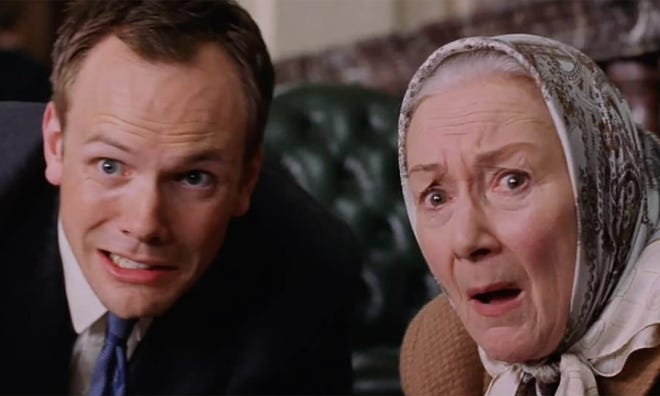 The main character in Community, Jeff Winger (Joel McHale), has an arrogant personality and is never ashamed to get ahead using his good looks or charm. That's why Tony Stark (Robert Downey Jr.) would be the perfect Marvel superhero to step into this role. Plus, just as Iron Man was often considered the de facto leader of the Avengers, Winger is something of a figurehead for the Greendale Study Group. It's also worth noting that McHale has already appeared in a Marvel Comics adaptation, having appeared in a scene in Spider-Man 2.
Community's Troy Barnes = Marvel's Spider-Man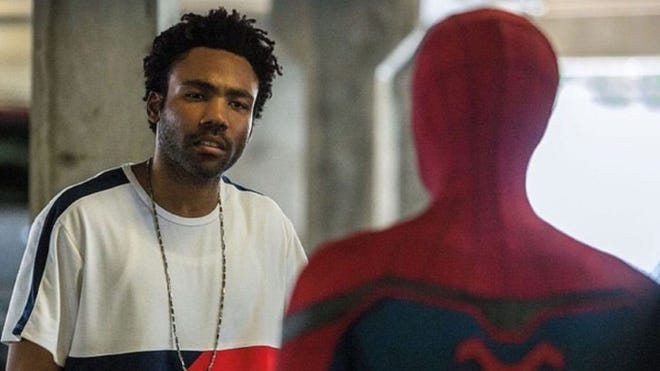 One of the easiest characters to connect to the MCU is Troy Barnes, in part because Donald Glover has already appeared in the Marvel Studios movie Spider-Man: Homecoming as Aaron Davis, the uncle of Miles Morales, a.k.a. Spider-Man. Speaking of Miles, footage of Glover wearing Spider-Man pajamas in an episode of Community actually appears on Aaron's television screen in the movie Spider-Man: Into the Spider-Verse. Naturally, that makes it easy: obviously, Miles would be Troy.
Community's Abed Nadir = Marvel's She-Hulk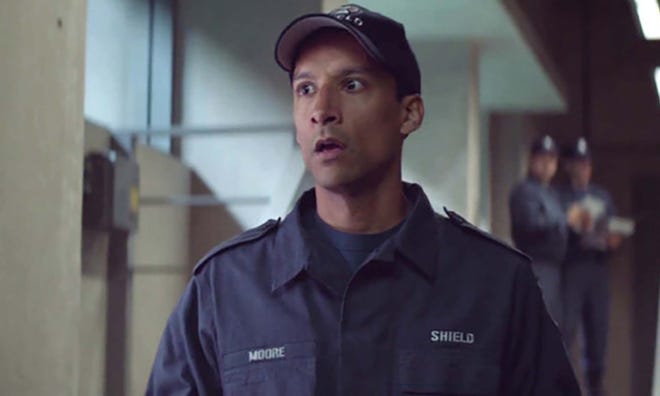 It's impossible to consider Barnes without considering his best friend, Abed Nadir (Danny Pudi). This metafictional character frequently talks about parallel universes, which these days means he'd be a perfect fit for the MCU. Perhaps that's why Pudi has already appeared onscreen in a Marvel movie, playing a S.H.I.E.L.D. tech in The Winter Soldier (those Russo connections are good to have, folks). As far as this character goes, She-Hulk (Tatiana Maslany) would be a great fit, considering her apparent cognizance of the fourth wall. It's also worth noting that in several episodes of Community, Abed dates a girl named Rachel, played by Carol 'Captain Marvel' Danvers herself, Brie Larson.
Community's Annie Edison = Marvel's Jessica Jones
Next up is Annie Edison, played by Alison Brie. Brie is notable for having multiple connections to Marvel Studios already. For one thing, she directed 'Spotlight,' an episode of Marvel's 616, the documentary series released for streaming on Disney+ in November 2020. That isn't Brie's only connection to the MCU, either: she also plays the antagonistic character, Aftershock, in the Disney Channel animated series Marvel's Moon Girl and Devil Dinosaur. Plus, in 'A Rickconvenient Mort,' the third episode of Rick and Morty season 5, Brie voiced Planetina, described by Summer Smith as "a phase four superhero."
However, as far as the Marvel character best suited to step into Annie's role, it might be Jessica Jones (Krysten Ritter). Just like Annie, what lies beneath Jessica's surface is not necessarily what people assume. And while Annie's substance abuse issue concerns Adderall and Jessica's struggles with alcoholism, both have secret self-medicated demons that they conceal from their peers. (And if Doctor Doom ever brings Annie along with him to see the Rose, we may be introducing a ice cream scoop toting Annie Wilkeson to the MCU, which seems like a perfect case Just Jen, Esq.)
Community's Shirley Bennett = Marvel's Melinda May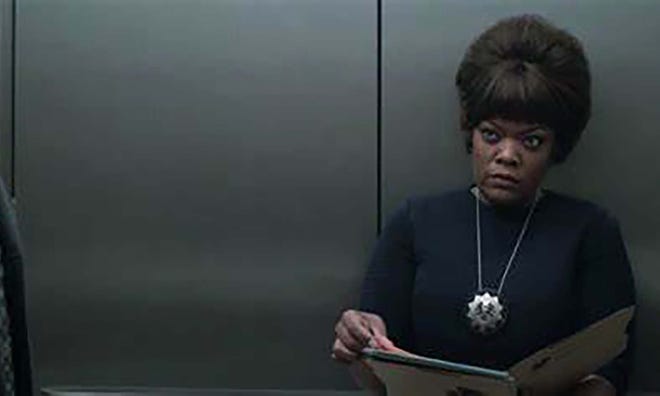 The next member of the Community study group to consider is Shirley Bennett, played by Yvette Nicole Brown. Brown is another alumni of the MCU, having appeared in a role as a '70s S.H.I.E.L.D. agent in Endgame. She also has other Marvel credits, voicing the Head Administrator in the 2020 Spider-Man animated series and the Spider-Man: Maximum Venom short.
On Community, Shirley has more of a life outside Greendale than many of her friends in the study group. For this reason, Melinda May (Ming-Na Wen) from Marvel's Agents of S.H.I.E.L.D. would fit well into her role. Another parallel exists: while Brown left Community before the series concluded, she nevertheless appeared in additional episodes, including the series finale. Meanwhile, while May died before the conclusion of Agents of S.H.I.E.L.D., she nevertheless appeared in subsequent episodes (thanks to a revival).
Community's Britta Perry = Marvel's Hela
Then there's Britta Perry, played by Gillian Jacobs. Like Brie, Jacobs directed an episode of Marvel's 616, 'Women of Marvel,' Also, like Brie, Jacobs has played a superheroic character on Rick and Morty: Supernova, from season 4's 'The Vindicators.' Supernova isn't the only superhero Jacobs voices, either: she's also Atomic Eve on Amazon's Invincible.
Considering how explosive both of these characters can prove to be, and because Britta seems to enjoy wearing somewhat outlandish outfits, the character who would best fit into Britta's role is Thor: Ragnarok's Hela (Cate Blanchett). If you disagree, rewatch the scene in which Hela gleefully tears down the Asgardian patriarchy and tell me Britta wouldn't be clapping her hands with glee throughout.
Community's 'Señor' Ben Chang = Marvel's Kang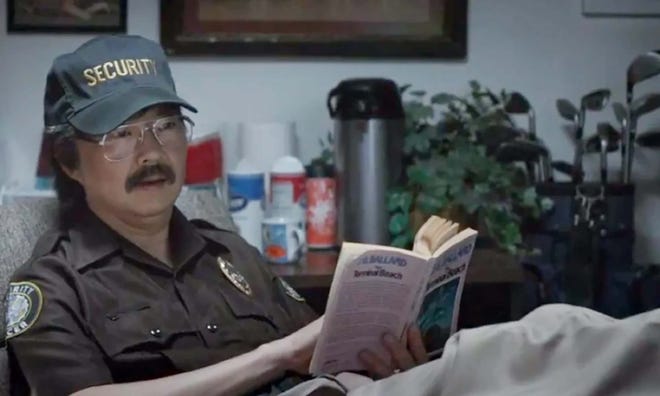 In the wake of the announcement of Avengers: The Kang Dynasty, Ken Jeong, who plays 'Señor' Ben Chang on Community, it's clear that Chang would make a perfect time-traveling supervillain. Chang often replaces words that sound similar to his name, so 'The Chang Dynasty' is a no-brainer. In fact, there's even a Community season 3 episode entitled, 'The First Chang Dynasty.'
Community's Dean Pelton = Marvel's Jim Rash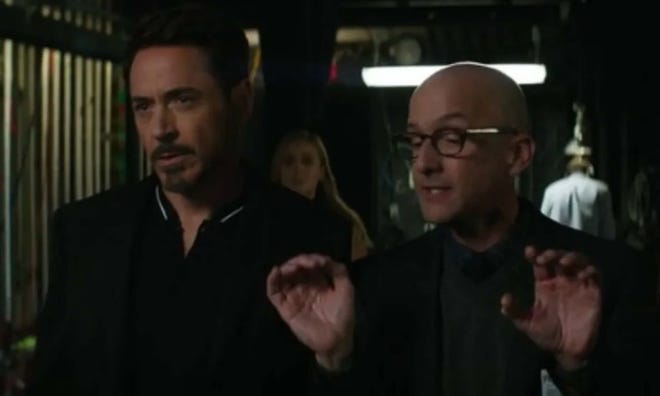 Jim Rash plays Dean Craig Pelton, the dean of Greendale (and head of Task Force Dean). Rash is another Community alum that already has a Marvel credit, having appeared in Civil War as an M.I.T. Liaison who attempts to get some cash out of Stark. Considering how often the Dean tries to get something from Jeff on Community, it seems as if the character Rash played in Cap 3 could seamlessly replace the character he played on the NBC sitcom. Take that, fourth wall!
Community's Buzz Hickey = Marvel's Hank Pym
The fifth season of Community saw a new addition to the cast: Jonathan Banks as Professor Buzz Hickey. This surly character has a dark past, but his heart is in the right place. He perfectly matches the MCU's version of Hank Pym (Michael Douglas). In fact, Hickey's son Hank (David Cross) could even step into the narrative role of Scott Lang (Paul Rudd), given the similar physical appearance of the two actors.
Community's Elroy Patashnik = Marvel's Bill Foster
In Community's sixth season, two new characters joined the Community cast. First up was Keith David as Elroy Patashnik. As Elroy says early in the sixth season, he's "nobody's fourth Ghostbuster." Elroy has his stuff going on and doesn't get too involved in the affairs of the Greendale study group. He also possesses notable technical acumen. For this reason, he would be an excellent match for Bill Foster, a.k.a. Goliath, played by Lawrence Fishburne in Ant-Man and the Wasp. And hey, this could lead to the first ever team up of Goliath and Dazzler, who could be played by Lisa Loeb (just don't assume anyone in the band is actually named Dazzler).
Community's Frankie Dart = Marvel's Maria Hill
Finally, Paget Brewster plays Frankie Dart, an intensely competent school administrator. This character is an excellent match for the always-competent Agent of S.H.I.E.L.D. Maria Hill, played by Cobie Smulders in atleast two universes of the MCU. But with Kang coming, there is a whole universe of other versions of Maria Hill for Brewster to play (and my bisexual heart, just realized what would be better that Smulders and Brewster team-up, folx!). Just like Hill, Dart is far too preoccupied with her professional responsibilities to even consider romantic entanglements – after all, either a planet full of Skrulls or a community college with a single Dean Pelton is more than enough to keep you busy.
Is it possible the Study Room is a nexus that connects different multiverses? At this point, you can't rule out anything. Do you agree with Popverse's assessment? How would you fancast Community with MCU characters?
---
Get ready for Cap's return to the big screen with our Captain America: Brave New World guide.