SDCC 2023: What to expect from DC at San Diego Comic-Con
Fans attending Comic-Con International: San Diego this year should prepare for a Super time.
It's just days until San Diego Comic-Con 2023, one of the biggest conventions in North America, and one that takes place just a stone's throw away from the Burbank HQ of DC… admittedly, if that stone was thrown by the Man of Steel himself. Nevertheless, the summer show is perhaps the closest thing DC has to a hometown gig these days, which might make you wonder: just what is DC planning for Comic-Con this year? We're glad you asked.
The DC booth
DC was surprisingly absent from the San Diego Comic-Con show floor in 2022, but they're back in force for SDCC 2023, with a brand-new booth at booth number 4645 that will not only host creator signings, appearances from DC chief creative officer, publisher, and president Jim Lee, McFarlane Toys CEO and founder Todd McFarlane, and other surprise guests across the weekend, but also include a DC Shop selling rare and exclusive variants and releases, including some all-new DC merch. We'll get to that soon enough, though. (It's worth the wait; DC fans at SDCC, you might need to save up or consider a loan.)
Panels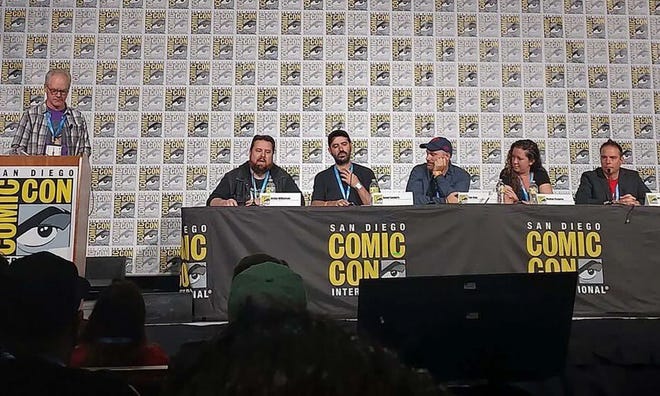 So far, this is what we know about DC's panels across the entire convention:
Thursday
Building the DC Universe on WEBTOON: DC editor-in-chief Marie Javins is one of the guests on this hour-long panel about the partnership between DC and WEBTOON, including series like Batman: Wayne Family Adventures and Vixen: NYC. Other panelists include WEBTOON VP of content David Lee and creators CRC Payne, Patrick Young, and Manou Azumi. (Room 4, 10:30am.)
Max Original Animation Presents: Want to know the latest about Harley Quinn and spin-off series Kite Man? This is where you'll want to be, especially as the panel includes an exclusive preview of the fourth season of Harley's show. (Ballroom 20, 11:00am.)
Between Two Toms: What is better than one fan-favorite DC creator called Tom? Two of them, obviously, so Toms Taylor and King are hosting an informal conversation that will almost certainly go off the rails very quickly. Hopefully guests Nicola Scott and Mitch Gerads will keep them on track. Maybe. Possibly. (Room 6DE, 11:30am.)
Gotham City: For those who are ready to find out more about the latest shenanigans in Batman's stomping grounds, this is the panel to attend; those who do will be accompanied by Tom King, Tini Howard, Collin Kelly, Jackson Lanzing, Ram V, Belén Ortega, and what DC are describing as "a surprise guest or two"… (Room 6De, 12:45pm.)
Friday
Dawn of DC: Just the creator line-up on this panel should sell it, with Ram V, Joshua Williamson, Nicola Scott, Tom King, Joanne Starer, Josh Trujilo, and Tom Taylor teasing what's coming up in the DC Universe over the next few months. Feels like we're due some kind of big announcement here, don't you think? I think. (Room 6DE, 12:30pm.)
Dawn of DC: Knight Terrors: The truth about the horror story at the heart of the DCU this summer gets revealed, as Joshua Williamson, Denis Culver, and Jeremy Adams talk about the two-month crossover based around the dreams and nightmares of DC's biggest characters. (Room 6DE, 1:45pm.)
Jim Lee & Friends: Beyond Lee, the rest of the line-up for this panel remains under wraps, but it's worth remembering: this is where the Batman/Spawn crossover was announced in 2022. Consider this a must-see, just in case. (Room 6A, 6:00pm.)
Saturday
The World of Metropolis: Superman fans, this is the panel for you. (And for me; I'm moderating it.) Joshua Williamson, Phillip Kennedy Johnson, and Sina Grace are talking about their current Super-gigs — the monthly Superman title, Action Comics, and upcoming graphic novel Superman: The Harvests of Youth, respectively — and it's very possible there might be a surprise guest or two showing up, as well. (No spoilers.) (Room 6DE, 12:30pm.)
Sunday
DC Books for Young Readers: Sina Grace is also on this panel, alongside Nicole Maines, Penelope and Jerry Gaylord, Jeffrey Brown, and Jim Benton — as well as, you guessed it, a surprise guest — all talking about the work on new and upcoming graphic novels for YA and middle-grade readers. (Room 6DE, 11:15am.)
Screenings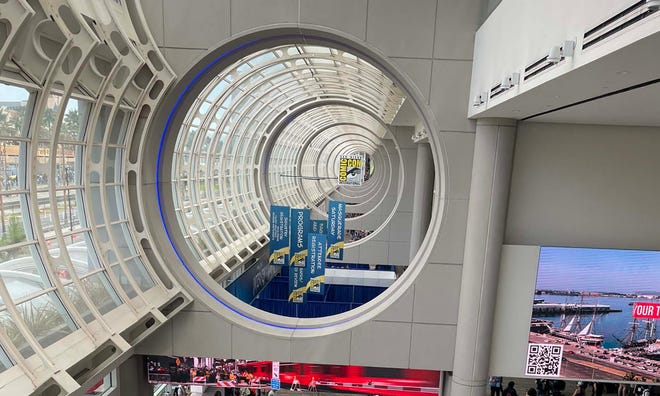 If panels are a little too... in person for you, perhaps you'd enjoy a chance to watch some content on a big screen? DC has you covered.
Superpowered: The DC Story: During Preview Night, there will be an advance preview of the first episode of the upcoming three-part documentary about the history of DC in Ballroom 20, alongside an all-new episode of Teen Titans Go! For everyone else: Superpowered debuts on Max July 20.
Justice League: Warworld: Those at Ballroom 20 at 9pm on Friday night will get a chance to see the world premiere of the all-new, R-rated animated feature that sees the World's Greatest Superheroes dealing with amnesia, new surroundings, and a mysterious threat to the universe. As well as the screening, there will also be a brief panel discussion about the movie.
Exclusive merch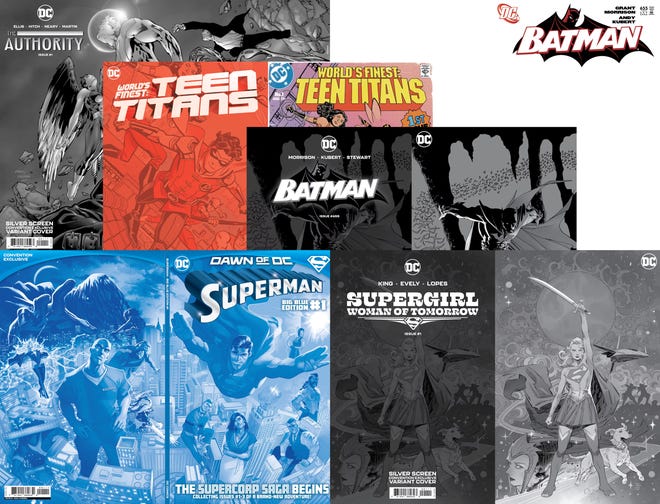 There's quite a list of what's going to be available from the DC Shop in the DC booth. Ready?
Superman #1 Big Blue Variant Edition
Batman #655 Silver Screen Edition
Booster Gold #1 Silver Screen Edition
The Authority #1 Silver Screen Edition
Supergirl: Woman of Tomorrow #1 Silver Screen Edition
Batman #655 Blank Sketch Variant Edition
Nightwing Vol. 1: Leaping into the Light SDCC Exclusive Edition
Poison Ivy Vol. 1: The Virtuous Cycle SDCC Exclusive Edition
Batman by Grant Morrison Omnibus Vol. 1 SDCC Exclusive Edition
The Sandman Helm Masterpiece Edition
Three new Blue Beetle t-shirts
Dawn of DC enamel pin, t-shirt, and hoodie
Batmobile Collector Pin Set
DC caps
T-shirts featuring new artwork from Jill Thompson, Bill Sienkiewicz, Eric Tan, and Phantom City Creative
And that's just what's been announced. DC says that "the complete DC Shop line-up of comics, books, and merchandise will be revealed soon."
Other DC exclusives at the show will include something from McFarlane Toys, and DC Hybrid Trading Cards by Hro/Cartamundi.
Signings
DC is also holding a lot of signings across the length of the convention, with some big name creators showing up to deface your comics with marker pens. Here's when to find them all, but note: some of these signings require wristbands for entry — DC will make the details of how to get those wristbands available via its social media channels closer to the show. (All signings are at the DC booth.)
Thursday, July 20
Jeremy Adams and Joshua Williamson: 10:30 - 11:30 am
Jim Lee & Todd McFarlane (wristband required): 12:30 - 1:30 pm
Rafael Grampá and Tini Howard: 3:00 - 4:00 pm
Collin Kelly and Jackson Lanzing: 4:00 - 5:00 pm
Friday, July 21
Jim Lee (wristband required): 10:00 - 11:00 am
Dennis Culver and Nicola Scott: 11:00 - 12:00 pm
Justice League: Warworld filmmakers: 12:00 - 1:00 pm
Tini Howard and Tim Sheridan: 1:00 - 2:00 pm
Ram V and Joanne Starer: 2:00 - 3:00 pm
Jeremy Adams: 3:00 - 4:00 pm
Tom King and Mitch Gerads (wristband required): 4:00 - 5:00 pm
Saturday, July 22
Jim Benton and Jeffrey Brown: 10:00 - 11:00 am
Sina Grace and Josh Trujillo: 11:00 - 12:00 pm
Tom King and Mitch Gerads (wristband required): 12:30 - 1:30 pm
Joshua Williamson: 2:00 - 3:00 pm
DC UNIVERSE INFINITE Event: Rafael Grampá and special guest (wristband required): 4:00 - 5:00 pm
Bat Cowl Holder Exclusive Event with Jim Lee (wristband required): 5:30 - 6:30 pm
Sunday, July 23
Penelope and Jerry Gaylord: 10:00 - 10:45 am
Nicole Maines (wristband required): 1:00 - 2:00 pm
Jennifer Muro and Thomas Krajewski: 2:00 - 3:00 pm
---
Wondering what to expect from this year's SDCC? We've got some answers for you.