What would Eddie Campbell's Bacchus look like as a TV show? We're about to find out
The classic indie comic is one of six new IDW properties in development for television
IDW Entertainment is continuing its push into television with the announcement of no less than six new shows based on IDW comic book and graphic novel properties being put into development — including one that might be perhaps a little more unexpected than most.
The six titles being placed into development are Satellite Falling by Steve Horton, Stephen Thompson and Martin Morazzo, which is being developed by Orphan Black's Will Pascoe and Only Murders in the Building's Jude Weng; Adrian Benatar and Miguel Ángel García's Relic of the Dragon, which has He-Man and the Masters of the Universe's Bryan Q. Miller attached as showrunner; Lodger, by David and Maria Lapham, with Max and Adam Reid serving as showrunners and Dopesick's Patricia Riggen attached as director; Christian Slade's Korgi, with Aura Wallington onboard as showrunner; Dragon Puncher & Spooky by James Kochalka, with Holly Hocking attached as executive producer and showrunner; and, finally, Eddie Campbell's Bacchus, with Will David and Chloe Moss serving as writers and executive producers.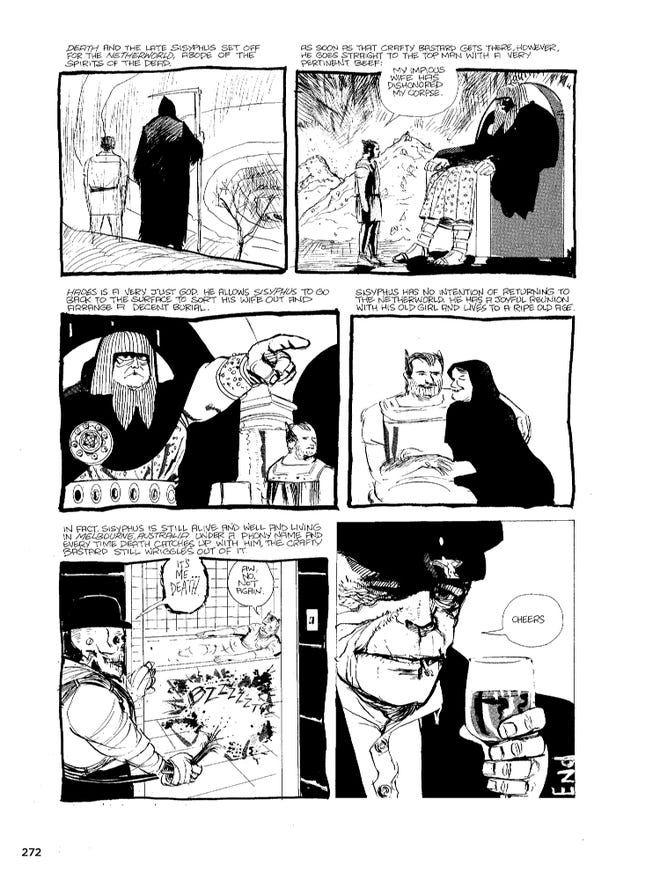 That last one might surprise a lot of people. Bacchus, after all, is a character that Campbell created back in 1987 and hasn't really touched in the last 20 years outside of the 2015 and 2016 omnibus collections — Banged Up, the tenth and final collected edition in the original run, was released back in 2001. He's also one that not many people are aware of, as yet; as the name suggests, it's Campbell's take on the Roman god of wine (also known as Dionysus from greek mythology), who has survived until the present day and is now an old man happily reliving his past over a nice glass of wine or several.
It's a charming, off-kilter series that reimagines Greek mythology in a manner that's as much informed by then-contemporary pop culture and other comic books as it is the original source material. In that way, it could be likened to WEBTOON's Lore Olympus by Rachel Smythe… if Lore Olympus was far more laidback and prone to distracted digressions in its approach. Perhaps an inebriated Sandman might be a more appropriate comparison.
This won't be the first brush Campbell has had with television; his 2002 book After the Snooter — one of the final installments in his long-running series of semi-autobiographical Alec stories — was briefly developed as a potential television project, a process Campbell shared online as it was happening. More famously, Campbell's collaboration with Alan Moore, From Hell, was adapted into a movie in 2001.
IDW's aggressive slate of new projects in development follows comments from the company's new CEO Allan Grafman earlier this year that the company "look[ed] forward to continuing to tap our robust library for adaptation into compelling series, feature films and podcasts with the industry's leading authors and content creators."
Expect more information on Bacchus, and the other in-development IDW series, as news breaks.
---
It's a good time to revisit IDW's third-quarter earnings report from earlier this year, and think about what they might portend for the future.
---
Joy, beauty, and the absurd: James Kochalka's Dragon Puncher Punches back with interview & exclusive excerpt