Why do digital comics cost so much?
If you've ever wondered why digital comics are the same price as print editions, you're not alone.
Comics might be the only publishing industry that consistently expects price parity across physical and digital formats. In prose publishing, digital releases are traditionally not price matched with physical editions. Take, for example, current (and controversial) best-seller Where the Crawdads Sing by Delia Owens. According to the publisher, the hardcover edition has a recommended retail price of $35, while the paperback retails for $18. The Amazon Kindle price, meanwhile, is $12.99. Jenny Han's YA smash It's Not Summer Without You is priced at $19.99 hardcover and $11.99 paperback, but it's $9.99 on Kindle.
Comics, however, don't work that way. Ever since DC became the first publisher to embrace a day-and-date digital publishing model back in September 2011 – a move that coincided with the launch of the publisher's ambitious 'New 52' relaunch, with both aggressively aimed at expanding DC's reach – the norm for new digital releases is for them to be priced identically to their physical counterparts… even if said physical counterpart is a hardcover collection priced accordingly. The official ComiXology/Kindle price for DC Through The '80s: The End of An Era, for example, is $49.99 – even if it's currently discounted to a more reasonable $13.99 as of writing.
This isn't the complete picture, of course; initially, publishers would reduce the price of individual issues within a set period after release, traditionally going down a dollar in cost after a month. That practice, though, has been quietly dropped by most publishers (and was never even instituted in terms of collected editions). There's also the matter of individual titles being discounted via sales or, as in the case of the aforementioned DC Through The '80s collection, more long term discounts; such deals have been part of digital platforms since at least the early days of ComiXology and Amazon's relationship, with many savvy digital customers choosing to wait for the inevitable sale before purchasing.
Certainly, for those not willing to pay full-price, there are options.
Buying comics digitally
Those fans wanting to read new releases as soon as they're published, however, are pretty much locked into paying the same for a digital edition as they would for a print copy – despite the clear cost difference in production and distribution, as well as the fact that digital comics are nowhere near as permanent as their print counterparts; not only are digital comics open to after-the-fact editing and changes (as has happened in the aftermath of anti-semitic artwork appearing in Marvel's Immortal Hulk #43, for example), but by dint of the fact that the vast majority of ComiXology purchases from major publishers are not available for download outside of the ComiXology/Amazon eco-system – by which I mean, they have to be read on the app, or online – there's a simple fact that, should Amazon or ComiXology decide to do to change their system or update their offerings in any significant way, a lot of people's digital libraries could be dramatically affected.
Just look at what happened when Amazon migrated ComiXology into its larger system earlier this year, and how that impacted customers. To put it bluntly, 'ownership of a digital comic means less than it does a print comic, so why does it cost just as much?
That's a question that's difficult to get to the bottom of easily.
Digital comics pricing
There are some facts that should be established before we go any further. Firstly, ComiXology/Amazon doesn't make any pricing decisions about the comics and collections it sells – that's left entirely to the publisher – but it does come with some restrictions in terms of where the money goes that might factor into decision making. Right off the bat, Comixology/Amazon takes a percentage of each sale, and before in-app purchase was disabled, mobile platforms took an additional percentage. According to creator Jim Zub way back in 2012, the percentages were 35% to Comixology, and 30% to Google or Apple as OS platforms, although those numbers were never confirmed by Comixology, Apple, or Google. (Popverse reached out to Comixology for information on the current percentage taken from each sale, but has received no response at time of writing.)
Why digital comics pricing is so secret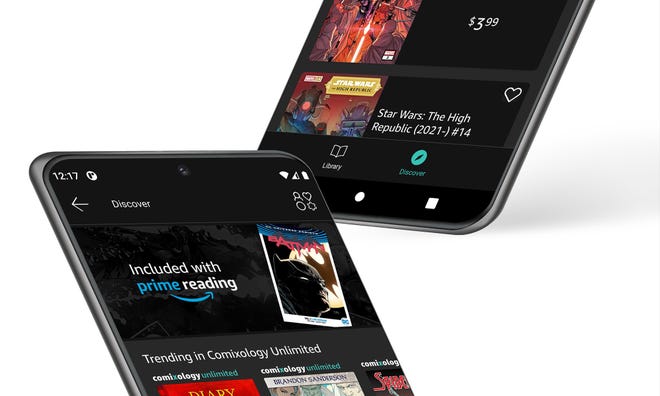 Talking pricing with publishers is a tricky business at the best of times – even when DC was aggressively Holding The Line at $2.99, there was only so far people were willing to discuss just why prices were where they were. In looking into just the whys and wherefores behind digital pricing for this story, I kept running into publishers reluctant to speak on the record about the matter, and more than a few entirely unwilling to talk about it at all.
It's understandable; any kind of product pricing decision is a particularly sensitive part of their business – arguably the most sensitive, perhaps outside of freelancer and creator pay – and something where it's easy to imagine no-one wants to show their hand and potentially reveal information that they don't want out in public. After all, everyone, from competitors to customers, would want to know the reasons behind why certain things cost certain amounts, and the math that goes into that behind the scenes. You can't blame publishers for wanting to keep that part of the industry behind the curtain, so to speak – despite how frustrating it might be to people trying to get to the bottom of digital comic pricing. (Ahem.)
How comic stores affect digital comics prices
Despite all of this, one thread repeatedly came up in multiple conversations: the importance of the comic book retailer community when it comes to making any pricing decision, even digital. As counter-intuitive as it might sound, it's very possible that comic book retailers are the reason why digital comics have the price point that they do… despite, in theory, having nothing to do with the digital comics market.
Across a number of different conversations on background, representatives from publishers suggested that digital pricing reflects print pricing so as to avoid the suggestion that they're undercutting potential print sales, and thereby hurting comic book retailers in the process. It's unclear how much of this is based on actual feedback from retailers, versus concern slash paranoia on behalf of publishing executives, admittedly. To be fair, retailers had complained about the very idea of day-and-date digital releases for this very reason back in 2011, and DC's pivot to more digital titles at the start of COVID lockdown in 2020 was described by one retailer as making the publisher "the enemy of the direct market," so the concern isn't outside of the realms of possibility.
According to sources at more than one publisher, if it weren't for fear of upsetting retailers – something that could have significant repercussions, given the importance of the direct market, which underwent dramatic growth in 2021, to almost every single publisher in the North American industry – there might be more openness to experimenting with digital pricing… or, indeed, more experimentation with digital publishing in general.
What print/digital comics parity means for the industry long-term
That could be a big deal, if it happened. As a whole, the comics industry is growing right now – in addition to the Direct Market growth mentioned above, the webcomic market is similarly projected for substantial expansion over the next few years. Yet, the future of digital single issue sales is currently unknown, in part due to recent ComiXology changes and, beyond that, partly because there's a belief amongst some publishers that digital sales plateaued some years ago, with only minimal growth ever since, especially compared with print.
If true – and, with digital sales estimates kept private by ComiXology, there's no way of knowing that for sure for anyone outside of Amazon – it's something that might be changeable if direct action was taken… such as, for example, dropping the price of digital releases to make them more attractive impulse buys, potentially opening up a new market of lapsed and returning fans who'd left comics due to the rising cost.
There are obviously additional obstacles to be hurdled beyond the imagined objections of an entirely separate market, not least of which would be any potential input from ComiXology itself. (Now that in-app purchases are no more, external restrictions on pricing – such as everything required to be in tiers, each ending with 99 cents – are, presumably, no more; that doesn't mean that the company itself won't have demands to make of publishers.) The fact remains, however: if lower pricing is the key to bringing more customers to ComiXology, and digital comics as a whole, then it's a problem where the solution lies in the hands of the publishers themselves… if they're willing to risk upsetting some important players in the industry to make it happen.
---
If you're looking for more information on the current landscape of digital comics, why not look at how Amazon's Comixology overhaul has impacted publishers?