Cliff Chiang has returned to his 'New 52' Wonder Woman run for one amazing new cover
Brian Azzarello and Cliff Chiang's Wonder Woman run was one for the ages, and this fall its being collected in a new hardcover edition
13 years is a long time, but not that long for the gods and demigods who you'd see in Wonder Woman comics. And not that long for those of us who fondly remember the 'New 52' Wonder Woman run by Brian Azzarello and Cliff Chiang.
On October 10, 2023, DC will be release a premium hardcover collection of the first 13 issues of this pillar to Diana's character called Wonder Woman: Blood and Guts: The Deluxe Edition. And for the occassion, Chiang has returned to draw a new cover.
No, not just a cover.
But a special wraparound cover that brings the memories of reading this run front of mind.
Behold, Cliff Chiang's wraparound cover for Wonder Woman: Blood and Guts: The Deluxe Edition, without logo treatment: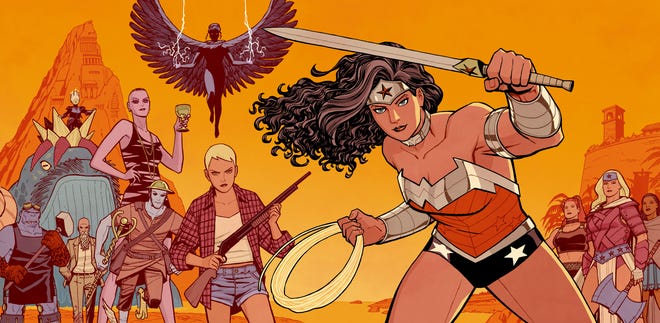 This is amazing. I wrote the book on Cliff Chiang (which you can still buy with this shameless plug to Modern Masters: Cliff Chiang), and seeing this after Chiang's work on Paper Girls and return to DC with Catwoman: Lonely City reminds us that the artist/writer is as good as he ever was, and in some ways better.
As for the comic itself... "When Wonder Woman is willing to take a stand against Hera, queen of the gods, she makes herself an enemy. But Hera isn't the one Wonder Woman should be worried about…Hera's daughter, Eris, has a secret that will shatter Wonder Woman's life," reads DC's edition of this tome. "Plus, Hades and Poseidon need to settle who will be king of the gods, and Wonder Woman can't let their turf war decimate the realm of man! And what true story of the gods is complete without a little trip to hell?"
Wonder Woman: Blood and Guts: The Deluxe Edition is priced at $49.99, and will contain Wonder Woman (2011) #0 - #12 across 360 pages with a 7 1/16" x 10 7/8" trim. Look for in in finer comic stores and bookstores October 10, 2023, or pre-order it to ensure yours through Barnes & Noble, or Bookshop.org.
---
Wonder Woman vs. the US Government in new 'Dawn of DC' preview pages from first issue.