Comics' next major star Zoe Thorogood is going down the "disturbed/sexy/gory/sentimental" route with a Hack/Slash prequel
Cassie Hack goes Back to School in the new five-issue series from Zoe Thorogood
After five nominations in this year's Will Eisner Comic Industry Awards, many have wondered what's next for It's Lonely at the Center of the Earth's Zoe Thorogood. The answer is, somewhat unexpectedly, a revival of the fan-favorite horror series Hack/Slash, launching this October.
The five-issue Hack/Slash: Back to School takes Cassie Hack back to the earlier part of her slasher hunting career, when she's still getting used to working with man-monster Vlad. As if that wasn't complicated enough, she finds herself drawn into a mystery involving some dead kids, a team of wannabe serial-killer hunters, and a bunny mascot whose intentions are anything but playful. If that doesn't sound like the ideal Halloween reading material, what would?
"I love the bizarre crossroads of disturbed/sexy/gory/sentimental that Hack/Slash sits at," Thorogood said in a statement about the news. "It's a series of endless absurd possibilities and it's been a real joy to put my spin on it (in the form of a monster hunting school for girls with mommy issues)."
Hack/Slash debuted in 2004 at Devil's Due Publishing, going on to move to Image in 2010; it centers around Cassie Hack, a woman whose mother had become an undead slasher known as The Lunch Lady. Her partner is Vlad, a mysterious figure who towers over Cassie and acts as her protector despite his otherwise withdrawn persona. The series has developed a cult following throughout its run, and been spun off into two separate stage plays since its debut.
"I've been a fan of Zoe's work since I first saw her comics on instagram," series co-creator Tim Seeley added. "The fact that she's not only an old school fan of Hack/Slash, but had some big ideas for Cassie and Vlad makes co-creator Stefano Caselli and I proud as can be. She's going to roll right out of the Eisner awards and tell the untold tales of our sexy slasher dramedy just in time for the 20th anniversary!"
The first issue of Hack/Slash: Back to School will be published October 18, 2023.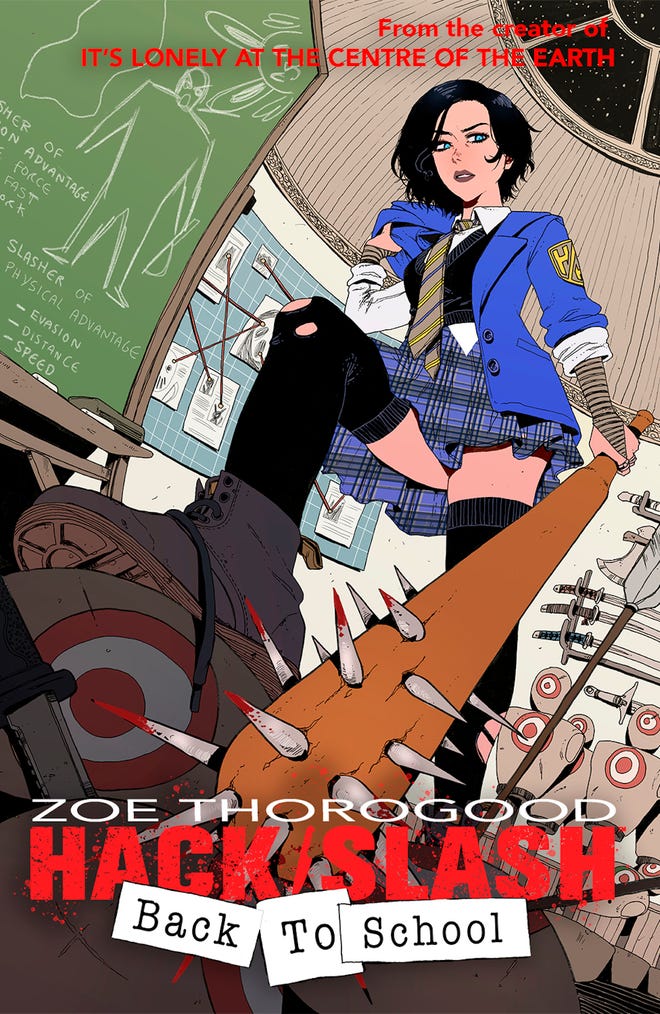 ---
Thorogood's It's Lonely at the Center of the Earth was described as "a self-conscious, meta-textual joy" and named one of Popverse's favorite books of 2022.