2000 AD and Judge Dredd will rewrite British comic history this fall with a merger no-one saw coming
A "what if?" publishing event will revive classic British title Battle Action and give it a sci-fi makeover in September
British comic book history is set to collide this September, with Rebellion Publishing announcing special issues of both 2000 AD and the Judge Dredd Megazine featuring a What If premise no-one saw coming.
The background
In the British comics industry of the mid-to-late 20th century, there was a tendency for cancelled series to instead be "merged" with more successful titles, on the belief that the result would combine the fanbase of both series, and therefore create an even-more-successful comic. This was common practice amongst the biggest publishers of the period, often with long-lasting success: 2000 AD was the host title for both Tornado and Starlord in the early years of the title's run, leading to the arrival of series Strontium Dog and Ro-Busters, both of which became two of the most popular properties to ever run in the anthology's 46 year history.
Another famously-combined title in UK comic book history is Battle Action — a merger of Battle Picture Weekly, a weekly war comics anthology, and Action, a groundbreaking title that proved so controversial for what was considered overly violent content that led to it being pulled from sale and, after a brief period of editorial censorship, outright cancelled. Following the merger, Battle Action would continue for more than a decade before its cancellation in 1988. (The title and its characters have since been revived by Garth Ennis and a number of other British creators.)
The crossover
This September, extra-length issues of both 2000 AD and the Judge Dredd Megazine will be based on the idea that, at some point, Battle Action was merged with 2000 AD — with creators including Ken Neimand, Chris Weston, Alex de Campi, and more getting in on the action. (No pun intended.)
"The history of comics on the UK's newsstand is marked by the practice of merging titles, where two great anthologies combine. In the case of Starlord joining 2000 AD, it meant the Prog gained Strontium Dog and Ro-Busters. When Tornado's Black Hawk joined the Galaxy's Greatest Comic, it led to a radical reinvention of the strip," 2000 AD editor Matt Smith said in a statement. "Writer Ken Niemand suggested to me a special asking what would've happened if Battle Action merged with 2000 AD in the early eighties, with its war stories getting something of a science fiction/fantasy makeover, and I couldn't resist!"
The two-part event will take place in 2000 AD Prog 2350 and Judge Dredd Megazine #460, both of which will be released in September. Below, enjoy Chris Weston's unlettered artwork for his revival of western strip El Mestizo.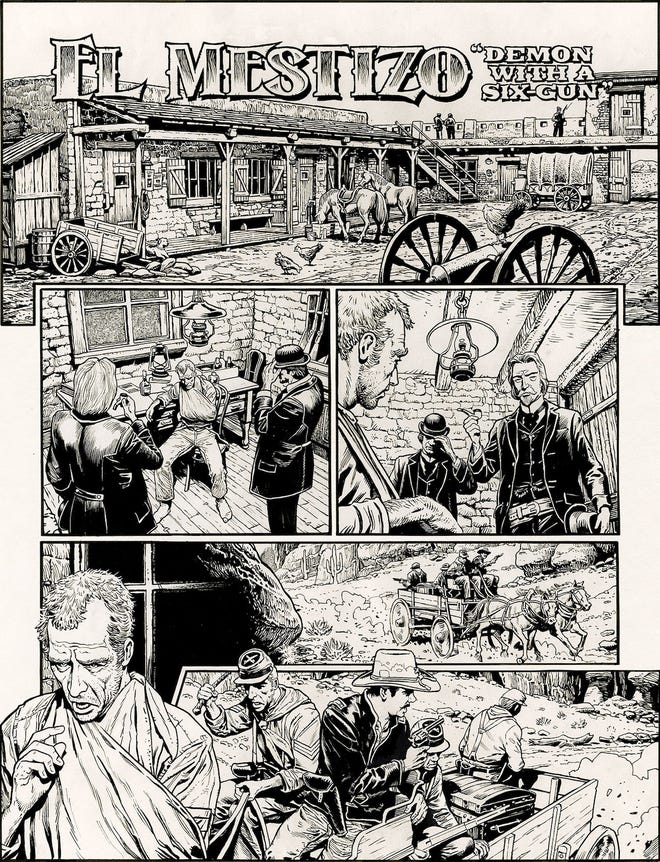 ---
As if creating a fantasy alt-history of British comic publishing isn't enough, Ken Neimand is also the writer who revived classic British comics character One-Eyed Jack in a recent Judge Dredd storyline.