AEW Fight Forever: The game that brings the hottest wrestling franchise into your hands
Everything you need to know about the wrestling video game AEW: Fight Forever including its roster, gameplay, trailers, and more
Thank you to AEW: Fight Forever for sponsoring this article. Popverse was paid for our time in creating this, but our decades of wrestling fandom and enjoyment of AEW made it a pleasure.
A major new player is entering the wrestling video game arena - and this player has an historic icon ready to make a big return.
All Elite Wrestling (AEW) is entering the wrestling video game market with a arcade brawler called AEW: Fight Forever. And to help make this game a reality, they turned to one of the most beloved wrestling game makers ever - Yuke's, who has forged some of the greatest wrestling game franchises of the past 25 years.
Mixing brawling style gameplay with the timeless aesthetics of professional wrestling, AEW: Fight Forever is set to make a major impact on its June 29, 2023 release. Harkening back to beloved games of yore like No Mercy, Fight Forever comes with career mode charted by wrestlers themselves, a highly flexible create-a-wrestler (and create an arena) area, as well as quick match set-up to challenge your best friend - or your old foe, the CPU - for a match in the squared circle.
Whether you're a wrestling fan, a sports entertainment fan (like Chris Jericho), or a fan of pure melee mayhem like Super Smash Bros., AEW: Fight Forever delivers everything you might want in a video game - with some of the most popular figures from the past, present, and future of pro wrestling.
And now you can watch as Popverse plays AEW Fight Forever!
Here's everything you need to know to get started.
What is the AEW: Fight Forever release date?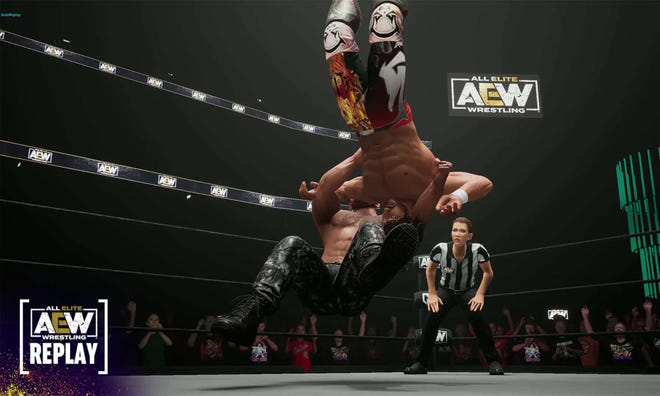 After much hype and speculation, the AEW game Fight Forever was released to the world on June 29, 2029. A premium version of the game, AEW: Fight Forever Elite Edition, was released a day early with several additional playable characters and bonus minigames.
What platforms is AEW: Fight Forever on?
AEW: Fight Forever is available on PlayStation 4, PlayStation 5, Xbox One, Xbox Series X/S, Nintendo Switch, and PC.
Who is in the AEW: Fight Forever roster?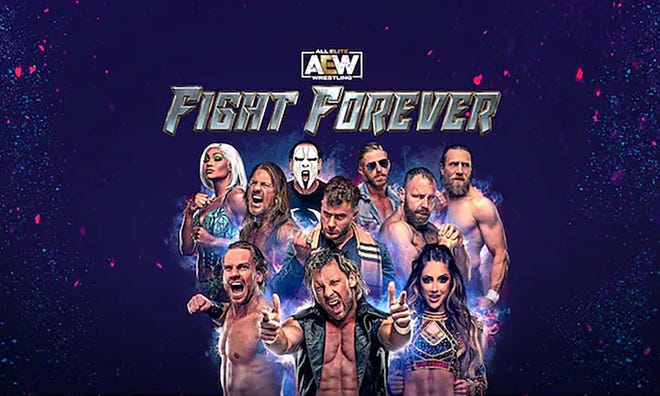 AEW: Fight Forever is bursting at the seams with 52 playable wrestlers to play as (or fight against). This list includes the best of the current AEW rosters, as well as some surprises like refree Aubrey Edwards, the much-missed Mr. Brodie Lee and Owen Hart, as well as former AEW wrestler Cody Rhodes. Here's a complete list:
Abadon
Adam Cole
Adam Page
Andrade El Idolo
Anna Jay
Aubrey Edwards
Brian Cage
Britt Baker
Mr. Brodie Lee
Bryan Danielson
Chris Jericho
Christian Cage
Chuck Taylor
CM Punk
Cody Rhodes
Darby Allin
Dustin Rhodes
Eddie Kingston
Hikaru Shida
Jade Cargill
Jeff Hardy
John Silver
Jon Moxley
Jungle Boy
Kenny Omega
Kris Statlander
Lance Archer
Luchasaurus
Malakai Black
Matt Jackson
Miro
MJF
Nick Jackson
Nyla Rose
Orange Cassidy
Owen Hart
Pac
Paul Wight
Penta El Zero M
Powerhouse Hobbs
Rey Fenix
Ricky Starks
Riho
Ruby Soho
Sammy Guevara
Scorpio Sky
Sting
Tay Melo
Thunder Rosa
Trent Beretta
Wardlow
Yuka Sakazaki
Yes, while CM Punk is no longer on the cover to AEW Fight Forever, he is in the game. But what about his buddies in CMFTR? Cash Wheeler and Dax Harwood are among a group of wrestlers - including Keith Lee, The Bunny, Hook, and Danhausen - who won't be in the main roster but will be made available as downloadable content and for those who purchase the Elite Edition of the game.
Is there any AEW: Fight Forever DLC?
Yes, seven new playable wrestlers are available as DLC, as well as four minigames. They are:
AEW: Fight Forever Season 1 Pass DLC (June 29): This DLC includes the playable wrestlers Dax Harwood and Cash Wheeler, as two minigames: JoinUs and Deth Race-X.
AEW: Fight Forever Limitless Bunny Bundle DLC (July 25): This DLC includes the playable wrestlers Keith Lee and the Bunny, along with the minigames MJF Car Thrash and Sloth Sling.
AEW: Fight Forever Hookhausen Very Handsome Very Evil pack DLC: This DLC includes HOOK and Danhausen.
AEW: Fight Forever Matt Hardy Pre-Order Bonus Pack DLC (August 22): This DLC includes both the playable wrestler Matt Hardy as well as Broken Matt Hardy. This DLC is available at launch for those that pre-ordered the standard or Elite editions, with plans to make it a seperately-purchasable DLC later this year.
While other AEW: Fight Forever downloadable content has not been announced, AEW senior vice president Nik Sobic says that the door (or Forbidden Door, that is) is open to add wrestlers from New Japan Pro Wrestling (NJPW) if the game is a success.
"We have a great relationship with New Japan. If we had unlimited time we'd probably have both full rosters into our game," Sobic told SEScoops. "That goes back to if the fans love the game and continue to play the game and request new characters and new leagues, we have enough flexibility everything is on the table. We're excited to see the feedback and what people want to see more of."
How does AEW: Fight Forever stand out from other current wrestling games?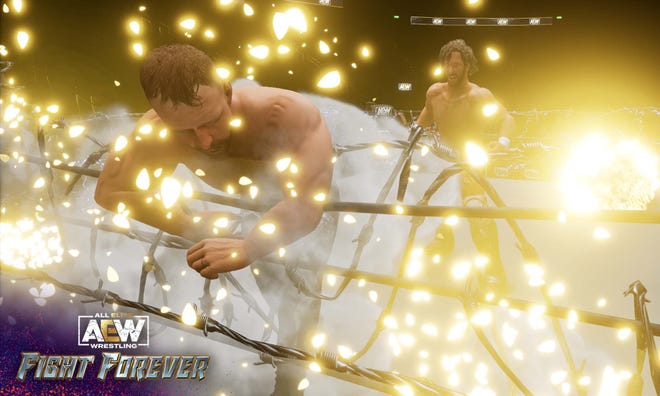 One of the key differences between AEW and other major wrestling games is that this game originated inside AEW with a wrestler who has acumen about video games - Kenny Omega (who is also an AEW executive vice president) - as well as AEW referee (and staff) Aubrey Edwards, who was a lead producer at 5th Cell on the Scribblenauts franchise.
With others on the AEW staff, Omega and Edwards partnered with a beloved name in the wrestling game business - Yuke's, who has been making wrestling games since 1995 for New Japan Pro Wrestling and WWF/WWE, including the popular WWE: Smackdown vs. Raw and the WWE 2K franchises.
What is the AEW: Fight Forever gameplay like?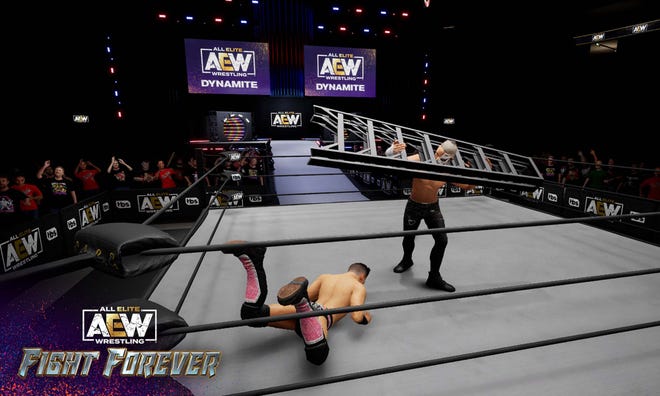 AEW: Fight Forever is designed like an arcade brawler, with 3D action like the Yakuza franchise mixed with melee mayhem you'd see in a brawling co-op game, with a core of classic wrestling aesthetics.
AEW: Fight Forever has single and multiplayer modes, including online PVP multiplayer. The game is balanced with an impressive career mode called 'Road to Elite', quick single-match options, as well as a variety of mini-games.
And yes, it has a variety of match types beyond just singles and tag teams, including 3-ways, 4-ways, ladder matches, falls count anywhere, unsanctioned lights-out matches, AEW's signature Casino Battle Royale, and the memorable exploding barbed wire deathmatch.
For fans of classic wrestling games of the '90s, Omega has specifically named iconic games WWF No Mercy and Virtual Pro Wrestling as touch points for AEW: Fight Forever.
What are the best AEW: Fight Forever trailers?
AEW and the video game companies have released numerous trailers ahead of the game's release, but here are the core ones you should watch.
First, here is the reveal of the core AEW: Fight Forever roster:
Second, this preview of the 'Road to Elite' career mode:
And here is a gameplay trailer:
What is the AEW: Fight Forever rating?
AEW Fight Forever has been rated 'T for Teen' by the ESRB, noting "Blood, Language, Mild Suggestive Themes, Use of Alcohol and Tobacco, Violence." That sounds like an authentic AEW experience to me.
Is there blood in AEW: Fight Forever?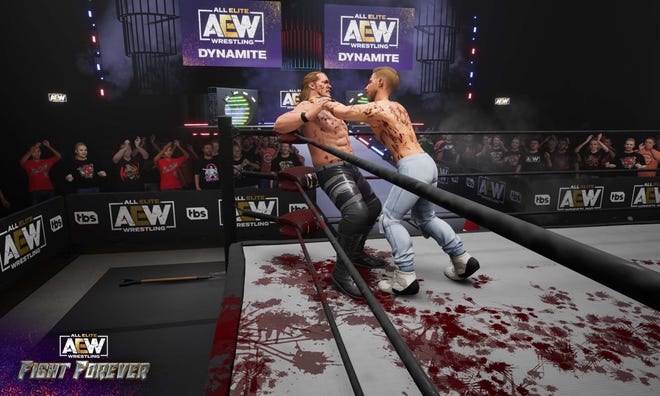 As you can tell from that ESRB rating, blood will be in AEW: Fight Forever - although there is an option in the game to turn 'off' that blood for those adverse to crimson masks or anything on the Muta scale.
What is the AEW: Fight Forever Elite Edition?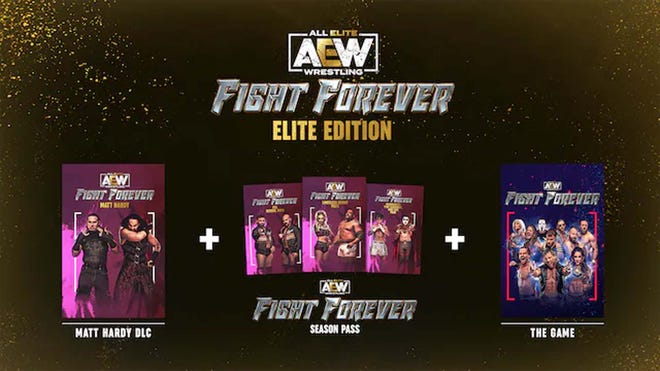 So you want AEW: Fight Forever, but want even more.? Then the AEW: Fight Forever Elite Edition is for you. It not only gets you the game but also the aforementioned DLC with eight additional wrestlers (Keith Lee, the Bunny, Danhausen, Hook, Matt Hardy, 'Broken' Matt Hardy, Cash Wheeler, and Dax Harwood) and four extra minigames (JoinUs, Deth Race-X, MJF Car Thrash, and Sloth Sling).
---
Superheroes and super heels: How AEW embodies comic-book style superheroics