Wondering what to do after seeing the Barbie movie? Go to the official Barbie cafe (in select cities)
Malibu Barbie Cafe is open in New York and Chicago, accessible only with a reservation
You've done it, have you? You've seen the Barbie movie. You finally got tickets to the Greta Gerwig-directed, Margot Robbie-starring, Ryan Gosling-exalting 2023 movie that has been the talk of the summer (maybe even as a double-bill with Christopher Nolan's Oppenheimer)
What do you do after you've tasted Barbie-topia? Once your eyes and soul have been filled to capacity and beyond with pink plastic paradise? You go to the Barbie cafe, of course!
As long as you're in New York or Chicago.
That's where you can visit the Malibu Barbie Cafe, an interactive promotional tie-in presented by premiere event coordinator Bucket Listers.
Dining at the Malibu Barbie Cafe is a little slice of the Dreamworld, with a menu inspired by Mattel's most monkey-maker. Customers can choose from desert items such as Make a Differene Macarons or Dreamsicle Ice Cream Sundaes and a list of cocktails including the Think Pink Margarita and 219Cosmo. Take a look at the rest of the menu below.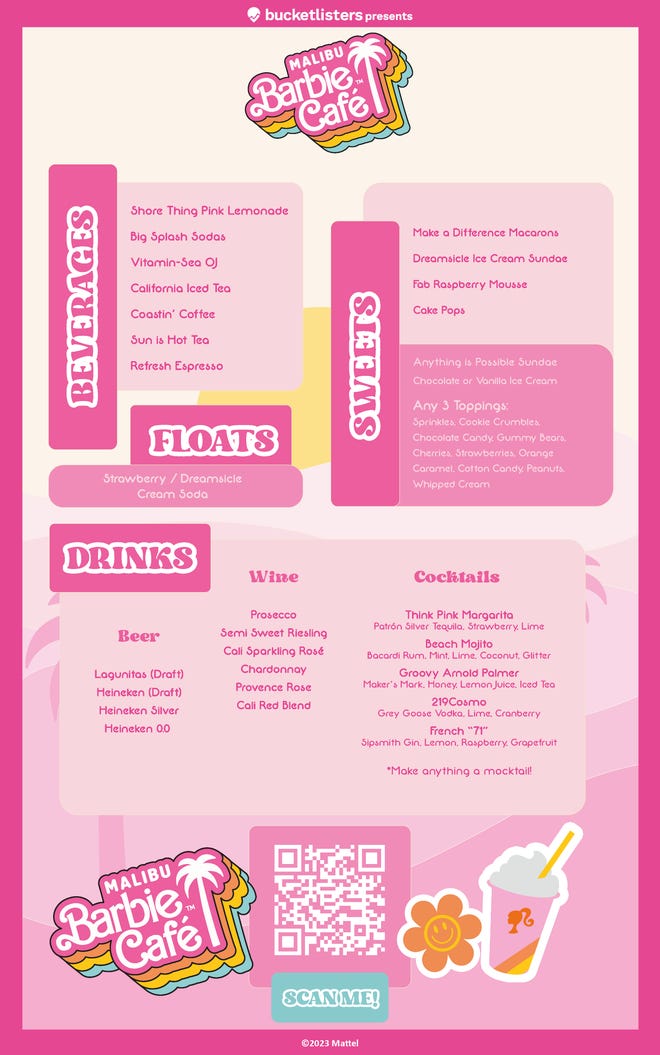 Crafting your Barbie experience will be Chef Becky Brown, finalist on the 2012 season of FOX's Masterchef. Brown, or 'Chef Becky' per the cafe's website, ususally sets up sho at in-demand brunch spot Lately in Los Angeles.
And speaking of places that are in-demand, you can't just walkin into the Malibu Barbie Cafe, even if you show them a movie ticket. Reservations are a must to get in, you can find yours by heading to the Linktree Bucket Listers set up and searching for the city nearest you.
Just be aware: dining with Barbie won't exactly be cheap. Though reservations for both the Chicago and New York locations do technically begin at $17 (which the sites point out), these are usually reservations for a single seat at the bar. Tables for five or six people can go for as much as $125. Contributing to The Cut, writer Allie Jones found herself paying $44 for a reservation along with two other friends, for a Thursday night table at the New York location.
What can we say? It's expensive to keep up the Dreamhouse.
Buy tickets for your double feature on Fandango or Atom Tickets.
---
If you've got the money to spend on Barbie but themed restaurants aren't your thing, why not rent all of the animated Barbie movies? There are 42 of them.