Jeffrey Brown's adorable Batman graphic novel is getting a sequel (as it should)
Kids do the craziest things, especially when you're Robin, son of Batman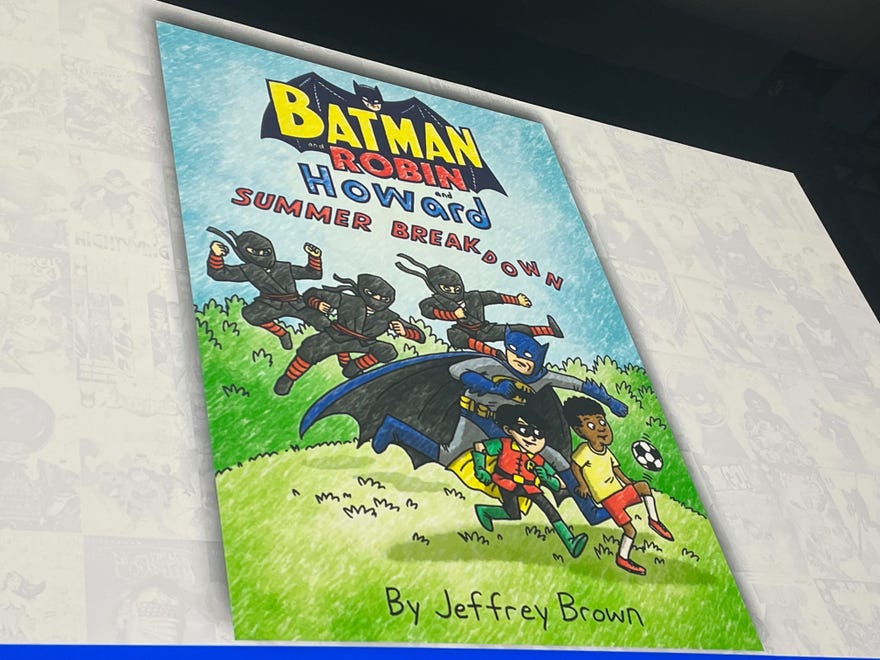 When belowed indie (and kids) cartoonist Jeffrey Brown first stepped into the proverbial halls of DC Comics, some people weren't sure what to make of it. But after the all-ages graphic novel Batman and Robin and Howard in 2022, we all were.
Especially kids.
And now, we have news of a sequel.
Brown and DC have announced that he's working on a sequel called Batman and Robin and Howard Summer Breakdown, and spoke about it during the DC Books for Young Readers panel at San Diego Comic-Con 2023 (moderated by Popverse's own Ashley V. Robinson.
And unlike the original, Batman and Robin and Howard Summer Breakdown will be a comic book miniseries - three issues, then collected for bookstores.
In the original Batman and Robin and Howard, Batman and his son Robin (AKA Damian ayne) saw their dynamic get challenged when the diminuitive hero is sent to school and finds out he's not the best student in the schoo. Howard is.
Talking about how to deal with the fact that Damien is so mean, Brown talks about how he's in middle school (and also his dad is Batman), and these things totally fit with that.
The idea with Howard was, he's already settled in middle school and content, super nice. He's The kid I wish I was," according to Brown.
Look for more details soon from DC, here at Popverse.
---
Popverse saw it and did most of it, and you can find all about our guide to All the big news, magic, and moments from San Diego Comic-Con. And if you want to go to SDCC next year, we have the San Diego Comic-Con 2024 dates as well.