A play inspired by the life of Batman co-creator Bill Finger will debut in three cities this year, including New York City
Bill Finger: Rise of the Bat will come to New York City right before New York Comic Con in October
As San Diego Comic Con wound down this year, a small group of passionate Batman fans gathered in a room to listen to the reading of a few scenes of a brand-new play— Bill Finger: Rise of the Bat. On the panel sat Athena Finger (Bill Finger's granddaughter who helped with the play alongside her sister Alethia Bess Mariotta), playwright Lenny Schwartz, and actors Rick Stafford and Paul Rose Jr. Tyler McPhail from the Grand Geek Gathering moderated the discussion about the history of Finger and Bob Kane and maintaining Finger's legacy.
The story of Bill Finger: Rise of the Bat
"He's been such an unrecognized part of the whole thing… some of the companies don't take care of everyone they're supposed to, so it's nice to bring some honor to the situation," playwright Lenny Schwartz shares. But Schwartz isn't the only one on the panel who has been moved by the story of Bill Finger. Stafford says that he didn't know much about the situation until Athena Finger had shown him the documentary, "We can all resonate with people who take advantage of the little guy." McPhail adds that "He gave us the world."
The panel then began a reading of the scene of the first (re)meeting between Bill Finger and Bob Kane, who first met when they attended the same high school. As young adults, they met while Kane was already working on comics and Finger was selling shoes. In the scene, Kane invites Finger to visit his studio. "These were kids, you know," Schwartz reminds the audience.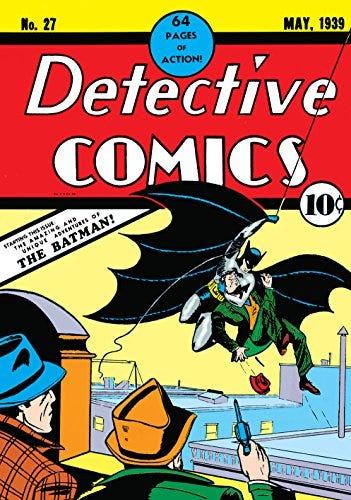 The history of Bill Finger: Rise of the Bat
One aspect that stood out in this scene and in later scenes read during the panel was the consistent mention of the political climate—notably Hitler's rise in power. Schwartz wanted to focus on "Being Jewish at that point and being a creator in comics at that point pre-WWII, it was a very scary place to be, and that does play out in the script in a very heavy theme."
When asked about how the characters that Bill Finger co-created will be embedded and mentioned in the play, Schwartz responded, "I want to do it in a not cute way, something that felt a little natural." However, he couldn't avoid it completely and still tell the story of Bill Finger. According to Schwartz, the early script didn't have "enough Batman," though there is a balance between including Batman and then getting into a tricky space with Warner Bros and copyright issues.
The legacy of Bill Finger: Rise of the Bat
Schwartz shared that the original version of the script ended with a tragic ending, since Finger had still not been credited for his co-creation of Batman. But then, things changed, and Finger was given the co-creator credit (posthumously), so Schwartz changed the ending into something more hopeful and positive, saying that "Bill made a positive impact on so many lives, and that still resonates."
After the reading, there was a bit of discussion about Bill Finger and about what might be next. Athena Finger mentioned that she was looking for a couple more projects to explore her grandfather's other projects like the well-known documentary and this new play, something that could flesh out her grandfather's story. As an aside, an audience member asked if there were any copyrights still held by Finger's estate, to which Athena said no, and if there was anything unfinished, it would have been thrown away. After Bill Finger's death, his family reached out to DC Comics to ask if they wanted the remainder of his work for their archives. They declined, and the work was thrown away.
This anecdote spoke to the energy of both the fans and storytellers at the panel, who clearly all felt an immediate an urgency to preserve the legacy of Bill Finger. As Athena Finger shared, "His imagination has sparked creativity, joy, healing..." The panel concurred that Bill Finger's work and creativity changed the world.
Bill Finger: Rise of the Bat will be performed in New York three days before New York Comic Con as well as in Rhode Island with an opening show on Batman Day. The show will also have a performance in Pennsylvania.
---
To check out what else Popverse did at SDCC 22, head over to our Popverse roundup of San Diego Comic Con coverage.