Billy Maximoff actor Julian Hilliard talks WandaVision and Multiverse of Madness
Billy Maximoff's Multiverse of Madness
It's a regular multiverse of madness for Julian Hilliard.
The young actor entered the Marvel Cinematic Universe in 2021, portraying Billy Maximoff on the Disney+ series WandaVision. As Billy, Julian dealt with the mysteries of Westview, battled agents of SWORD, and even got to dress as his comic book counterpart Wiccan. Doctor Strange in the Multiverse of Madness gave Julian the opportunity to revisit Billy, as audiences were introduced to a multiverse variant of the character.
Although he's only 11 years old, Julian has had a career actors twice his age dream of. His role as Luke Crain in The Haunting of Hill House mini-series gripped viewers, but Julian was just getting warmed up. Julian played David Glatzel in the 2021 film The Conjuring: The Devil Made Me Do It. As Glatzel, Julian frightened audiences with his performance as a boy possessed by a demon.
Now that he's returned to the MCU with Doctor Strange in the Multiverse of Madness, we thought this would be a great time to chat with Julian about his journey as Billy Maximoff. The young actor gave us the scoop on his favorite WandaVision theories, the differences between 838-Billy and 616-Billy, and most importantly, if he forgives Agatha for killing his dog Sparky.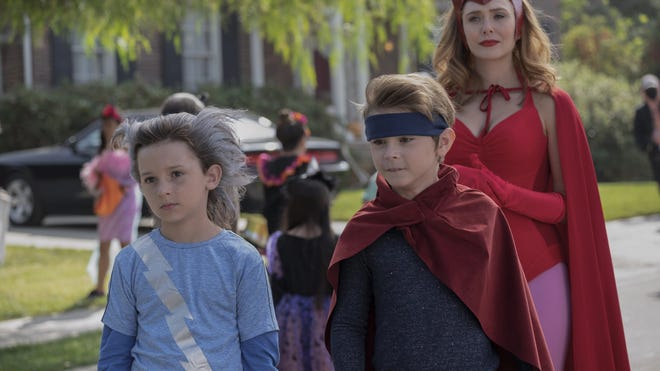 Popverse: Looking at your social media posts, it seems like you're really into nerd culture. What are some of your favorite franchises?
Julian Hilliard: Obviously, Marvel above all (laughs). I also love Star Wars, Jurassic Park, DC, the Alien movies, Jumanji, Terminator, and a whole lot more. I also am a massive fan of The Simpsons, Bob's Burgers, Captain Underpants, Minecraft, and Pokemon, if you mean shows and games too. My favorite is Despicable Me.
What was your audition for WandaVision like? Did you know what you were auditioning for?
I think my agent told me about it first. And originally, we did not know exactly what it was for, just that it was Marvel. My Dad did figure out what it probably was pretty quick though and was able to piece some of the clues together. So, we knew, but we didn't know [laughs]. Then we got the audition tape request details, and it confirmed what we were thinking. Some of the audition ended up being from the show and one of the scenes, we realized later while watching the entire series, was a scene from Malcolm in the Middle.
How was Billy Maximoff described to you?
I think the first description was pretty simple, that way we could bring our own interpretation to the audition scenes. We were already familiar with The Scarlet Witch, The Vision, and Billy and Wiccan from comics we own. I love the characters. Wanda and The Vision have always been two of my favorite characters and Billy too. It always felt like the perfect Marvel project for me. I mean, even my mom dressed up as Wanda when I was three or four. We posted the picture on Instagram before.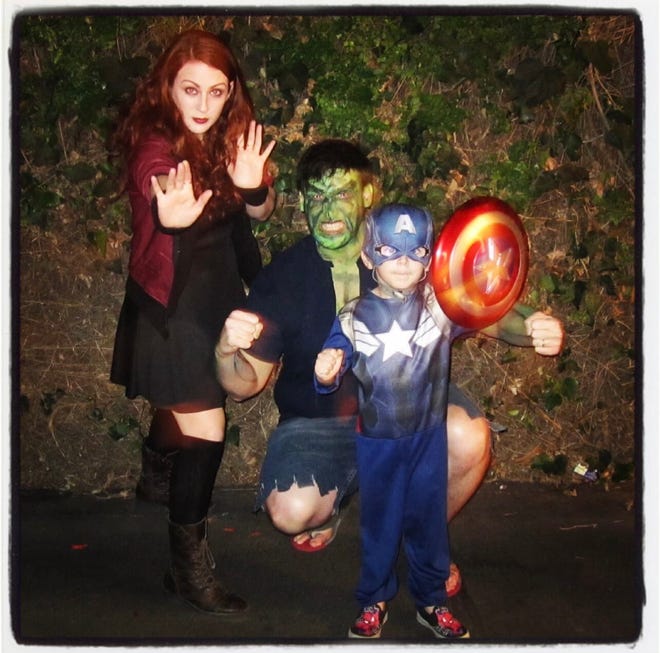 What was your relationship like with your twin co-star Jett Klyne?
We hit it off right away as friends, and it started to feel like we were real brothers at times too. We played, went swimming, wrestled, argued, laughed, wrestled more [laughs] and gave each other a few bruises, I'm sure. Jett is a really good actor and an amazing friend.
Some of your episodes were parodies of particular tv shows, like Malcolm in the Middle. Did you watch any of those to prepare?
Jac (Schaeffer), Matt (Shakman), and everyone involved took inspiration from so many different great shows and styles. We watched a lot of I Love Lucy, The Dick Van Dyke Show, the "It May Look Like a Walnut" episode a couple times, Bewitched, The Brady Bunch, Family Ties, Full House, Malcolm and the Middle, The Office, and Modern Family. I've seen all of Malcolm, The Office, and Modern Family.
WandaVision kept viewers guessing each week, resulting in lots of crazy theories. Did you follow any of these theories at the time, and if so, what were some of your favorites?
Mephisto, Mephisto, Mephisto (laughs)! Yeah, we watched a lot of breakdown videos. I love Erik Voss on New Rockstars. He does a really great job. We also watch Nerdist, Heroes Reforged, and others too. It's funny, we had family and friends sending videos to us all the time asking if they were right (laughs), but we couldn't say. Besides, they were usually way, WAY off.
The other side of that question – you also had to keep some very big secrets, like the casting of Evan Peters. What is it like walking around with a secret that big?
[laughs] I couldn't even tell anybody I was in the show, until I showed up. But to me, it's not too hard to keep a secret.
When you were filming WandaVision, did you know you were going to be in Multiverse of Madness?
Yes and that was unbelievable. I still can't believe it. It was also exciting when I found out it was Sam "Evil Dead, Evil Dead 2, Army of Darkness, Spider-Man, Drag Me to Hell" freaking Raimi directing it. He's horror royalty.
Speaking of horror royalty, your roles in The Haunting of Hill House and The Conjuring: The Devil Made Me Do It had some websites calling you the prince of horror. Did you and Sam Raimi ever get a chance to swap horror stories?
Not too much, because the schedule was pretty tight and Covid protocols. I still can't believe I got to work with him.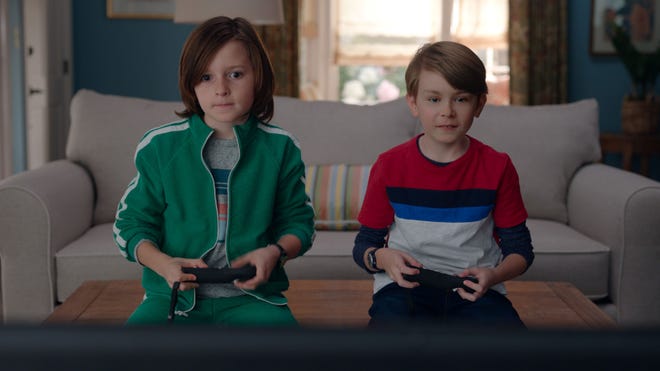 How did your experience on Doctor Strange differ from your experience on WandaVision?
I mean, most of all, different crew, mostly different cast, different country and continent. England was amazing. The thing I really liked about WandaVision was that a series takes longer to film, and (director) Matt Shakman got to spend a lot of time with us preparing. With movie shoots, they are much shorter or quicker. I loved working on both projects though.
Jett Klyne told one reporter that he played Tommy differently in Doctor Strange since he was technically a different version of the character. How did you approach your second turn as Billy?
I approached playing 838 Billy as the cool twin (laughs). Sam also had Billy be the one more into sports in the 838-Universe.
How much of Doctor Strange was a surprise for you? Did you know about any of the cameos or the greater story going in?
I knew a lot of what was going to happen, but because of code words and reshoots, there were definitely a lot of surprises too.
With your house, did they reuse the same set for Doctor Strange, or did Sam Raimi have to recreate it?
On the house, they rebuilt it and it was very different looking in person. The props and layout were different.
What are your favorite memories from the set of Doctor Strange?
Making new friends. Xochitl (Gomez) is just amazing and so nice and fun. I really want to do more projects with her. Also, working with Lizzie (Olsen) and Jett again was great. I really love being around Lizzie and working with her. Definitely missed Paul (Bettany) on this project!
Please tell us everything you can about the Ice Cream Song.
We got two recordings of different versions to learn. They were recorded with (composer) Danny Elfman singing and performing them. One version was close to the one in the movie and the other was a little longer. I'm a massive fan of Danny Elfman. We listen to the soundtrack to Edward Scissorhands all the time. The first time I heard the song, it sounded like something out of one of his Tim Burton films kind of. I also, don't normally sing for projects, but was all about trying my best for Marvel and Sam Raimi, and of course Danny Elfman.
Filming that scene was pretty cool because Lizzie is such a great scene partner and brought so much real emotion. I make up crazy songs all the time, goofier ones, so it definitely felt like something kids would do. I'm glad some people loved it. And for the others… [laughs] nevermind, next question [laughs harder]. Actually, thanks for seeing the movie anyway!
The scene where you and Jett threw objects at the Scarlet Witch to protect your mother – that was intense! Tell me your memories of filming that scene.
I had to prepare emotionally and to also be able to convey the fear. Which is actually tough considering how nice Lizzie is, but that's all part of acting. That was actually a fun scene to film.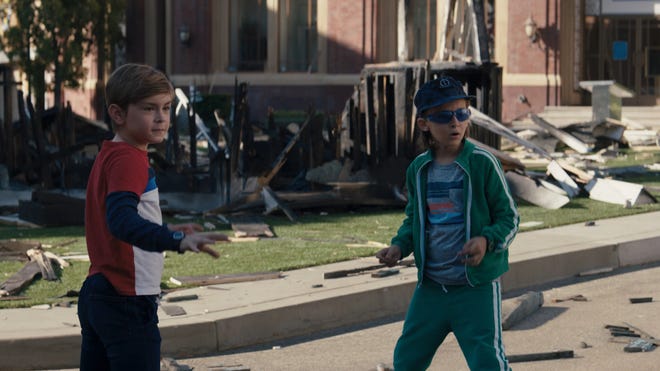 What are some of the surprises that come with making a Marvel movie/tv show? In other words, a behind-the-scenes/production fact that surprised you and that general audiences might not be aware of.
They really are massive productions. It's so cool because you have so many talented people working on them. The crews on these are just incredible and work so so so hard. Same with everyone behind the scenes and in the production offices and security. They're incredible. Also, seeing Lizzie and Paul in their superhero costumes in person for the first time is way cooler than you could ever imagine, especially after being such a big fan of them for so long.
Lastly, do you forgive Agatha for killing Sparky?
Insert GIF of Wanda saying "NO" here…[laughs] I mean, if she wants to apologize to me in person in House of Harkness and create a new Sparky for me, then all she needs to do is invite me [laughs]. Honestly, Kathryn Hahn is amazing.
Fun fact, I made her laugh with an edamame joke.
---
Check out Julian Hilliard as Billy Maximoff in Doctor Strange in the Multiverse of Madness.