Blue Beetle can visit your comic book store, thanks to DC's movie tie-in standee
Retailers have the chance to bring Jaime Reyes into their store as part of a new promo push
Blue Beetle might be coming to your comic book store. Not in terms of just his comic books — we'd hope that they already have copies of Blue Beetle: Graduation Day and collections of the earlier material, after all — but DC has announced that retailers can order cardboard standees of the character as seen in the upcoming movie for display.
In a recent retailer mailing, DC released images of the display, which features Xolo Maridueña's version of the character standing proudly alongside the movie's logo. According to the publisher, "Retailers who order at least 20 copies total of any mix of the attached list of 84 titles will receive one free Blue Beetle standee. Additionally, retailers can order a standee individually for $75.00 NET, without the purchase of any books."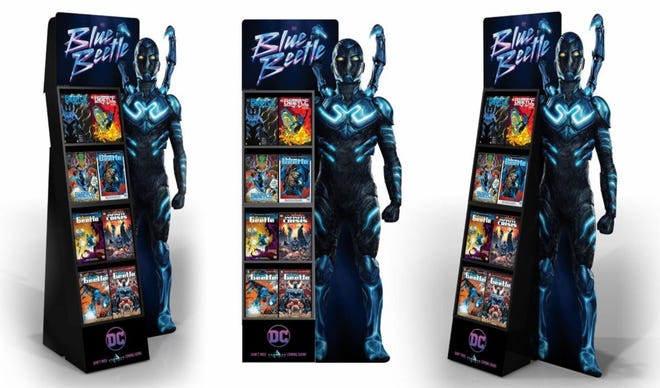 Amongst the books in the list of qualifying titles are the two recent collections of Jaime Reyes' original series, Blue Beetle: Jaime Reyes Book One and Blue Beetle: Jaime Reyes Book Two, as well as a number of fan-favorite DC titles, including All Star Superman, Batman: Year One, Crisis on Infinite Earths, and Watchmen, as well as more recent hits such as the first volume of Chip Zdarsky's run on Batman, Batman Vol. 1: Failsafe.
Notably, the standee does not include the book display attached, although limited editions of that display are also available for purchase. Participating stores must place orders for the books before May 30 — which is to say, in the next week — in order to qualify, with the standee scheduled to arrive around July 18.
Blue Beetle arrives in theaters August 18. You can buy tickets at Fandango or Atom Tickets, and while you're thinking about it, maybe check out Popverse's list of upcoming superhero movies right here to make plans for other theater visits in the near future.
---
Why not find out more about this whole Blue Beetle movie, while we're talking about it?