Cartoonist Jeff Smith chats Cartoon Crossroads Columbus, a European-style comics festival in Columbus, Ohio
Jeff Smith discusses founding CXC and what fans can expect from the festival this year
For most comics fans, Jeff Smith is a familiar name as the creator of the classic comic Bone, Rasl, and more recently Tüki. Smith has not only had a long career but also a wildly impactful one, especially in the world of self-publishing and independent comics.
What some fans may not know is that Smith has also helped found a comics festival that takes place each year in Columbus, Ohio. Cartoon Crossroads Columbus is one of the few comics shows in the United States that is fully focused on comics, and it is completely free to the public. In this interview, Smith chats about how the festival was founded, what makes it special, and what attendees can look forward to this year.
Popverse: Jeff, can you tell us a bit about about Cartoon Crossroads Columbus?
Jeff Smith: This is our eighth year, and it's going to be held October 6th through the 9th.
It started because of my mentor, Lucy Shelton Caswell, she was the founding curator of the Billy Ireland Cartoon library museum at Ohio State University. Every three years, starting in the '80s, she would have a cartoon festival. It was very academic, it was only open to like 300 members in public, but the best cartoonists would come-- everybody from Bill Watterson to Will Eisner to Art Spiegelman.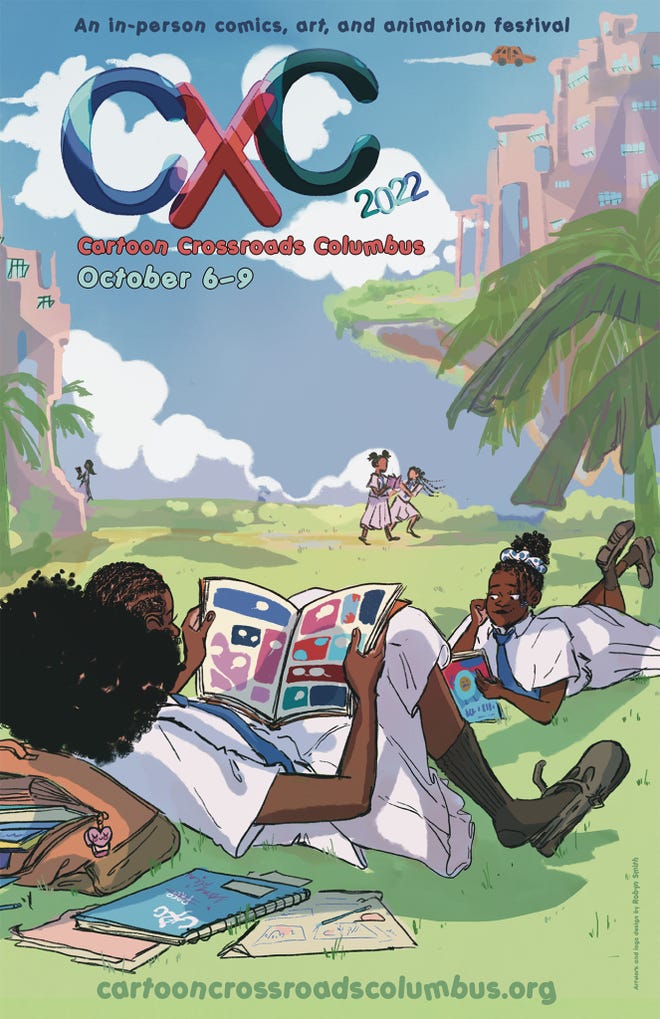 Everybody who did a comic strip— Mort Walker, you know the Beetle Bailey guy. But it had a really collegial and academic feel to it. And everybody was really comfortable. It was a great festival. I was a student cartoonist at the time, so it was really exciting for me. I knew Lucy and I knew the Cartoon Library, so I was kind of on the in. I got to meet all my heroes.
Well, about nine years ago, Lucy was about to retire, and she said, 'We're gonna retire the festival unless you and your wife, Vijaya [Iyer] have an idea.' And we thought about it and, you know, the last 30 years of Vijaya and I have been guests at shows all over the world. And in Europe, they are different in that they're not held in like a big convention center or hotels, they're held in the entire cit,y so the city becomes like a character. So that's what what we said, 'You know, let's do this. Let's model this over Lucca'-- or in Toronto, there's a show called TCAF a Toronto [Comics] Art Festival.
We just went around-- we got the art museum involved, we got the library. We got the Thurber House. James Thurber is from Columbus, Ohio, so his house is there and it has a little art center. We got the Columbus College of Art and Design. Of course, we have OSU, and we have the Wexner Center. All the art institutions in Columbus all agreed and all had previously had at least one world class cartoonist come speak at their school. Like Marjane Satrapi or Art Spiegelman. Robert Crumb, the very first place his original artwork [for his Genesis book] was shown was at the Columbus Museum of Art, and they showed all 300 pages in sequence around five galleries. It was amazing, and that was a mind blower for me. This town actually likes cartoons.
Why do you think Columbus is such a center for cartoonists?
I don't know, but I do know that if you Google cartoonists from Ohio, hold on to your hat. Because it's not just a million cartoonists, it's foundational cartoonists. Like [Frederick Burr] Opper who did Happy Hooligan and Siegel and Shuster who did Superman. The guy who did The Yellow Kid, Occault was born in Lancaster, Ohio. So I mean, the connection to Ohio, it's huge. And I don't know why that is, but I do know that that all the art institutions into Columbus all dig cartoonists and respect them.
Starting with Lucy. I've known her for 40 years, and and she would go to the National Cartoonist Society and I was there too, not with her, but I saw the way cartoonists reacted when an academic showed them respect because 40 years ago, that was pretty rare. I mean, they were beloved by their fans, people like me. But to have to have someone take them seriously and respect the work, that had a huge effect.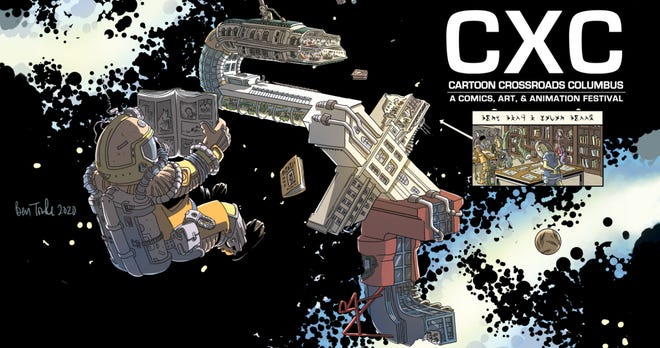 Can you tell me about the Tom Spurgeon Award?
Tom was a longtime friend of mine. I met him in the early '90s. He's from Indiana, but he was managing editor at The Comics Journal which is sort of like the Rolling Stone of comics. But he and I sort of hit it off right away because we're both midwestern and had that similar kind of sense of humor and stuff. Tom was just a magical support system for cartoonists. He loves cartoons, he loves comics, he loves talent, and he has this magical power where he could be everywhere.
So, if you go to San Diego, he's in every room at San Diego Comic Con, listening to everybody. He has all the information, the greatest rolodex in comics. So, when Lucy and I and Vijaya started up this festival, I knew we were going to need somebody to be executive director and actually run it. We didn't have that. I called up Tom, who was living in New Mexico and asked him to come. So he was our first executive director, and he was amazing. As I said, he knew everybody and everybody loved him, and when he passed away pretty suddenly we were all caught way off guard.
But with his family, we developed the idea of this award for—you know, there are a lot of people in comics who are not an editor or a pencil or letterer. That's what Tom was, and he personified the best of it, I thought.
So that's what the award is.
This year, it's going to Frederik L. Schodt. He translates manga. He's one of the earliest proponents of manga. And in fact, I spent a week with him in Tokyo, and he invited out like five, cartoonists and their partners just to spend a week and tour all the big Tokyo publishing houses.
What can attendees look forward to at this year's festival?
It's the usual thing where it's the four-day festival, and we usually start with two days on campus, where the Wexner Center is and the Billy Ireland. And there's a series of what we call Teach & Talks where cartoonists just get up and have some speciality that they're gonna talk about, a little more educational.
I know there's a lot of great panels. Tom Gauld is going to be there. I'm interviewing him along with a librarian. There's gallery tours, and the Wexner usually has our big event which is going to be Keith Knight (He's got a second season of Woke), then Saturday and Sunday are downtown, just a couple miles down the road, and that's at the downtown library and art museum. There we have a big expo where there's exhibitors and cartoonists sell[ing] their books-- like a comic show, but it's heavily aimed at creators and independents.
There's a full list at our website.
---
Comics Crossroads Columbus takes place October 6-9, 2022 in Columbus, Ohio.
---
Jeff Smith and Tim Fielder chat Tuki, Matty's Rocket, self-publishing, and Netflix's Bone