DC announces free DC Manga Sampler for this summer as part of a major promotional push
The 40-page issue will feature previews of One Operation Joker, Superman vs. Meshi, and Batman: Justice Buster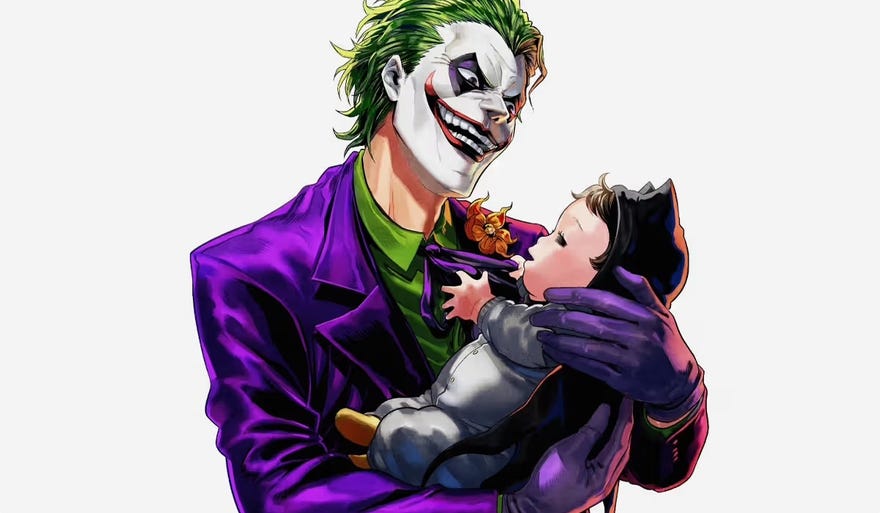 It's only been a few months since DC announced that it would be bringing the Kodansha manga featuring Joker, Batman, and Superman to the U.S., but the books already seem like a big deal, with DC telling retailers to expect free preview samplers of the titles this summer.
The 40-page DC Manga Sampler will feature previews of all three of the titles announced earlier this year: Joker: One Operation Joker Vol. 1 by Satoshi Miyagawa and Keisuke Gotou, Superman vs. Meshi Vol. 1 by Miyagawa and Kai Kitago, and Batman: Justice Buster Vol. 1 by Eiichi Shimizu and Tomohiro Shimoguchi. The Sampler will read right-to-left — manga-style, in other words — and be released in 5" by 7.5" editions… which is to say, the traditional manga size.
As a sign of DC's confidence in the project, the samplers will be made available free to retailers, with bundles of 25 copies tied to order levels of Batman #135. As a mailing to retailers explains, "Bundles will be based on your Batman #135 CVR A and CVR B orders and rounded up. For example, if you ordered 26 total copies between Batman #135 CVR A and CVR B, you'll be eligible to order 2 free bundles of 25."
Additional bundles will be available for sale for $5, according to DC.
The Manga Sampler will be DC's third free release this year to date, following the Knight Terrors Free Comic Book Day issue, and the subsequent Dawn of DC Sampler.
The DC Manga Sampler will be available in stores July 4, with retailer orders due this Sunday, June 11. The DC manga titles, announced during ComicsPro 2023, will be in stores this fall, as 160-page black and white titles in the 5" by 7.5" format, with each volume costing $9.99.
---
Revisit the launch announcement for the DC/Kodansha manga titles from earlier this year.