DC is bringing Dawn of DC (and more) to Free Comic Book Day 2023 in a surprise move
When is Free Comic Book Day? What titles are free? The answers you're looking for are here
It might seem too early to start thinking about the start of summer 2023, but not for those responsible for Free Comic Book Day, the annual celebration of the comic book medium and comic book industry alike. Plans are already under way for FCBD 2023, with the announcement of the 47 comics available during the event.
And in a surprise move, DC Comics is joining in on it - despite not being on the best terms with Free Comic Book Day's organizers at Diamond Comic Distributors (More on that in our comprehensive article about comics distribution).
DC Comics' Free Comic Book Day 2023 titles
The highly anticipated 'Dawn of DC' initiative from DC will be dawn-ing (pun intended) to be part of Free Comic Book Day 2023 on May 6, 2023.
DC's announced 2023 Free Comic Book Day titles are:
Dawn of DC #1 Free Comic Book Day Special Edition
Girl Taking Over: A Lois Lane Story Free Comic Book Day Special
Clark & Lex / Fann Club: Batman Squad Free Comic Book Day Special Edition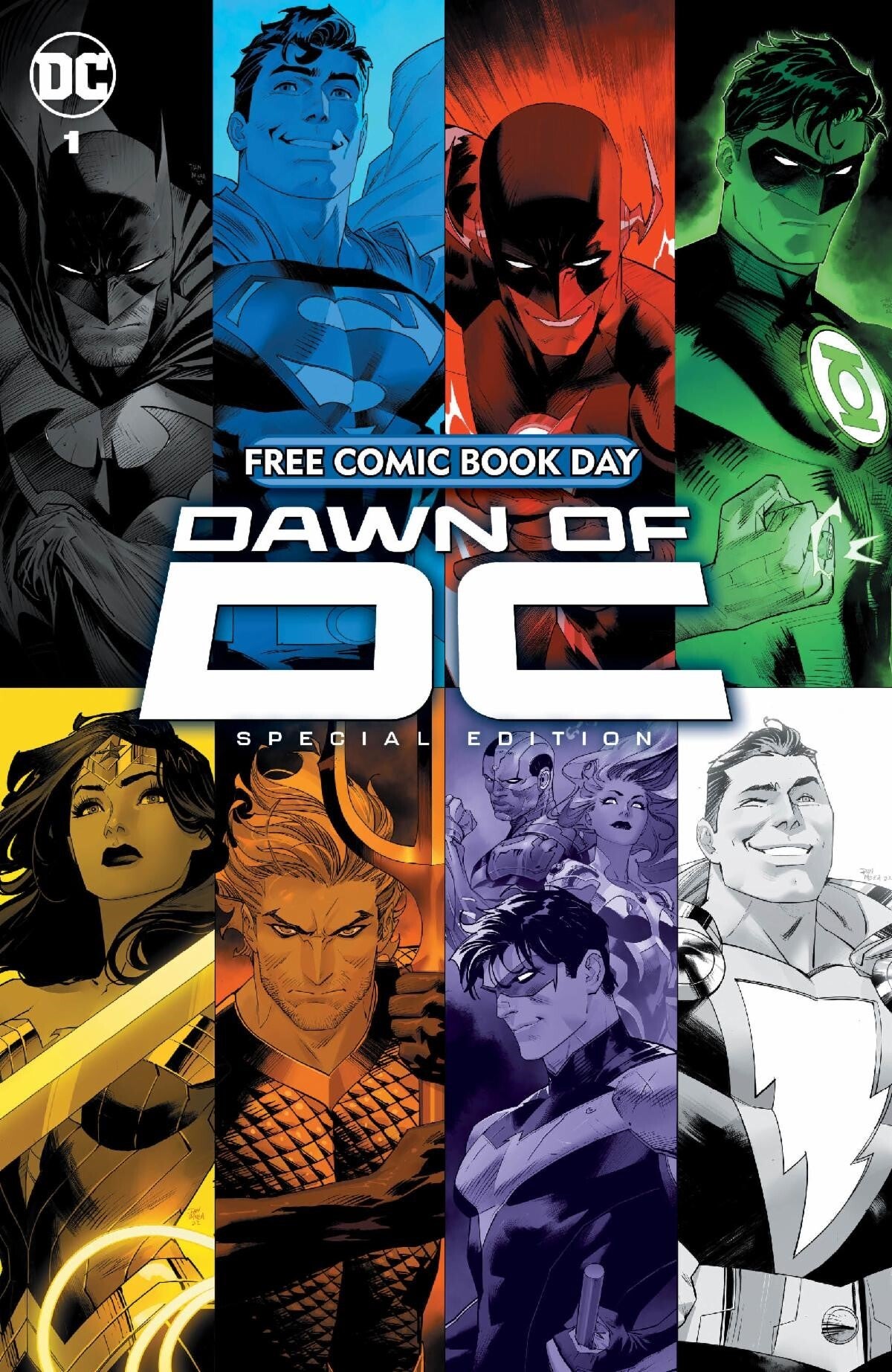 'Dawn of DC' begins in January 2022, but is running through the entirety of 2022 (and possibly beyond). So what is this FCBD Dawn of DC #1? According to DC, it will be "continuing the momentum of the yearlong storytelling initiative delivering new epic series across the DC Universe" and contain one "all-new original story" by a mystery creative team, along with previous of upcoming summer and fall 'Dawn of DC' titles.
"Dawn of DC is a yearlong publishing initiative with epic storylines and superstar creative teams that forge the future, one hero at a time," reads DC's description of Dawn of DC #1. "It's an easy entry point for both lifelong readers and those picking up a comic for the first time to dive into the new stories. All year long, DC will celebrate classic characters while also embracing the next generation of new heroes, as we're going to need everyone to help fight against the darkness. Don't miss Dawn of DC #1 Free Comic Book Day Special Edition, featuring an all-new original story plus sneak peeks at upcoming titles!"
And although it will be free (while supplies last), they will be selling a $9.99 version that'll have a foil cover.
The other two DC FCBD 2023 titles will be previewing upcoming YA graphic novels. Here's a look at all the covers:
What are the free comics of Free Comic Book Day 2023?
So far, the Free Comic Book Day Committee — made up of more than 20 comic store retailers — have selected 13 Gold Sponsor titles, and 31 Silver Sponsor titles, for the 2023 event, from publishers distributed by Diamond Comic Distributors, which organizes the event. DC has snuck into the proceedings however, adding 3 more titles to the list - making a grand total of 47.
"Every year, we strive to bring fans a memorable Free Comic Book Day experience, and we know comic book retailers are looking forward to treating everyone to a day of fun and discovery, so we hope fans will visit their local comic shops to celebrate," said Ashton Greenwood, Free Comic Book Day spokesperson. "The variety of this year's comic book selection is really exciting! There's something for every kind of fan, from the long-time reader to the comic book curious."
Those titles are:
Dawn of DC #1 Free Comic Book Day Special Edition (DC)
Girl Taking Over: A Lois Lane Story Free Comic Book Day Special (DC)
Clark & Lex / Fann Club: Batman Squad Free Comic Book Day Special Edition (DC)
Seismic Stories (AfterShock Comics)
Archie Horror presents: The Cursed Library (Archie Comics)
Ranger Academy (BOOM! Studios)
Umbrella Academy/The Witcher (Dark Horse Comics)
Red Sonja: She-Devil With A Sword #0 (Dynamite Entertainment)
Dog Man and the League of Misfits (Graphix/Scholastic)
Star Trek (IDW)

Fishflies #1 FCBD 2023 Preview Edition (Image Comics)
All Ages Gold Sampler (Kodansha Comics)

Amazing Spider-Man/Venom (Marvel Entertainment)
Avengers/X-Men (Marvel Entertainment)
Conan the Barbarian FCBD 2023 Special (Titan Comics)
Choujin X/Rooster Fighter (VIZ Media)
Animal Castle FCBD Edition (Ablaze)
Princeless (Action Lab)
Tom Holland's Fright Night (American Mythology Productions)
Kotto Kotorra (Arcana Comics)
Mech Cadets FCBD Special (Boom! Studios)
Star Wars/ Avatar: The Last Airbender (Dark Horse Comics)
Mexikid (Dial Books)
Madballs Vs. Garbage Pail Kids (Dynamite Entertainment)
The Fabulous Furry Freak Brothers (Fantagraphics Books)
Investigators: All Tide Up (First Second Books)
The Overstreet Guide To Collecting Comics (Gemstone Publishing)
Baby-Sitters Little Sister: Karen's Haircut (Graphix)
Teenage Mutant Ninja Turtles (IDW Publishing)
The Sacrificers #1 FCBD 2023 Preview Edition (Image Comics)
Shaman King Flowers & Welcome To Demon School Iruma-Kun (Kodansha Comics)
Crimebuster Season 1 #1 (Lev Gleason Publications – Comichouse)
Marvel Voices #1 (Marvel Entertainment)
Spidey And His Amazing Friends #1 (Marvel Entertainment)
Punch Up! Preview (Oni Press)
Frazettaverse #0 (Opus Comics)
Smurfs 65th Anniversary FCBD Special (Papercutz)
Sweet Valley Twins: Teacher's Pet (Random House Children's Books)
2000 AD Regened Presents: The Best Comic Ever (Rebellion)
I Am Stan (Ten Speed Press)
Runescape: Untold Tales Of The God Wars (Titan Comics)
The Nightmare Before Christmas: The Battle For Pumpkin King #1 (Tokyopop)
Street Fighter 6 #0 (Udon Entertainment)
Shadowman Dark Legacy FCBD Special (Valiant Entertainment)
West Of Sundown #1 (Vault Comics)
The Last Comics On Earth (Viking Books)
Animal Crossing/ Kirby Manga Mania (Viz Media)
Here are the covers released thusfar:
Additional titles from DC will be announced at a later date.
When is Free Comic Book Day?
Free Comic Book Day traditionally takes place on the first Saturday in May each year; FCBD 2023 doesn't break from this pattern, taking place Saturday, May 6, 2023.
What is Free Comic Book Day?
Created back in 2002, Free Comic Book Day is an annual event organized by Diamond Comic Distributors designed to promote comic books and comic book retailers to the general public, with over 2,000 stores taking part each year. The early May date was chosen to allow the event to be timed close to the release of a summer superhero movie's release; 2023's event will happen the day after the release of Guardians of the Galaxy Vol. 3.
Will the Free Comic Book Day comics be available online?
The answer to this question depends on the publishers involved. Usually, the majority of FCBD releases end up either available through ComiXology or subscription services such as DC Universe Infinite or Marvel Unlimited, after some kind of delay from the actual event — again, though, how long that delay is is also up to the publishers in question.
---
You can find Free Comic Book Day and more in a comic shop. Never been, or has it been awhile? Read our guide on how to comic shop.