DC's Knight Terrors: Everything you need to know about the upcoming DC event as spelled out with Free Comic Book Day
DC Comics' biggest Free Comic Book Day release is a special prologue to Knight Terrors. Here's how it sets the tone for this summer's event.
This year's Free Comic Book Day is on May 6, with comic publishers big and small offering a selection of free titles ranging from reprints to exclusive releases. The biggest of DC Comics' three FCBD 2023 titles is Dawn of DC: Knight Terrors Free Comic Book Day Special Edition #1 by Joshua Williamson, Chris Bachalo, and Howard Porter. Serving as a prologue to this summer's big DC crossover event Knight Terrors, the FCBD issue not only offers a sneak peek at the sweeping storyline but quickly establishes the nightmarish tone coming for the DC Universe.
Knight Terrors is quickly shaping up to be DC's biggest crossover event in years, with the story starting in earnest in July's Knight Terrors: First Blood #1 before segueing into the core four-issues miniseries. Across July and August, many of the DCU's fan-favorite heroes and villains star in their own two-issue miniseries tying into the event as they are forced to face their greatest fears come to terrifying life. And if stories like DCeased and DC vs. Vampires are any indicator, the DCU works effectively within the horror genre and its bright and hopeful heroes take on unrelenting evil head-on.
Here's what the FCBD Special Edition teases about Knight Terrors ahead of its July launch, the big questions the prologue raises, what readers can expect from the special edition, and a complete checklist of the event for those looking to catch every single issue of DC's horror-themed event.
Knight Terrors strikes fear in the heart of the DCU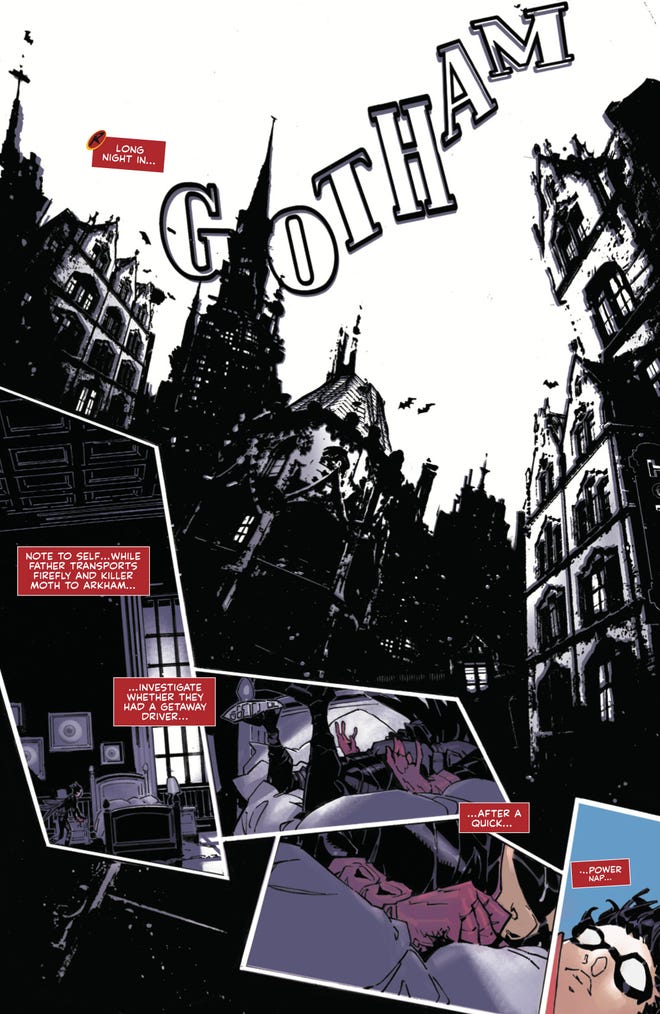 While speaking with Popverse, Joshua Williamson cited A Nightmare on Elm Street and the works of horror filmmaker Sam Raimi as an influence on Knight Terrors, with its dark humor infused into the horror to make for a more fun and entertaining experience. That blend in storytelling sensibilities is evident right from the FCBD special, with Damian Wayne having a chilling nightmare after a night of fighting crime in Gotham City, but never in a particularly unsavory way. And though Damian is able to wake up, it is not without considerable effort, with the entire ordeal leaving even the son of the Bat visibly shaken, despite his extraordinary upbringing.
Solicits for Knight Terrors: First Blood continue to set the stage for the main event, with Batman, Superman, and Wonder Woman investigating the murder of an old enemy, unaware of the greater threat about to strike. Deadman's unique link between the living and the dead allows him to sense that the heroes are being haunted by a paranormal villain while those targeted are plunged into deadly dreams. Inside the dream world, the heroes find themselves transformed as they navigate these surreal environments while trying to escape back to the waking world and confront the villain responsible. However, this new enemy has plans of his own within each of the targeted's subconsciousness as part of a larger scheme that is poised to upend the DCU.
The key players and elements of Knight Terrors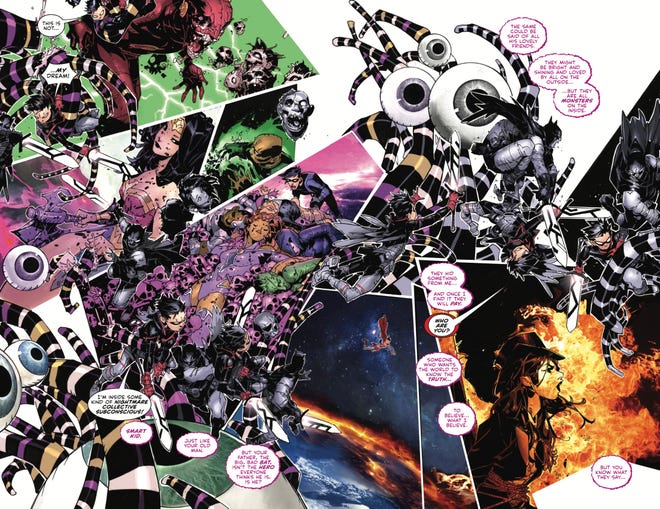 The FCBD Special Edition issue does raise some larger questions about Knight Terrors ahead of its launch this July, both about the story itself and the larger DCU as it progresses further into the Dawn of DC initiative. The new villain, named Insomnia by Williamson in an exclusive interview with Popverse and in DC's solicits, doesn't make a direct appearance in the FCBD special but his presence is felt as he menaces Damian in his dreams. Given that the unseen antagonist is heavily implied to harbor a grudge against the Justice League, this may make him related to Doctor Destiny, a supervillain that similarly controlled dreams and battled the heroes in the past. The solicits and cover art provided in the special also highlight Deadman as a major figure in Knight Terrors though he does not appear in the one-shot's story itself.
More interestingly, Knight Terrors comes off the heels of Dark Crisis on Infinite Earths, which saw the Justice League trapped by the multiversal supervillain Pariah in pocket universes designed on their individual subconscious desires. Knight Terrors essentially inverts this dynamic, placing each of the heroes and villains into living nightmares that project and distort their innermost fears. Speaking with Popverse, Williamson acknowledged the thematic similarity but clarified that Dark Crisis deals more with alternate realities and how they feed into greater cosmic stakes. By contrast, Knight Terrors deals more explicitly within the realm of the supernatural, maintaining that level of insight and intimacy into the affected characters but under a more magically esoteric lens. Dark Crisis uses the superhero subconscious to play on and expand its multiversal potential while Knight Terrors journeys inward to deliver a more psychedelically scary narrative.
Just a small appetizer to the main event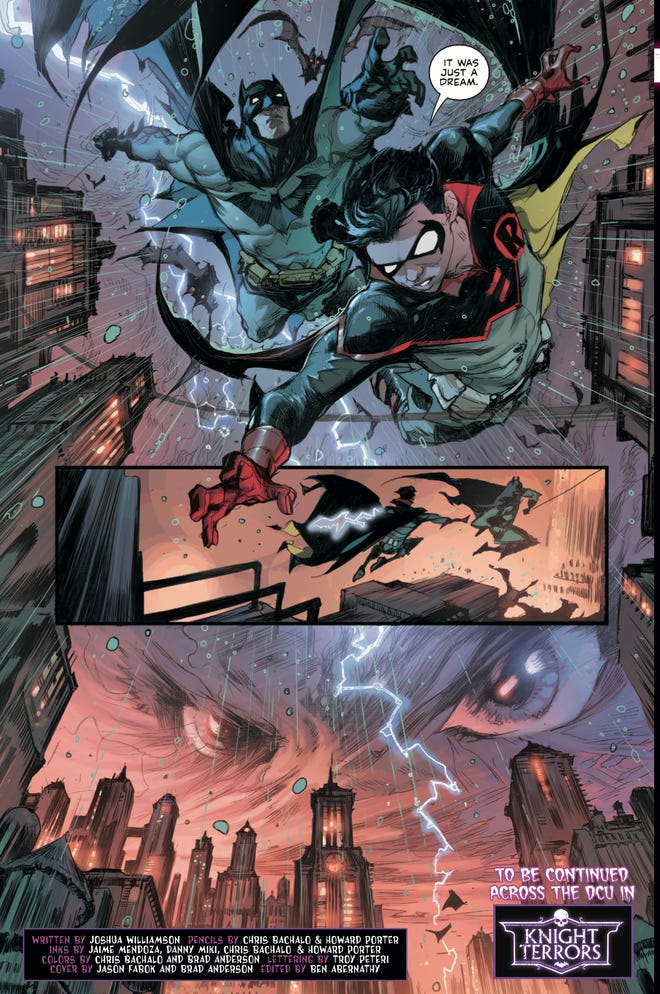 For those looking for a more substantial prologue with the FCBD Special Edition, there are only 10 story pages in it, which may disappoint some unfamiliar with FCBD issues from major publishers. The number of pages matches the amount of original story pages in DC's FCBD 2022 marquee title Dark Crisis Free Comic Book Day Special Edition #0 by Joshua Williamson and Jim Cheung, which similarly used 10 pages to set up DC's big Summer 2022 crossover event. Whereas Dark Crisis #0 provided a sneak peek of Dark Crisis #1, Knight Terrors FCBD Special Edition includes character designs by Dan Mora of the familiar DC characters in the dream world along with a complete checklist for the event. This all, of course, needs to carry the reminder that the issue itself is free.
Knight Terrors FCBD issue feels like it hews closer to the story than Dark Crisis' FCBD prologue issue, with the latter focused on the uncertainty in the DCU following the apparent deaths of the Justice League. Comparatively, Knight Terrors serves as something of a tonal establishment for the upcoming event, with Damian making several cursory observations about Insomnia even though the villain himself doesn't directly appear. The issue never comes off as required reading for Knight Terrors but something to whet the appetite of fans ahead of its launch, with one genuinely creepy moment as the stakes are laid out.
Knight Terrors isn't the only DC title getting a FCBD preview, with the upcoming original graphic novels Girl Taking Over: A Lois Lane Story, Clark & Lex: A Young Superman Graphic Novel, and Fann Club: Batman Squad each receiving sneak peek excerpts. Fann Club, by Jim Benton, is a zany, all-age friendly look at a boy trying to emulate his hero Batman while Clark & Lex, by Brendan Reichs and Jerry Gaylod, is a middle grade team-up between a young Clark Kent and Lex Luthor. Girl Taking Over, by Sarah Kuhn and Arielle Jovellanos, targets the YA crowd, with Lois Lane stepping up in a coming-of-age tale.
Knight Terrors: The complete checklist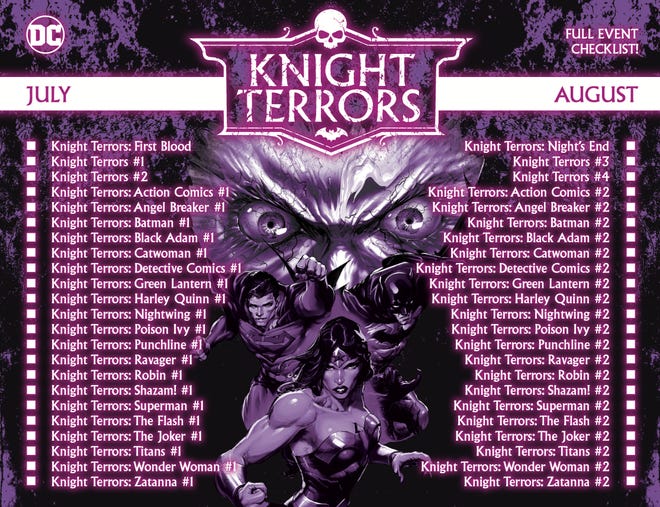 Including the FCBD special, there are 47 titles being released by DC as officially part of Knight Terrors, with 23 released in July and the remaining 23 released in August. Check out our guide to Knight Terrors with a checklist of all the comics.
Dawn of DC: Knight Terrors Free Comic Book Day Special Edition #1 is written by Joshua Williamson, penciled by Chris Bachalo and Howard Porter, inked by Bachalo, Porter, Jamie Mendoza, and Danny Miki, colored by Bachalo and Brad Anderson, and lettered by Troy Peteri. The issue will be available as part of DC's Free Comic Book Day titles on May 6.