Deadpool, this is a week in your life with new Seven Slaughters comic special
The Merc with a Mouth is back this November in an oversized one-shot chronicling a week in the life of Wade Wilson.
Once again, that Ryan Reynolds-voiced, quick-healing, ugly-faced goofball Deadpool is in the news; this time because a set photo from his latest flick featured a shot of Hugh Jackman as Wolverine in his most comics-accurate costume to date. But Marvel's merriest mercenary isn't satisfied with just a little bit of popularity, whihc is probably why he got Marvel Comics to announce a new one-shot starring himself. It's called Deadpool: Seven Slaughters, and like the dishonorary X-Men's personality, it's oversized.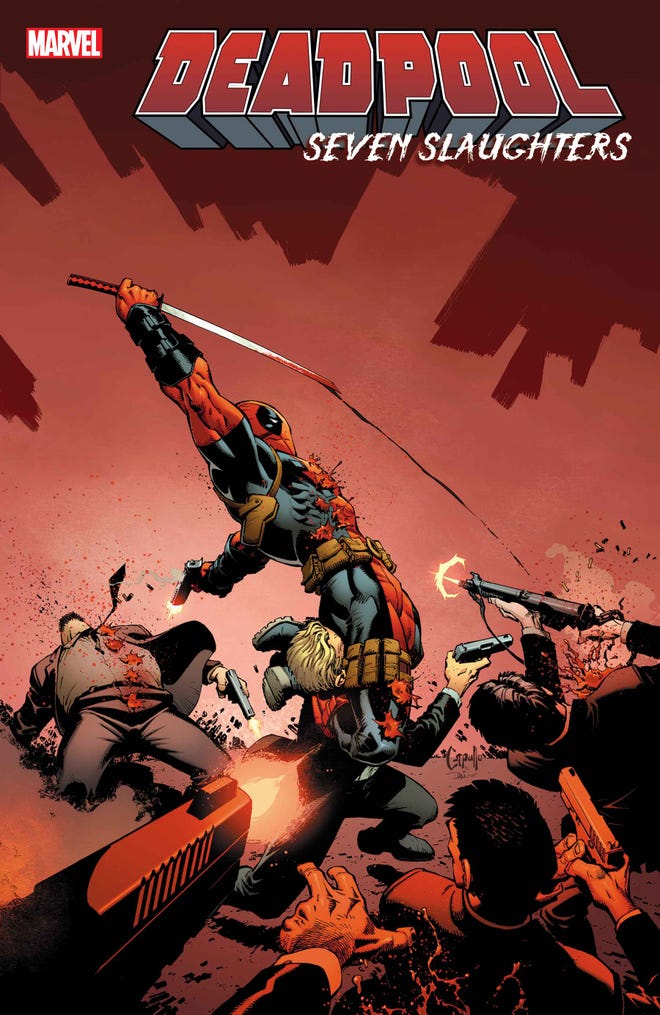 Announced during a closed-door retailers panel at San Diego Comic-Con 2023, Seven Slaughters brings together Deadpool creators old and new for a massive one-shot that follows Wade Wilson through a week in his very strange, very violent life. Proginator Rob Liefeld is on board as both writer and artist, joined by the likes of Cullen Bunn, Cody Ziglar, Marc Guggenheim, Justina Ireland, Gail Simone, Greg Land, Whilce Portacio, David Baldeon and Phillip Sevy. It's a regular murderer's row, even before you consider that the cover will be by none other than Spawn and Batman legend Greg Capullo.
Here's what publisher Marvel had to say about the upcoming comic in an anouncement released July 21:
"Seven kills in seven days! Welcome to a week in the life of Wade Wilson, the best mercenary Marvel's ever had (just ask him)! From facing off with rival killers to top secret assassinations, DEADPOOL has a lot of work to do in this blood-soaked oversized issue full of fan-favorite creators past and future!"
So though it may not feature a yellow-and-blue-suited Wolverine, it's a project that Marvel seems to be pretty excited about and, we'd wager, Deadpool fans feel the same way.
Deadpool: Seven Slaughters slices its way into comic shops November 2023.
---
All this Wade Wilson chatter got you excited for his new movie? Here's everything we know about Deadpool 3.