The first Deadpool 3 image has fans searching for the little-known comics origin of Wolverine's yellow-and-blue costume
A forgotten Tim Truman story is at the heart of clamor for Wolverine's debut in the MCU with Deadpool 3
While the actors strike has halted filming for every major Hollywood picture including the highly-anticipated Deadpool 3, actor/producer Ryan Reynolds and his co-horts were able to film a little bit before the strike took place, as evidenced by Reynolds sharing an in-costume image of himself (as Deadpool) and Hugh Jackman (as Wolverine) in a superhero costume for the first time, harkening back to his blue-and-yellow costume from comics no less.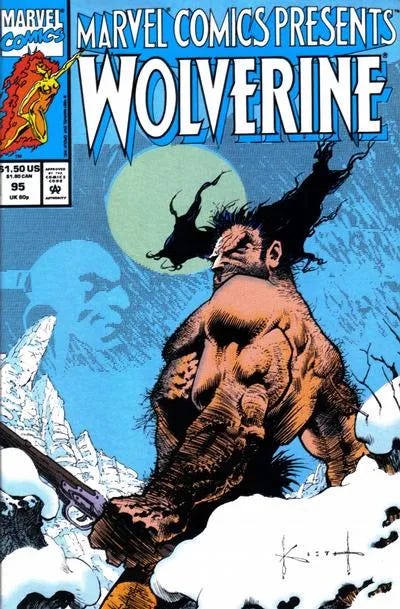 That single image has spurred fans and collectors to go diving into the back issue bins for, among other things, the little-known story of Wolverine's yellow-and-blue-costume, as told in a serialized story episode in 1991's Marvel Comics Presents #95.
The serial is called 'Wild Frontier' by writer Tim Truman and Todd Fox, which ran from Marvel Comics Presents #93 - #97, and is a flashback story of Logan's memories of the first time he visited the Eastern Rockies. In the memory, Wolverine remembers being taken in by a by group of Blackfoot people (a general name for several First Nations groups in the Northern United States and Canada).
In the story, Wolverine is gifted new clothing to wear after his western gear is damaged, and the Blackfoot people have it in the familiar blue-and-yellow color scheme - with even some of the patterns you'd end up seeing in Wolverine's regular costume.
According to the experts over at CovrPrice in their weekly newsletter, this book went from "a $1 bin mainstay" to becoming 600% that, and even more so if its secured in protective casing. According to CovrPrice's Nick Richardson, 88 copies were tracked in the seven days since the image hit, with the price skyrocketing from $1 to $6. A CGC'ed 9.6 copy selling for $65 - 157% over its average for the past year prior to the image's release.
So keep your eyes on those bargain bins, and you might snag a piece of Wolvie history.
---
The pulp hero Zorro returns with a Batman-esque origin (and a muscle car)