What is Disney's D23 Expo anyway?
A dive into the strange weekend that is the D23 Fan Expo
Disney's D23 Expo is a strange event.
To be honest, I thought it was strange even before I set foot into the Anaheim Convention Center earlier this September. Even though I had the schedule in hand and had seen the marketing online, it wasn't quite clear to me what the event actually was. The show takes place every other year (skipping a year due to COVID-19) and bills itself as the "Ultimate Disney Fan Event," and yet the branding and even the word 'expo' seems geared towards a more corporate aspect of Disney as opposed to a fan one.
And in fact, the show itself seems to be split a little, including what seems like internal company events like the Disney Legends Award Ceremony amongst obviously fan-focused panels like the two Studio Showcases featuring celebrities and movie announcements. It didn't help that some of these first big panels were kicked off by C.E.O. Bob Chapek who addressed his audience as if he was making a business presentation (he was also booed by the audience, but that's another story).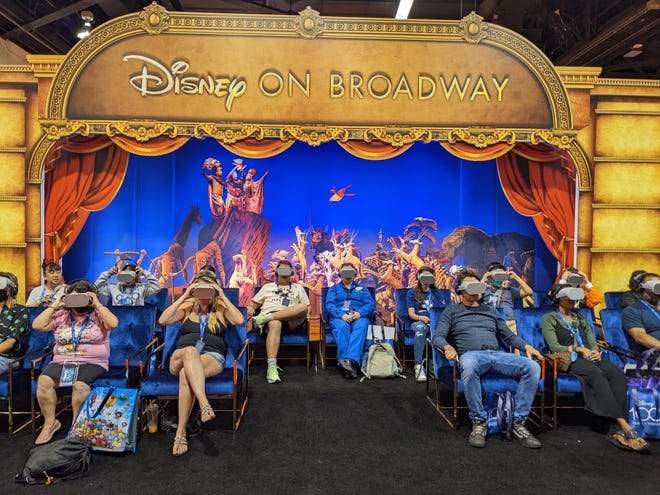 Now I've been to a lot of conventions in my time, and many of them pretty corporate, but D23 Expo was a completely different beast. I'm not saying it was awful; I had a nice time and saw plenty of things that were of interest to me, but there was a strangeness in the air. Especially when considering that so much of the focus of the show seemed to be about finding the next big thing to consume/buy/purchase tickets for.
First of all, because there was no fan-led programming, there were few ways for fans to express what they loved (in a non-cosplay way) other than buying things and learning about things that they could buy. The panels and show floor booths were all pushing ways to interact with Disney 'content' and 'storytelling' (two words that certainly earned their keep that weekend) through cruise liners, NFTs, Disney parks, new movies, television shows, living accommodations, and even careers (yes, there was a Disney careers booth). Though there was a corner on the show floor featuring more independent vendors, collectors, and artists, this was a small area, and clearly not the focus of the show.
Disney, we're everywhere (and everything)...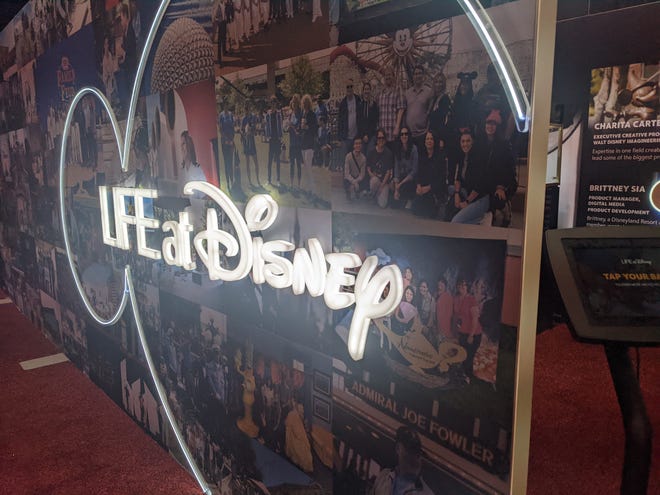 Now there's already a whiff of the dystopia in this massive Mickey-opolis, but what made the show even more discomfiting was the shift in what was considered 'Disney' at the show, which, according to my conversations with attendees who had been to previous D23 Expos, was quite different from what came before. This year, instead of focusing on what we've come to consider as the 'Disney brand' like Disney Animation, Pixar, and even Marvel and Lucasfilm, the D23 Expo showcased (through bright lights and shiny displays) exactly how much of the entertainment landscape Disney has acquired over the years from a Hulu booth featuring ads for shows like The Bear and The Kardashians to an ESPN+ booth featuring gleaming sports trophys.
This idea that Disney not only is but also should be the one place you get all of your things, from your vacations, to your daily television (from cartoons to the Kardashians), to your Grogu waffle maker (I was tempted, my dear Reader, so very tempted) felt increasingly oppressive throughout the weekend and strangely disjointed too.
... and we always have been
Perhaps the most pertinent example of this hodgepodge mixture of material featured early in the weekend, when a panel audience was shown a 100 years of Disney video (not yet released to the public) which showcased swelling emotional music and clips from decades of Disney films, television and more— including projects that Disney was not involved in making, with ABC coverage that definitely predated 1995, an old episode of The Simpsons, and the original Star Wars trilogy making an appearance (these are just the ones I remembered/noticed).
The use of these clips in this context felt like an attempt to change the history of these beloved television shows and movies, to make it seem like because Disney owns these properties now, they were responsible for the creation of that art. For a company that worships Walt Disney as an individual visionary, it seems to have erased the existence of many other individual visionaries who have created great art, and it has certainly gotten into the habit given him a lot of credit for things that not only came after his death, but also were created by individuals who worked for companies long before they were acquired by Disney.
At D23 Expo this year, Disney seemed be collapsing the walls between different parts of what they do, strategically exploding the barriers of their brand and rebranding with this idea that they've been everywhere always, that they're responsible for every good story ever told, and that its normal, even laudatory, for a company to own this much of the media landscape.
And we always will be...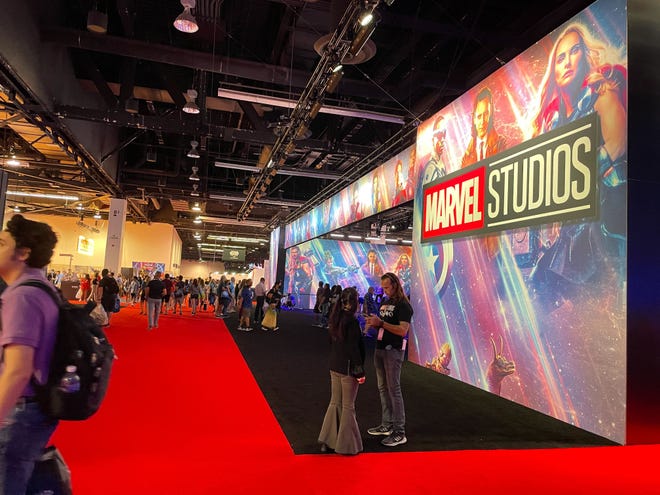 In a way, this year's Expo felt like an experiment or an attempt to prime superfans into the brave new world of no longer hiding monopoly but celebrating it (there were even cheers when the acquisition of 20th Century Fox was mentioned at a panel).
The recent post-D23 Expo announcement that Disney+ and Hulu may be merging (and that Disney might be attempting to buy Comcast out of the rest of their ownership of Hulu), shows that this year's D23 Expo might just be a taste of a long road shift with the Disney brand. Perhaps they're no longer interested in being known only as the people who bring you princesses and Pixar, or even the people who bring you superheroes and Star Wars, but they also want to be known as the people who bring you everything you watch (and have ever watched), everything you by, and everywhere you go. I mean, they even run their own fan convention.
---
Interested in the rest of our coverage of D23 Expo this year? Check out
Popverse's D23 Expo roundup
.