Disney+'s Ms. Marvel opens the door for a YA takeover of the Marvel Cinematic Universe
As the old stable of heroes steps aside, Ms. Marvel signals the direction the studio may take as it plots its next phase
The Marvel Cinematic Universe has dabbled in many genres throughout its history. Though it has told spy thrillers, heist films, space operas, and mythic epics, it has mostly shied away from one of cinema's most enduring genres: the high school comedy.
Enter: Ms. Marvel, Disney+'s delightful new series that centers Muslim teenager Kamala Khan (played, ahem, marvelously by newcomer Iman Vellani) as she deals with the everyday struggles of high school, her overbearing family, her bubbling crush, and her newly discovered superpowers. Although Ms. Marvel isn't the first big project in the MCU to feature a teen hero (more on that below), it fully embraces a young adult aesthetic and lets its main character fully be a teenager in ways that a certain web-slinging teen could not.
Ms. Marvel's tone and personality are an interesting shift in the MCU's direction, marking the franchise's first direct appeal to a YA audience and signaling a potential path forward for the universe's next phase.
Spider-Boy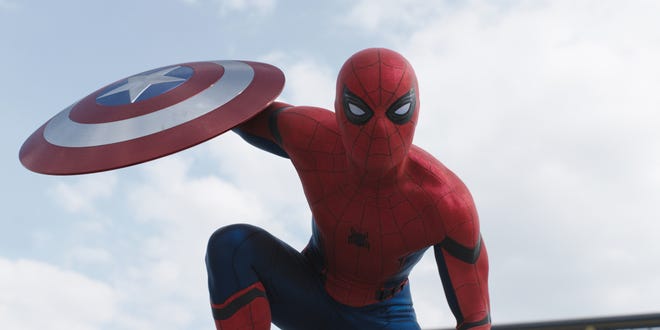 Spider-Man: Homecoming marked a major shift for the Marvel Cinematic Universe as the first Marvel film to focus on what it was like to be both a teenager and a superhero. Unlike previous iterations of the character, the MCU's Peter Parker feels like a kid; Tom Holland has an infectious, earnest joy to his performance that gives his films a childlike touch, even as they treaded into increasingly dark territory.
Though Holland's Peter Parker is definitively a teenager both in the plot and in his performance, Holland's ability to appeal to younger viewers feels tenuous. Across multiple films, the MCU's Peter is written like an older viewer's idea of a young person. In his first appearance in Captain America: Civil War, many of his jokes revolve around how young he is, including him calling The Empire Strikes Back "that really old movie." As his time in the MCU continued, Peter's story became less about being a teenager and more about being in over your head in the world of adults.
Spider-Man ping-ponged from battling an alien weapons trader to teaming up with the Avengers against a genocidal purple titan to preventing corporate espionage to causing — and then healing — a rift in the multiverse. Although his small time high schooler problems would make cameo appearances in each of his films, the central conflicts resolved around dark events that Peter had to grow up in order to face. If there's a youthful energy to his films, it takes a backseat to MCU worldbuilding and epic large scale storytelling.
Ms. Marvel vs. The World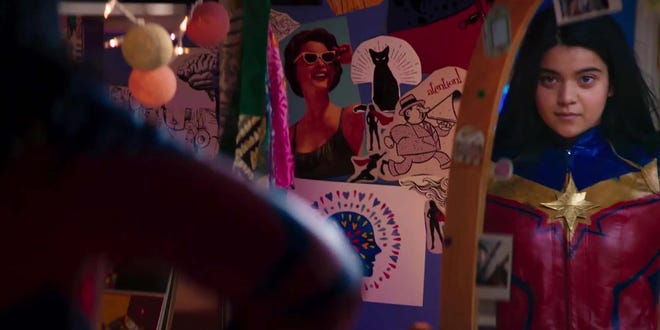 Right out of the gate, Ms. Marvel feels more like a project that will resonate with younger viewers than anything Marvel has put out so far. Kamala is fun, relatable, and feels like a teenager. Like Holland, Iman Vellani looks the part of a young adult and brings a delightful tone to her character; if anything, Vellani strikes a more believable balance between teenage precociousness and teenage angst, with a dollop of shyness and social anxiety on top that adds dimensionality and depth to her performance.
Visually, Ms. Marvel feels young and fresh as well. Especially for a Marvel project, the pilot episode is bursting with color and movement. Several different types of animation pop up on screen, from Kamala's stop motion superhero fan video that opens the episode to the chalk drawings that bring to life Kamala and Bruno's costume mashup ideas.
Crucially, beyond making its title character feel like a believable 2022 teen, Ms. Marvel summons up the emotions that anyone, teen or otherwise, can recognize and relate to as being intrinsic to their teenage years. You can feel Kamala's uncertainty about who she wants to be, how she wants to be perceived, and how she can appease all the many conflicting voices who have opinions about her next steps.
Marvel Studios and show creator Bisha K. Ali have made the wise choice (so far) to shrink down the scale and stakes of Kamala's conflicts, making her series more closely resemble YA properties like To All The Boys I Loved Before or Heartstopper than the arch, epic superhero operas that have dominated the MCU so far. Although the Marvel Universe has always attempted to have broad appeal, Ms. Marvel is the first MCU project — and likely not the last — to feel like it is embracing YA audiences as a primary demographic.
Can't you see the children are our future?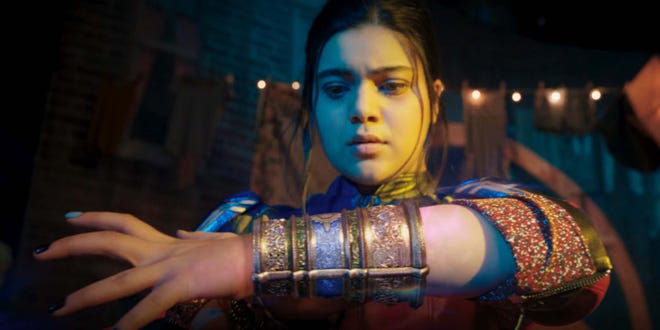 Looking down the line at the characters Marvel has introduced and the shows and films on their slate, Ms. Marvel seems likely to be a bellwether of things to come. The teenage Latina character America Chavez debuted in Doctor Strange in the Multiverse of Madness, and a trio of young women took center stage in Hawkeye: Yelena Belova, Kate Bishop, and Echo, who will be getting her own Disney+ series in 2023.
The number of major young characters in the MCU is only going to continue to grow. Next year will see the launch of a new series focusing on the teenage black supergenius (and Iron Man legacy character) Ironheart, which will prominently feature Kathryn Newton as Ant Man's daughter Cassie Lang (a superhero named Stature in the comics) in Ant-Man and the Wasp: Quantumania. Marvel is even set to revisit Peter Parker's high school days with an animated series called Spider-Man: Freshman Year.
All of those characters — aside from Echo and Peter Parker, both of whom are older in the comics — have been members of either the Champions or the Young Avengers, Marvel Comics' two preeminent young superhero teams. The Scarlet Witch's children, Young Avengers members Billy (Wiccan) and Tommy (Speed), have made small but crucial appearances in WandaVision and Multiverse of Madness as well. Whether this list of characters leads to the introduction of one of those teams or not, Marvel has laid the groundwork for young heroes to be a major force in the franchise going forward.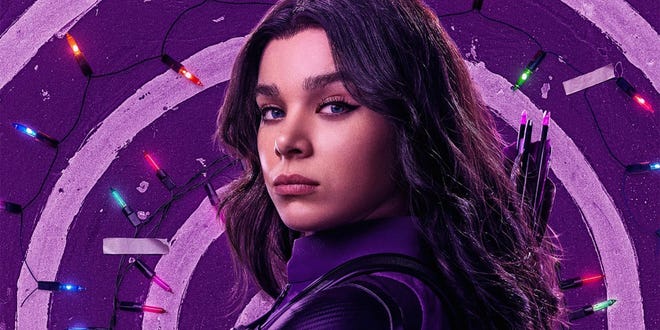 The impact of those characters will only grow given how many of the MCU's original headliners are out of the game. Half of the first Avengers line-up is either deceased or retired, and it is uncertain which established franchises like Thor, Black Panther, Doctor Strange, Ant-Man and the Wasp, or Guardians of the Galaxy might continue past Phase 4. Although new blood (to the MCU, anyways) like Blade, X-Men, and Fantastic Four have already been confirmed, the young heroes seem like strong long-term bets for Marvel to take as they try to build a franchise with staying power.
Interestingly, the majority of the young heroes Marvel is bringing to the forefront are women, and many of them are people of color. For a franchise that took a decade to release films with lead characters from either of those demographics, that is a notable shift in tactics. With Ms. Marvel and her contemporaries, Marvel Studios has made a conscious and strategic choice about the kind of stories they want to tell — and the kind of audience they want to court. Ms. Marvel is a direct appeal to the younger generation, a show with characters that look like them, sound like them, and better reflect the diverse world we live in.
---
Here's what to read (and watch) before or after Marvel Studios' Ms. Marvel.